Maps
Catawba County Jurisdictional Maps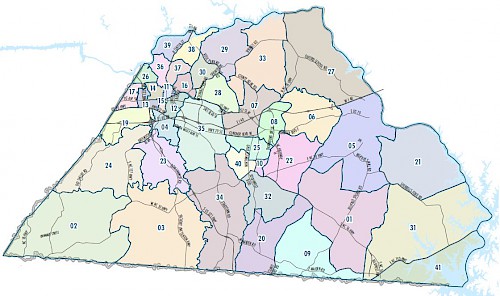 Click the links below for maps in PDF format.
Election Day Precincts (40 Election Day polling sites)
State Level Maps (Catawba County related Districts)
Municipal Maps (8 Municipalities)
City School Maps
There are 3 School Districts in Catawba County. Voters are in the Catawba County School System if they do not live in either of the city school jurisdictions below.
Other Election-Related Jurisdictional Maps
---
Larger copies of maps may be purchased from Catawba County GIS department. Contact Kate Foster at 828-465-8356
---
Printed list of Polling Locations with District List (1 page PDF)
Printed list of Polling Locations with Directions (2-page PDF)
Where do I vote? Find your registration information on the State Board's voter search tool. Your jurisdictions and election day polling location will be listed on your record.
2020 PRECINCT REASSIGNMENTS
Changes were made March 2020 to the voting precincts of Catawba County listed below in order to reduce the size of large precincts and to lessen the distance residents must travel to a polling location. The County Board approved the changes at the Sep 24, 2019 meeting and changes were submitted to the State Board for approval as part of a statewide precinct change project. Changes were approved by the State in early 2020 and took effect after the March 2020 primary.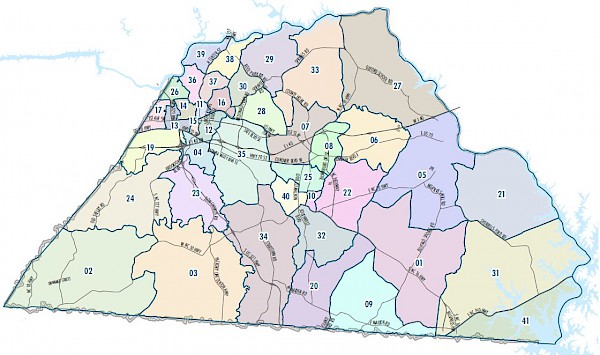 Precinct (click for map)
Description of Changes
# of Voters Reassigned
13 - Greenmont
Now in Pct 26: properties between US 321 and Old Lenoir Rd
from Tailored Industries north to the 321 bridge
0
17 - Long View N
Now in Pct 26: properties north of Clement Blvd
0
25 - North Newton
Added properties from Pct 40 on the odd-numbered side
of St. Pauls Church Rd that were in Newton City limits
-
26 - Oakland Heights
Added properties from Pcts 13 & 17 to bring Resurrection International
Church (the polling location for Pct 26) into the Precinct 26 boundary
-
29 - St Stephens 2
Added properties from Pct 33
-
33 - Springs

Now in Pct 29: [Lake Hickory Country Club area]
odd-numbered (north) side of Spring Rd from County Home Rd to
Wandering Ln. All properties on the west side of the line following Wandering Ln
to Sulphur Springs Rd to the cove near 6250 Sulphur Springs Rd. This includes
all properties along Hayden Dr, properties accessed via 37th St Dr NE, and
all properties accessed via Sulphur springs Rd NE.
Now in Pct 29: [corner of Sipe Rd and Section House Rd]
Arrowhead Dr NE, Wagon Ln, Pioneer Dr,
even-numbered side of Section House from Arrowhead Dr NE to Sipe Rd,
odd-numbered side of Sipe Rd from house numbers 1995 to 2119.

1,601
34 - Startown
Now in Pct 35: even-numbered properties along Sandy Ford Rd
(and all roads and subdivisions north), Odd-numbered Startown Rd
residents north of Sandy Ford Rd
483
35 - Sweetwater
Added properties from Pcts 34 and 40
-
40 - West Newton
Now in Pct 35: even-numbered properties along Settlemyre Bridge Rd
(from the bridge to Startown Rd), Startown Rd residents
north of Settlemyre Bridge Rd, all areas north including
properties accessed via Valleyview Drive, and the Fairgrove Ch Rd
area south of US 70
58
Voters affected by the changes were mailed voter registration cards on Friday, April 17, 2020.
Residents living at properties described above have been reassigned to different precincts in order to reduce the number of voters at their previous polling location and to lessen their drive to their election-day polling site.
Precinct 33-Springs had over 6,000 voters; 1,601 are now in Pct 29 and live closer to their new election-day polling location. 33's voting population is down to 4,321 (Sherrill's Ford Pct 31 now holds the top spot with 4,561 voters).
Residents living in the northern areas of Pcts 40-W Newton and 34-Startown have been combined into Pct 29-Sweetwater; their polling location is now closer.
---
To check your jurisdictions, search for your name using the State's Voter Search tool Voter Search
Once your record is pulled up, scroll down to the "Your Jurisdictions" section (see example below).