Sheriff's Office
---
Procedural Update Related to COVID-19
**********CORONA VIRUS UPDATE-CHANGE TO PROCEDURES********** Catawba County Citizens: It is an honor to serve you as your Sheriff. As we are diligently working to keep you and your families safe, we would like to make you aware of some changes to the Sheriff's Office Hours/Availability. Effective March 23, 2020, The Main Lobby of the Sheriff's Office closed at 5pm. The Detention Center Lobby closed at 10pm. Any calls for service can be addressed by contacting the Catawba County Communications Center at 828-464-3112. Pistol Purchase Permits as well as New Concealed Carry Permits and CHP Renewals are available online through Permitium. Detention Center Visitation will be available online via Homewav.com Concerning your Sheriff's Office, we ask for your understanding, patience and cooperation as we deal with circumstances never dealt with before in our present era. Employees of the Sheriff's Office have been directed to follow the guidance from the CDC and Health Department to hopefully keep from contracting and spreading the virus so that we can remain at our optimal performance measures to serve you, the citizens of Catawba County. We ask that you also observe measures set forth concerning gatherings of groups of individuals, social distancing and other requests as they come down from higher authority. We will continue to answer calls as promptly as possible, but if we are not needed to physically be at the location, we are able to handle some calls by phone. Should we respond to a location, keep in mind we may have been around other individuals at other calls and do not mind at all if you would like to interact with our staff outside at a safe distance. Thank you for your understanding, patience and diligence as we navigate these new times. Together we will get through this and get life back to normal in Catawba County.
Your Sheriff, Don Brown
---
Under Executive Order 121, issued by Governor Roy Cooper on March 27, 2020, businesses excluded from the list of COVID-19 Essential Businesses and Operations set forth in the Executive Order who believe that they may be essential may direct requests to be included to the North Carolina Department of Revenue. Learn More
---
Sheriff Brown was elected to office in 2018 after serving with the city of Newton Police Department for 30 years and retiring after ten years as Police Chief. Sheriff Brown believes strongly in developing relationships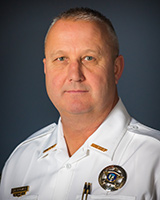 and partnerships between law enforcement and the community. To read more about the Mission Statement for the Sheriff's Office, click here.
To read more about Sheriff Don Brown, click here.
The Catawba County Sheriff's Office responds to approximately 115,000 calls for service each year and is comprised of 198 Deputies and Employees. The Sheriff's Office is responsible for responding to calls for service, crime prevention, serving civil process and criminal papers, sex offender registrations, investigating crime, providing School Resource Officers at County High and Middle Schools and CVCC, Narcotics, and the Detention Center that currently houses 260 inmates (close to 600 after expansion in 2020).
---
Important Phone Numbers
| | |
| --- | --- |
| EMERGENCY | 911 |
| Sheriff's Administration | 828-465-8301 |
| Sheriff's Office | 828-464-5241 |
| Chief Executive Officer | 828-465-8337 |
| Civil Process Division | 828-465-8320 |
| Concealed Handgun Permits | 828-465-8984 |
| Crime Prevention Officer | 828-465-8336 |
| Criminal Investigation/Detective Division | 828-465-0671 |
| Criminal Warrants | 828-465-8960 |
| Drug Tip Line | 828-466-ATIP |
| Sex Offender Registry | 828-465-7974 |
| Narcotics Division | 828-464-6932 |
| Detention Facility | 828-465-8999 |
| Records Division | 828-465-8300 |