Elections

The Catawba County Board of Elections
is committed to efficiently conducting fair, honest, and impartial elections so that all qualified Catawba County citizens may exercise their right to vote.
The office conducts local elections, operates voting sites, maintains voter registration lists and handles numerous aspects of election administration. The Catawba County Board of Elections works in conjunction with the State Board of Elections office to ensure that elections are conducted lawfully and fairly.
---
2020 Elections
Federal, State, Judicial, County, and County School Board Elections
| | |
| --- | --- |
| | Candidates in the Primary--only the winners move on to the November Election |
| | Candidates automatically moving on to the November General Election (not in Primary) |
| | Choose the Election Year to view campaign finance documents for candidates |
| | Mail request to: PO Box 132, Newton, NC 28658 (Email and Fax NOT acceptable) |
New US Congressional Maps are now available on our Maps Page.
Printable 2020 Elections Calendar
---
Dates and times are subject to change.
---
UOCAVA Notice for the March 3, 2020 Election - voting information for uniformed and overseas citizens using the FWAB form.
---

---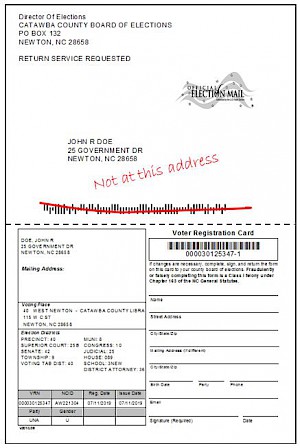 If you received a Voter Card (or other type of mail from us) for someone that does not live at that address, please write on the mailing: "NOT AT THIS ADDRESS," and put a line through the barcode if there is one below the address. Place back in your mailbox for the postal service to return to us.
No postage is necessary.
You may later recieve another card from us for this person; please return it, also. Once we receive two returned voter cards, the voter's status will be either "denied" or "inactive" (if inactive, they will have to verbally verify their address if they come to vote). By law, In order for us to remove the voter from your address, we need their signature, or notification from another county or state that they have registered to vote elsewhere. A person may remove themselves by completing a Voter Removal Form.
Is the person deceased? We need a signed Deceased Voter document from a near relative in order to remove their name.
Thank you for helping us keep the registration rolls accurate.
Frequently Used Forms
---