Elections

The Catawba County Board of Elections
is committed to efficiently conducting fair, honest, and impartial elections so that all qualified Catawba County citizens may exercise their right to vote.
The office conducts local elections, operates voting sites, maintains voter registration lists and handles numerous aspects of election administration. The Catawba County Board of Elections works in conjunction with the State Board of Elections office to ensure that elections are conducted lawfully and fairly.
---
WAYS TO VOTE IN THE NOVEMBER 2020 ELECTION

Absentee-by-Mail Voting

Complete a 2020 STATE ABSENTEE BALLOT REQUEST FORM

Your signed form may be returned via:

MAIL: PO Box 132, Newton, NC 28658
FAX: 828-464-9832
IN PERSON: 145 Government Dr, Newton (beside the Justice Center, below the parking deck)

Send in your requests as soon as possible. Last day to request is Oct 27, 5pm.
Absentee ballots will begin mailing out on Friday, September 4th.

PRESS RELEASE 7-20-2020: Statement About Absentee Ballot Security in North Carolina

One-Stop Voting: October 15 - October 31

Weekdays: 8am-7:30pm, Saturdays: 8am-3pm, Sundays: 1pm-5pm [printable schedule]

Any eligible Catawba County resident may vote at any of the five One-Stop Early Voting locations:

Catawba County Main Library – 115 West 'C' St, Newton
Highland Recreation Center – 1451 8th St Dr NE, Hickory
Southwest Branch Library – 2944 S Hwy 127, Hickory (Mountain View)
Conover Station – 403 Conover Station SE, Conover (Bottom floor of library building)
Sherrills Ford-Terrell Branch Library – 9154 Sherrills Ford Rd, Terrell

Residents who did not register to vote by Oct 9th may do so (and vote) only at a One-Stop location.
New voters must be a resident of Catawba County as of Oct 4th. Proof of residency is required.

Tuesday, November 3rd: polls open 6:30am - 7:30pm

There are 40 polling precincts in Catawba County. [printable list]

Voters who were registered on or before October 9th, 2020 may vote only at
the designated polling location for the Precinct in which they reside.

Interested in working the polls?

Requirements and Expectations of a Catawba County Election Official

Must be a registered voter in Catawba County
Must be able to attend a training at the Board of Elections office in Newton before the election
Must assist in setting up the precinct the day before the election (~1 hour)
Must work the entire election day from 6am until 8pm (or later, if needed) without leaving the polling location
Must leave politics at home - Election Officials MAY NOT tell or indicate to anyone who to vote for
Nov 2020: face masks or face shields will be provided and required to be properly worn by Election Officials
---
Check Your Registration - Use this tool to check if you are registered. If any information needs changing, complete another voter registration form.
ONLINE REGISTRATION SERVICE
Online registration applications are available for NCDMV customers for free. This service is offered through a partnership between the NC Division of Motor Vehicles and the NC State Board of Elections​. ​
On this site, you will be able to:
Register to vote (Note: if you move to a new county, you must re-register)
Update physical address
Update mailing address
Update party affiliation
DEADLINE: Registration applications submitted less than 25 days before an election will not be processed until after the election.
[Current Catawba County deadline for all registration applications: 5pm, Oct 9, 2020]
Go To NCDMV online voter registration application
---
If you are not an NCDMV customer, you may:
Catawba County residents may mail these to: Board of Elections, PO Box 132, Newton, NC 28658
(multiple registrations may be enclosed in the same envelope)
---
2020 Elections
Federal, State, Judicial, County, and County School Board Elections
| | |
| --- | --- |
| | List of candidates on the November ballots. (Note: Presidential candidates will be added later.) |
| | Choose the Election Year to view campaign finance documents for candidates |
Printable 2020 Elections Calendar
---
---

---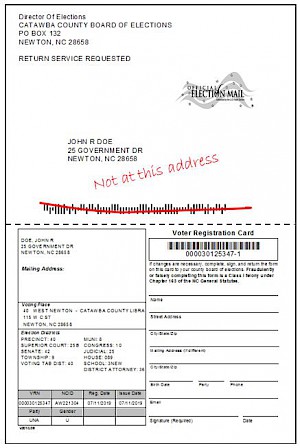 If you received a Voter Card (or other type of mail from us) for someone that does not live at that address, please write on the mailing: "NOT AT THIS ADDRESS," and put a line through the barcode if there is one below the address. Place back in your mailbox for the postal service to return to us.
No postage is necessary.
You may later receive another card from us for this person; please return it, also. Once we receive two returned voter cards, the voter's status will be either "denied" or "inactive" (if inactive, they will have to verbally verify their address if they come to vote). By law, in order for us to remove the voter from your address, we need their signature, or notification from another county or state that they have registered to vote elsewhere. A person may remove themselves by completing a Request to Cancel Voter Registration.
Is the person deceased? We need a signed Notice of Deceased Voter form completed by a near relative in order to remove their name.
Thank you for helping us keep the registration rolls accurate.
Important Update on Photo ID
---
Until further order of the court, voters are not required to show photo ID. The law was enjoined by a federal district court on December 31, 2019. This page will be updated if new information becomes available.
More information on Voter Photo ID requirements is available on the State BOE website: https://www.ncsbe.gov/Voter-ID. Phone: (919) 814-0744.
Frequently Used Forms
Voter Registration Form
(must be printed)

NEW voters to the county
must submit the
original, signed document

UPDATES may be Emailed or Faxed

Deadline: 5pm, Oct 9, 2020
hand-delivered or postmarked

NCDMV customers may
submit an online
registration form

Deadline: 5pm, Oct 9, 2020

For new voters or
current voters updating
name, address, mailing address,
or party affiliation.

Applications submitted after
the deadline will be processed
after the November election

Absentee-by-Mail Request Form
(must be printed and signed)

Mail: PO Box 132, Newton, NC 28658

Email: elections@catawbacountync.gov

Fax: 828-464-9832

Deadline: 5pm, Oct 27, 2020
forms must be in the office.
No ballots will be mailed after this date
---