Using VOTER LOOKUP to see your Sample Ballot
Search for your Ballot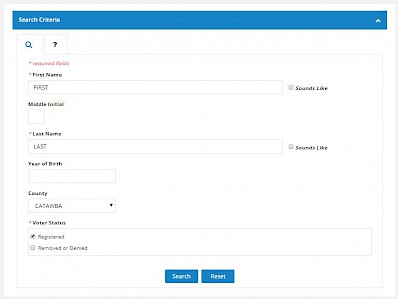 You may view a PDF of your specific ballot using the State Board of Elections Voter Lookup tool.
Search using your first and last name then click on your correct record in the search results.
Once your voter details page is displayed, look under the "Sample Ballots" section. See image below for an example.
Notes about your Voter Information
Sample ballots become available usually within 50 days before an election (30 days for municipal elections)
Before every election, check your voter registration online to verify your information is correct
In partisan primaries, UNAffiliated voters may choose one party's ballot to vote
You may not change your political party after the registration books close
Changes may be made with the BOE office before books close by filling out a new Voter Registration Form.
Otherwise, you may change your name, address, or mailing address when you present to vote
---
Example of Voter Lookup Result