Library to Go
The Next Generation of Library Service
Library to Go is Catawba County's new mobile library – a state-of-the-art traveling exploration station that moves beyond the library's walls and meets children and adults throughout our community, expanding access to empowering resources and programs in the areas that need them the most.
When we arrive for a visit, we'll unload and set up bookshelves, work tables, technologies, lounging spaces, and play and learning areas – creating a temporary, ever-changing library space designed for interactive learning and exploration. People will be able to enjoy traditional library resources like books and computer access, and they'll also be able to participate in special programs, often in an open-air environment. Plus, visitors can sign up for a library card and check out materials from the Library to Go.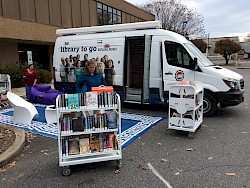 Library to Go has:
Books for all ages
Playaway audio and book kits
WiFi hotspots, laptops, and iPads, which can be used for computer workshops; downloading free Overdrive and Hoopla ebooks, audio, music, and movies; Internet access; and more
Robotics and virtual reality devices and programs
Furniture for lounging and exploring resources
3-D printing
We're excited about bringing the power of the library to meet people where they are. We'll share our schedule of visits so you can be sure to seek us out, check us out, and learn how the library is actively transforming our community. So whenever you see us out and about, drop by and see what we're up to – the library is for everyone, especially you!
If you would like for us to consider your organization for a visit, please fill out the request form below. Please note that our priorities are underserved locations, non-profit agencies, and community events.

* This project supported by grant funds from the Institute of Museum and Library Services under the provisions of the federal Library Services and Technology Act as administered by the State Library of North Carolina, a division of the Department of Natural and Cultural Resources.