Contribute
Help empower lives and build community – for generations to come.
Your library really needs your help! You can make an important difference in sustaining free literacy and lifelong learning opportunities for all in our community.
The Library Endowment is a special, permanent way for you to give, because your donation of any size remains in a protected fund that continues to grow year after year. Only the interest is used, solely to benefit library services, collections, and programs. So now – and years from now – your donation is here working for your library.
And – as less and less of our world is free and accessible to all, it's never been more important that the library continues to provide our community a robust offering of literature, cultural, career, and technology opportunities. Whether it's a special novel, a new audiobook, some books or a lively storytime for children, a gardening class, 24-7 online access, or a visit to TechConnect, even one-on-one career and job help, the Endowment helps nourish community needs and dreams.
Please join us now in this vital effort. Your donation of any amount will make a difference! Create your lasting legacy today.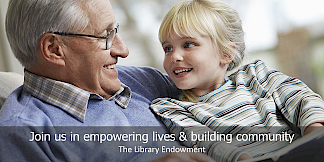 The endowment is managed through the North Carolina Community Foundation, and donations are tax deductible to the extent of the law. In addition to cash gifts, the Library Endowment invites gifts of securities, real estate, life insurance, and trusts.
We are thankful for your gift of any amount, and all gifts are honored with a letter of appreciation. Gifts of $1,000 or more are additionally acknowledged here and on the Library Endowment Plaque:
$5,000 or more: Platinum Benefactor
$3,000 or more: Gold Advocate
$2,000 or more: Silver Partner
$1,000 or more: Bronze Supporter
You can also donate with a check, and we appreciate any amount over $1,000 given in this way. Please address your check to Catawba County Library Endowment and send to Catawba County Library, 115 West C Street, Newton, NC, 28658, or visit us at any library location.
Platinum Benefactors
Friends of the Catawba County Library
Thomas Warlick
Gold Advocates
Silver Partners
Friends of the Sherrills Ford-Terrell Library
Susan Hunsucker
Bronze Supporters
Patricia Gibson
Linda and John Greenwell
For more information or questions, contact library director Siobhan Loendorf (contact info to your left).