Catawba County News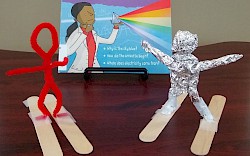 ---
STEAM: Physics & Skiing
Published: February 11, 2021
In this third STEAM program connected to the library's Spring Into Reading challenge, participants will be able to see the principles of physics at play, thanks to an at-home exploration of downhill skiing.
Physics explores matter and motion and tries to understand how the universe works through concepts like energy and force. This experiment will use the familiar example of skiing down a mountain as a way to tackle gravity, mass, and attraction. The demonstration will also help illustrate how theory can become more understandable through real-life situations, driving home the scientific lessons for youngsters and their parents.
To participate in the program, families should register at https://www.tinyurl.com/SpringIntoReading or call 828.465.8665. They'll receive the Zoom link, along with a materials list, which includes readily available household items like aluminum foil, Popsicle sticks (4), tape, a ruler or tape measure, a phone timer, and a long, flat object to use as a slope (wood, cardboard, long roll of paper, etc.).
The STEAM session takes place at 4 pm on Thursday, February 18. Once a child attends it, parents can log their participation at https://catawbacountync.beanstack.org/ under the child's 'activity badges' tab.