Catawba County News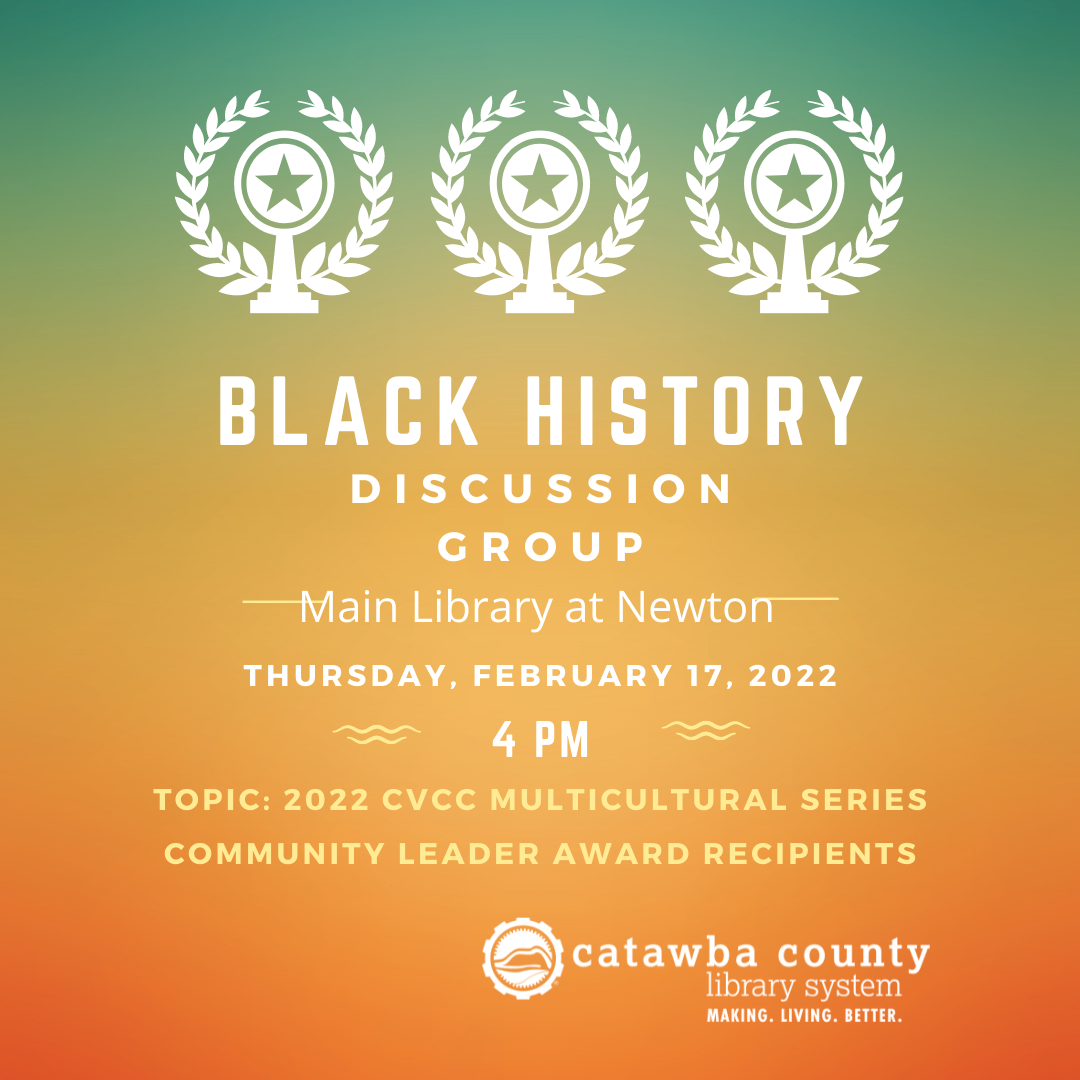 ---
In Celebration of Black History Month
Published: January 28, 2022
In Celebration of Black History Month
Filling an expressed need in the community to learn more of the full story of our history as a nation, and as a local community, the Black History Discussion Group began in February 2019 as a film and discussion series called Movies That Matter. After a particularly lively discussion among the attendees, all agreed that one month is not enough time to cover all of Black history in America and so the idea of a monthly program with different topics in Black history began.

The monthly gathering has discussed topics that include: Linda Brown and the landmark Supreme Court decision of Brown vs. Board of Education, the life of Henry McNeal Turner, the Amistad rebellion, the New Deal (1933-1936), the Freedmen's Bureau (1865-1877), the intersection of Black history and health, the 1964 Ridgeview football team known as the Untouchables, African Americans in aviation and space history, Belmont, NC artist Juan Logan, Black history and education, the Tuskegee Airmen, the life of U.S. Supreme Court Justice Thurgood Marshall, Black poets, and African American food culture.

The group has been a catalyst for learning about and using library resources. When the monthly gathering included the topic of Family History for African Americans, the group was introduced to the resources housed in the Rhodes Room, the library's local history and genealogy department. Family history and genealogy for African Americans present a unique set of challenges, making the resources available through the Rhodes Room exponentially more useful for families tracing their African American ancestors.

These resources can be found online and in print, and have been curated by Alex Floyd, Local History Librarian. Alex himself is a resource, helping guide patrons through generations of family lineage and records. Online resources include: AncestryLibrary.com, Heritage Quest Online, FamilySearch.org, Afro-American Historical and Genealogical Society (four NC Chapters - Piedmont Triad, NC Triangle Region, Sandhills, and Charlotte), RootsWeb.com, The Digital Library on American Slavery, and Documenting the American South. Databases, records, and family research guides can be found within these websites. In-house and print resources include: collections of African American newspapers, North Carolina Emancipation records, vital and marriage records of freed persons of color, slave records for Catawba and surrounding counties, and histories of Black families and African Americans in North Carolina.

In celebration of Black History Month, the group will partner with the Office of Multicultural Affairs at Catawba Valley Community College to recognize the accomplishments and work of the 2022 CVCC Multicultural Series Community Leader Award recipients for the February discussion. This award is presented during the college's Black History Month Celebration. The celebration has been held annually since 2003 and hosts a different theme each year. This year's celebration has a theme of Committing to Unity: Diversity, Equity, and Inclusivity. Each of the award recipients has shown commitment to unity through their work in the community.

We invite you to join us for February's Black History Discussion Group at the Main Library in Newton on Thursday, February 17th at 6 pm.