Catawba County News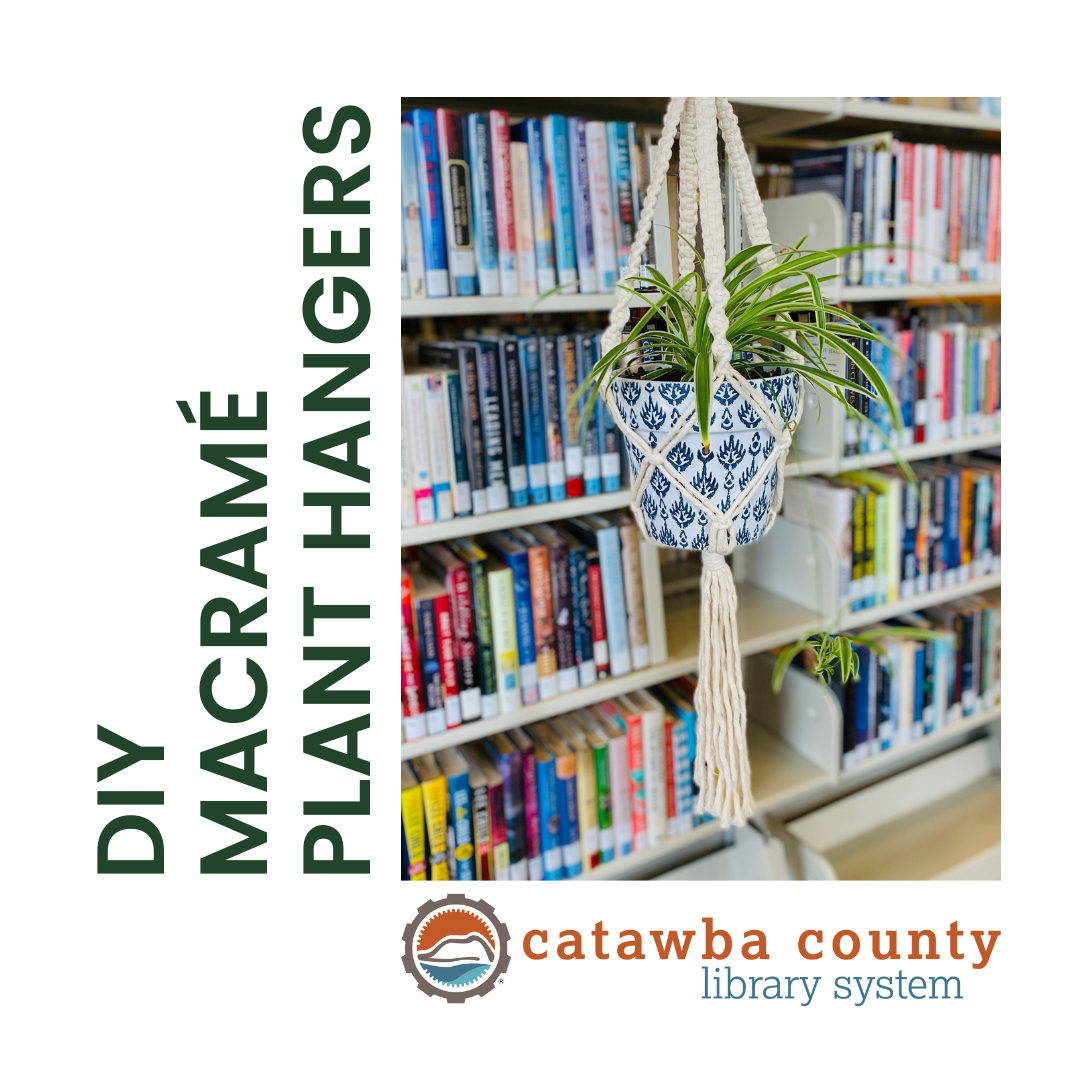 ---
DIY: Macramé Plant Hanger
Published: January 21, 2022
Last week, the Sherrills Ford-Terrell Branch Library hosted a DIY Macramé Plant Hanger program with Ms. Melissa. It was such a hit we thought we'd share it with all of you.
If you really enjoy this, you could join us on Thursday, February 24 at 4 pm for our DIY Marcamé Market Bags program (also at the Sherrills Ford-Terrell Branch Library). For more information, call 828-466-6827.
ALRIGHT, IT'S DIY TIME!
Macramé Plant Hanger made by Ms. Melissa.
What you'll need:
Materials: 3mm single strand cotton string, metal or wooden ring (60-70mm)
*It would also be good to have something sturdy to hang this from while you're working on it, or a way to fasten it into place on a table (hint: duct tape).
How to DIY:
Cut eight pieces of string to a length of 4.5 yards or 4 meters.
Double the strings over the ring. Use a 24 inch string to create a gathering knot.
To create the first branch, find four strings that are close together. Create about 18 square knots. Repeat with the next four strands to begin the second branch. Continue until all the strings have been used.
To complete the first branch, create twisting half square knots until the length of the twisting knots is the same as the length of the square knots. Repeat with the remaining branches.
Once all four branches have been completed, create the net for the pot using alternating square knots.
Close the net at the bottom with a gathering knot.
Trim the fringe to the desired length.
Done and done. Easy enough, right? Okay, probably not. We're going to let you in on a little secret…we cheated and followed a youtube tutorial while we were working on these to make sure we were doing them right. Here's the video in case you need it as much as we did: Macrame Plant Hanger | Tutorial | Beginner | Square Knot | Twisting Knot - YouTube
Note: To make a planter with three branches, begin with six strings.
Note: To conserve materials, cut half the strings to a shorter length. These will be the middle, or filler strings, of each branch.
We promise these steps work but if you get stuck, you can always call Ms. Melissa down at the Sherrills Ford-Terrell Branch for guidance.
Here's proof it can be done! Look at this beautiful hanger one of our patrons made!
TADA!