Catawba County News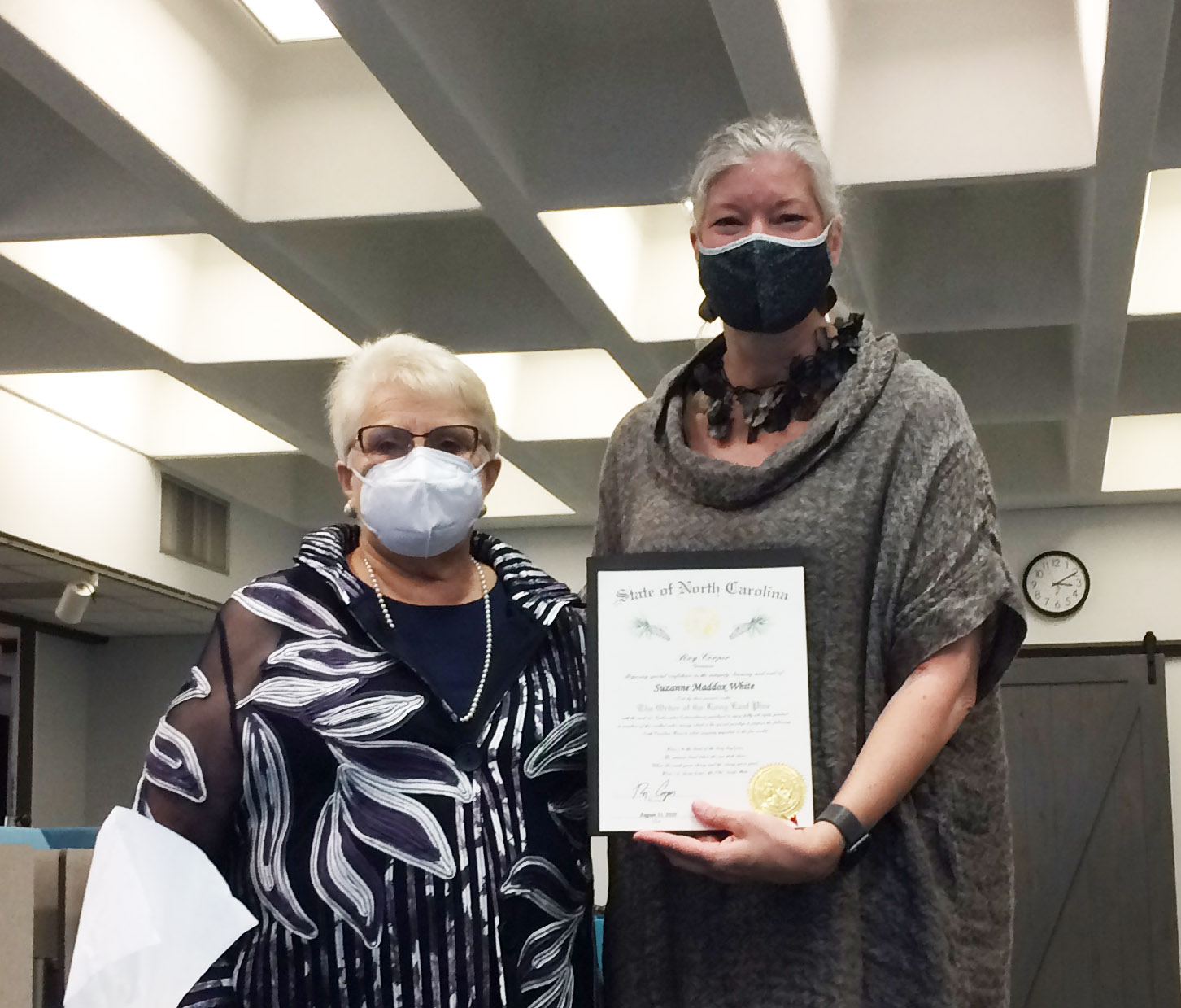 ---
White Named to Order of the Long Leaf Pine
Published: September 04, 2020
In recognition of her 32 years of service to the people of North Carolina, Governor Roy Cooper honored Catawba County Library director Suzanne White with the Order of the Long Leaf Pine.
This highest award for state service granted by the Office of the Governor is given most often to retiring individuals who have at least 30 years of service in the State of North Carolina. White completed her tenure at the library on August 31, 2020, following seven-plus years in the role of director.
At a reception on Friday, August 28, at the Main Library in Newton, Catawba County commissioner Barbara Beatty presented the certificate to White. She joins the company of other notable recipients of the award, including Billy Graham, Charles Kuralt, Bob Timberlake, Doug Marlette, and Richard Petty.
White, a native of Roanoke, Virginia, received her bachelor's degree in English from Mary Washington College and her master's degree in library science from UNC-Chapel Hill. Prior to her role with the Catawba County Library System, she served as information services supervisor, information technology supervisor, and public services manager at Rowan Public Library in Salisbury, NC, and as reference librarian at Neuse Regional Library in Kinston, NC. She also worked at the Chapel Hill Public Library while in graduate school.
Timothy Owens, North Carolina State Librarian, said of White, "Evidence of the impact of her work can be seen in the numerous awards and accolades the library has received during her tenure, including seven National Association of Counties Achievement Awards, the North Carolina Public Library Directors' Association Library Director of the Year Award, and the 2017 LibraryAware Community Award recognizing the County's efforts at connecting with and adding value to the community."
Mary Furtado, assistant Catawba County manager, shared, "What was unique about Suzanne's approach was the focus on the needs of the community and of county government, rather than on the library itself. Through that process, Suzanne and her team beat the bushes soliciting input from citizens of all walks of life, deliberately including input from library users and non-users alike, thoughtfully examining the reasons why citizens don't use library services and crafting specific strategies to engage them and add value to their lives."
Kim Lyke Holden, executive director of the Catawba County Partnership for Children, touted White's role as a Board member and officer of the organization, offering that "Aside from her impressive professional prowess and her unwavering commitment to our community, Suzanne is also just a wonderful person. She is kind and caring, and is always happy to pitch in and contribute to the greater good. She is incredibly smart, yet very approachable and humble. We have been so very fortunate to have her in Catawba County."