Catawba County News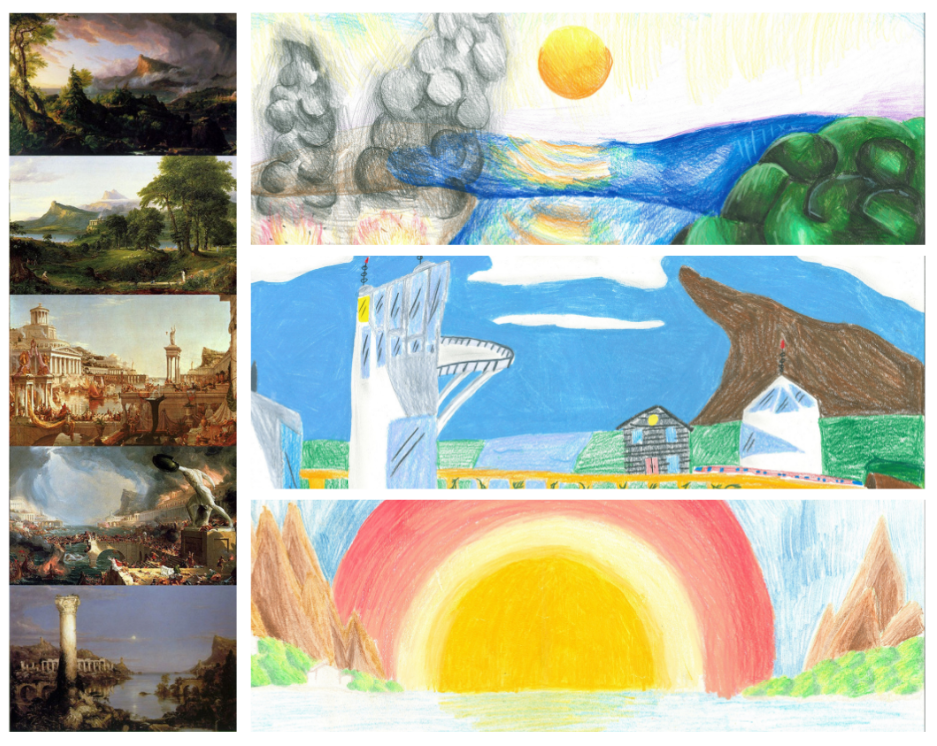 ---
Library Partners with School for Student Art Exhibit
Published: February 18, 2021
In early February, the Catawba County Library launched its most recent art exhibit at the Main Library in Newton. Showcasing works by Maiden Middle School's eighth-grade art class, the exhibit is titled Your Art with Us: The Future.
The collaborative effort is part of the library's Arts @ the Library initiative, which seeks to make art more prominent in local libraries and to provide wider access to the community's rich arts and culture scene. The program introduces people to different styles of art and was designed to offer rotating art exhibits, artist receptions, and hands-on workshops for all ages.
For the exhibit, Natalie Childress, Maiden Middle School's art instructor, introduced eighth-graders to 19th-century landscape painter Thomas Cole and The Course of Empire, his conceptual series tracing civilization's progress in five works. She then charged the students with creating art based on Cole's perspective, asking them to produce what would be the sixth work, called The Future. Their take on this piece of art was open to interpretation and could illustrate the future in Cole's era in 1836, in the present day, or well beyond the 21st century.
Stephanie Abbott, librarian for the Conover and Claremont branches, collected the student art electronically and translated it into a physical exhibit at the Newton Library, where it will be displayed until March 8. (A virtual display can be viewed on the Arts @ the Library page.) Trained as a fine art librarian with experience in photography and digital imaging, Abbott has curated other exhibits and has a special appreciation for how young people approach making art.
It's a passion she shares with Childress, who has collaborated with the library on the Selfie A.R.T.T. project – inspired by author Jacqueline Woodson's novel, Harbor Me, and the young characters' discussions about identity and dreams – and on a mini-abstractions project highlighting artists of the Pop Art movement.
These programs sprang from a mutual desire to engage youth during COVID-19's school closings and are intended to continue beyond the pandemic. Abbott shares art-focused books and activities with Childress's classes, and the two talk often about how library programming and school projects can support each other. In the future, the pair hope to create storytimes that incorporate art lessons, host virtual art exhibit openings, and coordinate larger art shows with student artists from throughout the county.
Anticipating her work with Childress in the months to come, Abbott shares, "We have big ideas we'd like to collaborate on, and in time I see that happening. We both like to create, and we care deeply about young people and what they're feeling and experiencing. I'm sure we'll find ways to partner with one another going forward and to teach kids how art can help them express themselves, cope with the world, and enrich their lives in ways they can't even imagine in the moment."