Catawba County News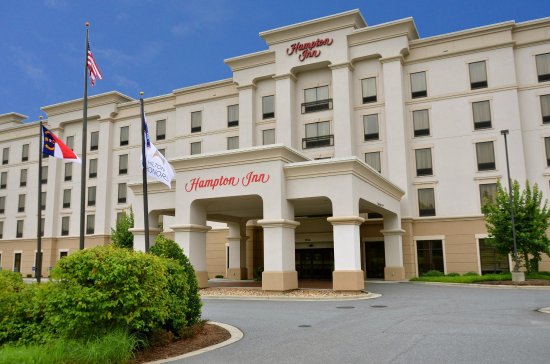 ---
Hampton Inn Illuminated to Mark Suffrage Centennial
Published: August 06, 2020
August, 2020 has been designated by the US Congress as National Women's Suffrage Month, honoring the ratification of the 19th Amendment on August 18, 1920, which gave all American women the right to vote.
To mark the centennial locally, the Catawba County Library is partnering with local organizations to illuminate the Hampton Inn by Hilton Hickory with traditional suffrage colors of purple, white, and gold. Highly visible from Interstate 40 between exits 125 and 126, the 121-room Hilton property will commemorate the amendment's ratification with colored exterior lighting each evening from August 12-31.
Historically, women's suffrage was distinguished by purple, white, and gold hues, thanks to the efforts of the National Women's Party. Their December 6, 1913, newsletter explained that: "Purple is the color of loyalty, constancy to purpose, unswerving steadfastness to a cause. White, the emblem of purity, symbolizes the quality of our purpose; and gold, the color of light and life, is as the torch that guides our purpose, pure and unswerving."
Tamara Shavers, General Manager of the Hampton Inn by Hilton Hickory, shares, "We were thrilled to be approached by the centennial committee to host the lighting display. The Hampton Inn enjoys a convenient, central location next to the Hickory Metro Center, and we're proud to help draw attention to efforts by women suffragists in creating a world that's more equitable and fair to all people."
Beginning in February, 2020, the Catawba County Library collaborated with the Hickory Museum of Art, the Hickory Public Library, the Historical Association of Catawba County, and the League of Women Voters of Catawba County to introduce a six-month program of activities celebrating the centennial of women's suffrage. Several of those were postponed due to the COVID-19 pandemic, but residents can look forward to others continuing in the coming months.
Soon to be released is a digital display of panels originally intended for public exhibition at various county locations. Students from CVCC worked with history professor Richard Eller and the Historical Association of Catawba County to research national and local history related to women's suffrage, and a team of graphics arts students laid out the information on eight panels, lifting history out of textbooks and connecting it to local communities.
The Centennial Suffrage project is supported by a grant from the United Arts Council of Catawba County