Catawba County News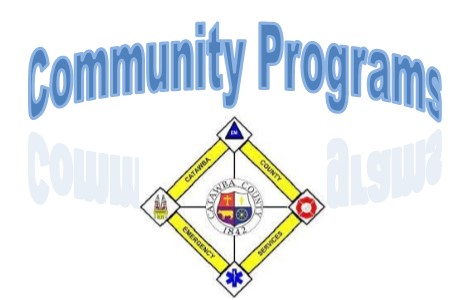 ---
Emergency Services Community Programs
Published: August 02, 2022
Emergency preparedness and injury prevention is a community effort. Catawba County Emergency Services does our part in many ways. One of those is offering educational programs within the community. Our programs are interactive, hands-on (when applicable), and free!
Check out the presentations we offer and contact us for more information.
General Emergency Preparedness/Pet Preparedness- Do you know how to prepare for emergencies or what you need to have? You will leave the presentation knowing what you need to have on hand and best practices in the case of an emergency.
Severe Weather- What you need to know to stay safe when severe weather hits.
Winter Weather Preparedness- When winter weather hits is not the time to head to the store! Learn what you can do ahead of time to better prepare.
Emergency Preparedness Badge for Scout Groups
Tornado/Earthquake/Heat Preparedness- Kids learn what to do at school for these emergencies but do you know what to do?
If your church, school, scout group, etc. are interested in any of these programs contact Frank Ballentine fballentine@catawbacountync.gov.
EMS Information (General Information & Career Information)- This program describes the functions of EMS, education, and specific information about Catawba County EMS.
Hands Only CPR/AED- This is a non-certification class. The goal is to help the participant feel like they could help in a cardiac arrest until first responders arrive.
Basic First Aid- This is a non-certification class. The participant will leave class knowing how to help in the care of an emergency.
Stay at Home Safely: Fall & Fire Prevention for Older Adults- Falls and fires can greatly impact the quality of life for older adults. Learn simple things to prevent these from happening.
Car Seat Safety- Did you know that 70% of car seats are installed incorrectly? In this presentation, we teach children and caregivers to ride safely.
Car Seat Checks by Appointment- It's important that all people transporting children know how to properly install a carseat and restrain a child correctly. These appointments will help caregivers be certain they are transporting children safely.
Bike Safety- Riding bikes is fun until someone gets hurt! This program teaches children the importance of riding safely and wearing a helmet.
Water/Summer Safety- This program teaches children different aspect of summer safety including be safe around the water, proper hydration, and sun safety.
Poisoning Prevention- Unintentional poisoning is more common than we think and it easily preventable. Storing potential poisons and teaching children what is safe to touch or eat are great ways to prevent poisoning. This program teaches children to be proactive in their own safety.
Safety Patrol- - This is a program designed for young children and caregivers to teach them how to prevent injuries. The is a monthly program that addresses a different safety concern each month. This is appropriate for preschool and elementary age kids.
Distracted Driving Prevention- Distracted driving is the cause of most motor vehicle crashes and can be prevented. This program is appropriate for both teens and adults. Small changes in our habits can help us to travel safely.
If your church, school, scout group, etc. are interested in any of these programs contact Melanie Sigmon melaniesigmon@catawbacountync.gov.
Please join us in helping make our community safer!