Catawba County News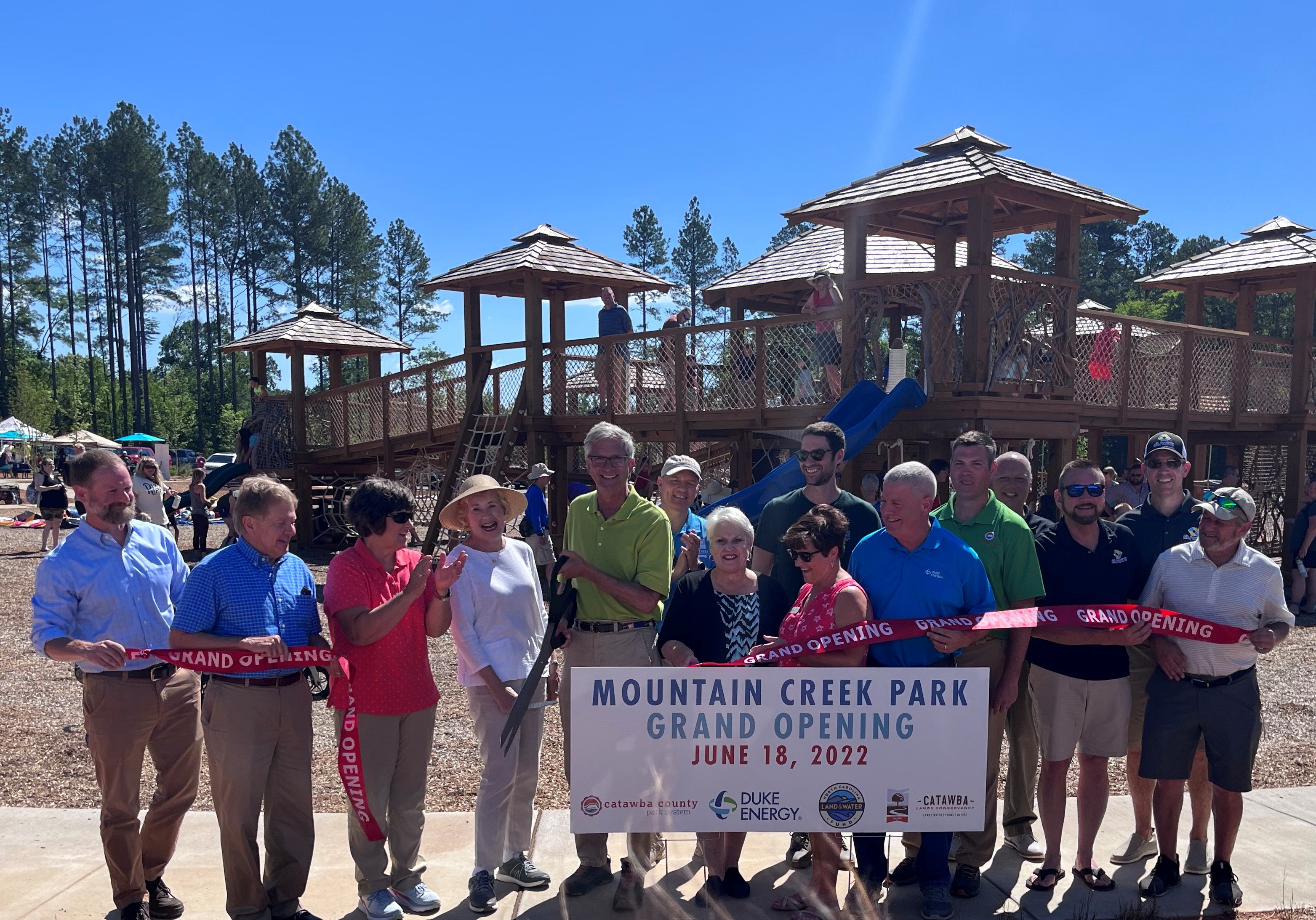 ---
Catawba County Celebrates Opening of Mountain Creek Park
Published: June 20, 2022
Catawba County hosted a grand opening celebration and ribbon cutting June 18 to commemorate the official opening of the newest destination in the Catawba County Park System, Mountain Creek Park.
Located on 606 acres of preserved natural habitat at the northwestern tip of Lake Norman in Sherrills Ford, Mountain Creek Park is the only large-scale regional recreation destination in southeastern Catawba County and the fourth park in the Catawba County Park System.
Designed for passive recreation, Mountain Creek Park's amenities include a 19.52-mile multi-use trail system designed to optimize mountain biking, an adventure playground, a mountain bike pump track and tool stations, a fishing pier, an observation deck, a paved ADA-accessible waterside trail, a paddle launch, four pickleball courts, a dog park, an outdoor classroom and picnic shelters.
"Six years after this property was acquired, we Commissioners embarked on a new strategic plan to drive economic growth and enhance our good quality of life in Catawba County," said Catawba County Board Chair Randy Isenhower. "The development of Mountain Creek Park was an important part of that plan because it increases amenities for our citizens, preserves our natural habitat, and provides access to our beautiful outdoors in Catawba County.
"On behalf of the Commissioners, I'd like to thank Duke Energy, the North Carolina Land and Water Fund and the Catawba Lands Conservancy for helping make this park possible. Additionally, we sincerely appreciate the good work of Wirth and Associates, J.D. Goodrum, Elevated Trail Design and county staff in bringing this park from concept to reality. Mountain Creek Park is a special place, and we are pleased to welcome park visitors here today and for many generations to come."
Planning for Mountain Creek Park began in the mid-2000s, when Duke Energy applied for Federal Energy Regulatory Commission relicensing of the Catawba-Wateree hydropower system (Lake Hickory, Lookout Shoals Lake and Lake Norman). Catawba County collaborated with Duke Energy on the relicensing application, which included Duke Energy's financial support for the County to acquire a 600-acre tract on Lake Norman for a passive recreation park.
"Mountain Creek Park is a jewel that has been in the making for over 15 years," said Jeff Lineberger, Director of Water Strategy and Hydro Licensing, Duke Energy. "The park site was set aside in the Comprehensive Relicensing Agreement, which was signed by Duke Energy, Catawba County and 68 other stakeholder parties in the Catawba-Wateree River Basin in 2006. That Agreement provided the region's vision for enhancements needed around Duke Energy's 11-lake system to best meet the needs of the public.
"Commissioner Barbara Beatty, [former Catawba County planning director] Jacky Eubanks and [former Catawba County assistant planning director] Mary George were outstanding champions for the county in the three-year stakeholder negotiation process that led to that Agreement," Lineberger continued. "Their vision and tireless participation is what made this great public place possible, and it was an honor to work with such dedicated people."
With additional collaboration from the Catawba Lands Conservancy and local developer Crescent Resources LLC, a $2,128,272 North Carolina Land and Water Fund (formerly known as the Clean Water Management Trust Fund) grant was awarded in 2008 for the purchase of the property.
"If I have learned anything in the past two years, it is that having access to places like this to get out of the house and get some exercise and fresh air is not a luxury, it is a necessity," said Will Summer, Executive Director of the North Carolina Land and Water Fund. "Victories like this don't happen overnight, and on behalf of myself and our Board, I want to thank Catawba County and Catawba Lands Conservancy for their commitment to this project."
Because most of the park's acreage is protected by conservation easements, the Catawba Lands Conservancy has provided ongoing stewardship of the land since the beginning of the land acquisition process.
"Mountain Creek Park is a huge win for the public and conservation," said Sharon Wilson, Land Stewardship Director for the Conservancy. "Conservation of this area provides water quality protection for Mountain Creek and Lake Norman. The forests, stream buffers, and wetlands in the park provides habitat for many native North Carolina plant and animal species. The public access component of this project benefits the citizens of Catawba County as well as visitors. This community asset will provide a place to recreate and enjoy nature. What a huge success story!"
In 2016, in line with the Commissioners' strategic plan, creation of the park began in earnest. The county hired Wirth & Associates to design the park concept plan in two phases, both of which sought community input regarding desired amenities. Based on public input and allowable land uses, the park's final design prioritized features conducive to both hiking and mountain biking along with access to Lake Norman.
In 2020, full-scale construction at the site began under the management of JD Goodrum Company. The design and construction of the trail system, which was purpose-built for mountain biking and hiking, was provided by Elevated Trail Design. The park's centerpiece, a large-scale adventure playground with climbing walls, tunnels, towers, ropes, slides and other features, was built by Beanstalk Builders.
Mountain Creek Park is operated by Catawba County as part of the Catawba County Park System, which includes Bakers Mountain Park in Hickory, Riverbend Park in Conover, and St. Stephens Park in Hickory. Learn more at www.catawbacountyparks.org.
About the Duke Energy Catawba-Wateree Hydro Project
The Catawba River begins in western North Carolina and flows easterly and southerly into South Carolina, where it joins Big Wateree Creek to form the Wateree River. The Catawba-Wateree Hydro Project is comprised of 13 hydropower stations and 11 reservoirs, including the James, Rhodhiss, Hickory, Lookout Shoals, Norman, Mountain Island, Wylie, Fishing Creek, Great Falls, Cedar Creek, and Wateree lakes. The Catawba-Wateree Hydro Project spans over 225 river miles and encompasses nearly 1,800 miles of shoreline within nine counties in North Carolina and five counties in South Carolina. It is the backbone of Duke Energy's generation fleet, providing 810 megawatts of renewable hydropower and cooling water to more than 7,500 megawatts of fossil and nuclear generation. The hydro project also provides drinking water for over 2 million people and it supports more than 16 million recreation visits per year. Learn more at https://www.duke-energy.com/community/lakes/hydroelectric-relicensing/catawba.
About the North Carolina Land and Water Fund
The North Carolina Land and Water Fund, previously known as the Clean Water Management Trust Fund, was originally established in 1996 to protect the state's drinking water sources. The North Carolina General Assembly expanded the Fund's mission to include conserving and protecting the state's natural resources, cultural heritage and military installations. The North Carolina Land and Water Fund has conserved over 500,000 acres and protected or restored 3,000 miles of streams and rivers. To learn more, visit nclwf.nc.gov.
About the Catawba Lands Conservancy
Catawba Lands Conservancy is a local, nonprofit land trust dedicated to saving land and connecting lives to nature in the Southern Piedmont of North Carolina. The Conservancy protects more than 17,000 acres of land and serves Catawba, Gaston, Iredell, Lincoln, Mecklenburg and Union counties. The Conservancy is committed to improving the quality of life in the communities it serves by protecting clean water, wildlife habitats, farmland and natural open spaces for public benefit. The Conservancy is also the lead agency for the Carolina Thread Trail, a regional network of trails, greenways and blueways focused on linking more than two million citizens through 15 counties in North and South Carolina. For more information, visit catawbalands.org.