Catawba County News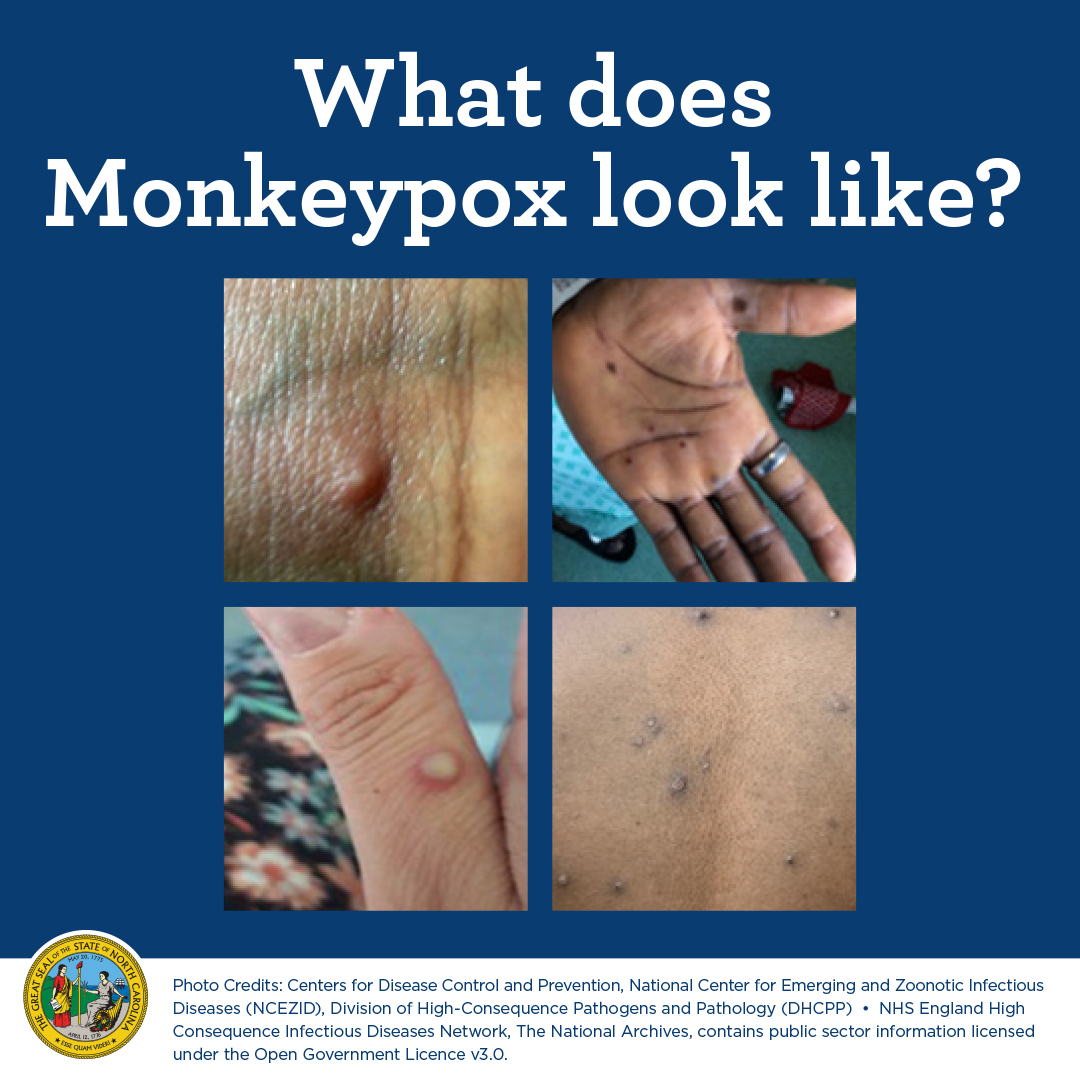 ---
Case of monkeypox identified
Published: September 01, 2022
CASE OF MONKEYPOX IDENTIFIED IN CATAWBA COUNTY RESIDENT
HICKORY -- Catawba County Public Health has confirmed the first case of Monkeypox virus infection in a Catawba County resident.
Monkeypox is a rare, but potentially serious viral illness that typically involves flu-like symptoms, swelling of the lymph nodes and a rash that includes bumps that are initially filled with fluid before scabbing over. The illness could be confused with a sexually transmitted infection like syphilis or herpes, or with varicella zoster virus (chickenpox). Most infections get better on their own in two to four weeks.
Public Health is working to identify and notify any individuals who may have been in contact with the confirmed case. The patient is in isolation and no further information will be shared about this case to protect the patient's privacy.
There are currently 318 Monkeypox cases in counties throughout North Carolina as of August 31, 2022.
"Although this is the first confirmed case of Monkeypox in a Catawba County resident, it is part of an increasing number of cases across the globe in countries where it is not normally found," said Catawba County Public Health Director Jennifer McCracken.
Based on how rare the disease is, the way it spreads and severity so far, it is something to keep an eye on, but it poses little threat to the overall health of the general population at this time.
"While the risk to the general population from this initial case is extremely low right now, we do ask that residents be aware and if they have an unexplained rash, sores or other symptoms, they should see their healthcare provider for potential testing," said McCracken.
Monkeypox virus can be spread person-to-person through infected body fluids (including saliva and lesion fluid), items that have been in contact with infected fluids or lesion crusts, and respiratory droplets. The incubation period is usually 7−14 days but can range from 5−21 days. People with Monkeypox are infectious from the start of symptoms (before the rash forms) until the lesions heal and new skin forms underneath scabs and the scabs have all fallen off. Although anyone can catch Monkeypox, not everyone is at equal risk. In this outbreak, many of the cases are in individuals who have multiple or anonymous sex partners.
If you have symptoms of Monkeypox or have had contact with someone with Monkeypox, contact your healthcare provider. This includes flu-like symptoms, swollen lymph nodes and bumps that are filled with fluid or pus before scabbing over. Bumps may be all over or just a few. In some people, Monkeypox can look like some sexually transmitted infections or chickenpox.
Residents who do not have a health care provider but believe they are experiencing symptoms should contact Public Health at (828) 282-2002.
Treatments and vaccines are available for those at highest risk. Because the vaccine is not yet widely available, the North Carolina Department of Health and Human Services has established criteria for who is currently eligible to receive it. That criteria is available at https://www.ncdhhs.gov/divisions/public-health/monkeypox.
Individuals who meet eligibility criteria and who are interested in receiving vaccine should call Catawba County Public Health at (828) 282-2002.
NCDHHS has additional information about Monkeypox, and testing, vaccines and treatment at https://www.ncdhhs.gov/divisions/public-health/monkeypox.