My Catawba County
The Playground That Gives Back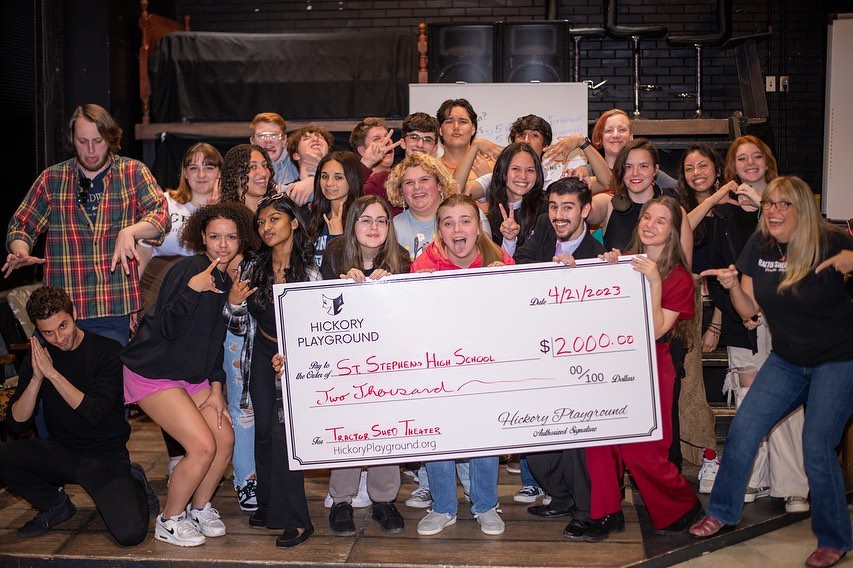 The Playground That Gives Back
Imagine coming home for the summer after your first year in college… and starting a local nonprofit that has granted more than $69,000 (and counting) to public school arts programs in Catawba County and beyond? That's just what Dylan Tashjian did when he created Hickory Playground in 2016 with friends Robert Fuller and Jordan Makant. Just what is Hickory Playground? We asked Dylan to give us the scoop.
What is Hickory Playground?
Hickory Playground (HPG) is an arts advocacy nonprofit with a mission to invest in the artists of tomorrow by nurturing artists and offering financial support to arts departments in public education. The organization is now in its eighth year of operation and earned its 501(c)(3) status in 2018. Since its inception in 2016, the company has granted more than $69,000 to 18 different public schools in Catawba County and beyond, from pre-school to high school. The support Hickory Playground receives is directly reinvested back into emerging artists and public school arts departments to lift up the diverse voices of the artists and activists of tomorrow.
What inspired the creation of Hickory Playground, and who was behind it?
Hickory Playground was started when Dylan Tashjian was debating what to do with his summer in 2016 after his first year of college. He called his childhood friend, Robert Fuller, to talk through the idea of a 48-hour play festival. Robert knew that Jordan Makant would be able to help – and from there, the festival was created and with the help of our initial sponsor Vanguard Furniture, Hickory Playground was born.
How has Hickory Playground evolved?
Hickory Playground started in 2016 as a 48-Hour Play Festival designed to showcase local artists in the community with the goal to donate all of our proceeds to arts departments in public education. In 2016, HPG was able to donate $6,000. After an outcry of support for the project, HPG became an annual tradition, receiving its 501(c)(3) status in 2018. In eight years of operation, the company has donated over $69,000 to arts departments in 18 different public school programs ranging from pre-school to high school. The festival has been an annual tradition, however in 2020 with COVID, HPG launched Quarantine Diaries which allowed participants from around the world to submit projects for us to feature on our website and social media while paying artists for their work when no art was being created. The initiative had over 300 submissions and selected 53 projects to feature. The play festival resumed in 2021. Through the years HPG has done projects that showcase arts in the community and compensate artists fairly.
What is the concept behind the 48-Hour Theater Festival? Who's involved, and how does it come together?
Basically, a group of playwrights, actors, and variety artists meet on Thursday night. There, each playwright is assigned a random number. Based on that number, they will draw that many actors' names out of a *literal* hat. Those names will be their company of actors. Finally, each playwright draws a random prop out of the same hat that must be prominently featured in their play. We literally go to Bargain Hunt on Thursday and randomly pick props from the bins to use THAT DAY. We do this to ensure that each play is original and written during the allotted 48-hour time frame. From there, playwrights meet their actors and write a play around them that evening. The plays MUST BE 10 minutes or less.
On Friday, the casts meet and rehearse the brand-new play. On Saturday, we give each cast a 30-minute tech slot where they will perform their play with our tech crew to finalize any last-minute changes and technical elements. Saturday night at 7:30, exactly 48 hours after we all meet for the first time, the lights come up and each play is premiered in front of a live audience.
We've featured not only plays, but also 48-hour musicals, 48-hour songs, and 48-hour stand-up comedy.
Learn more about the full logistics of the three days HERE.
When and where will the next 48-Hour Theater Festival take place, and how can people participate?
HPG007 is taking place Saturday night, July 29 at 7:30PM at the Drendel Auditorium at the Salt Block.
People can participate by joining us that evening. Tickets are free with a suggested donation (all of which goes back to arts departments in public education). Any donation over $20 will get a special gift.
All audience members that attend HPG get the chance to vote on their favorite play of the night via their phone and the winning playwright and their cast get to come on stage and savor the moment in front of the crowd! The best thing for people to do is to come out and show support for the arts in their community and in the public schools.
How does Hickory Playground give back to the community? How much has been donated to date?
Any proceeds that do not go toward the festival or paying our staff are directly transferred as a donation to arts departments in public education. We've given back over $69,000 so far, and plan to give back more after the conclusion of the festival. In addition, we give talk backs to students to support them in any journey their life takes them on whether they go on to be artists or anything else they choose to do. We know the arts are essential in their journey.
Is there anything you'd like to add about Hickory Playground?
Please direct people to join us on Saturday night and to not be shy about shelling out some $$$ for a great cause!! We want to get as many people there as possible! THANK YOU!