My Catawba County
Field Days for Fifth Graders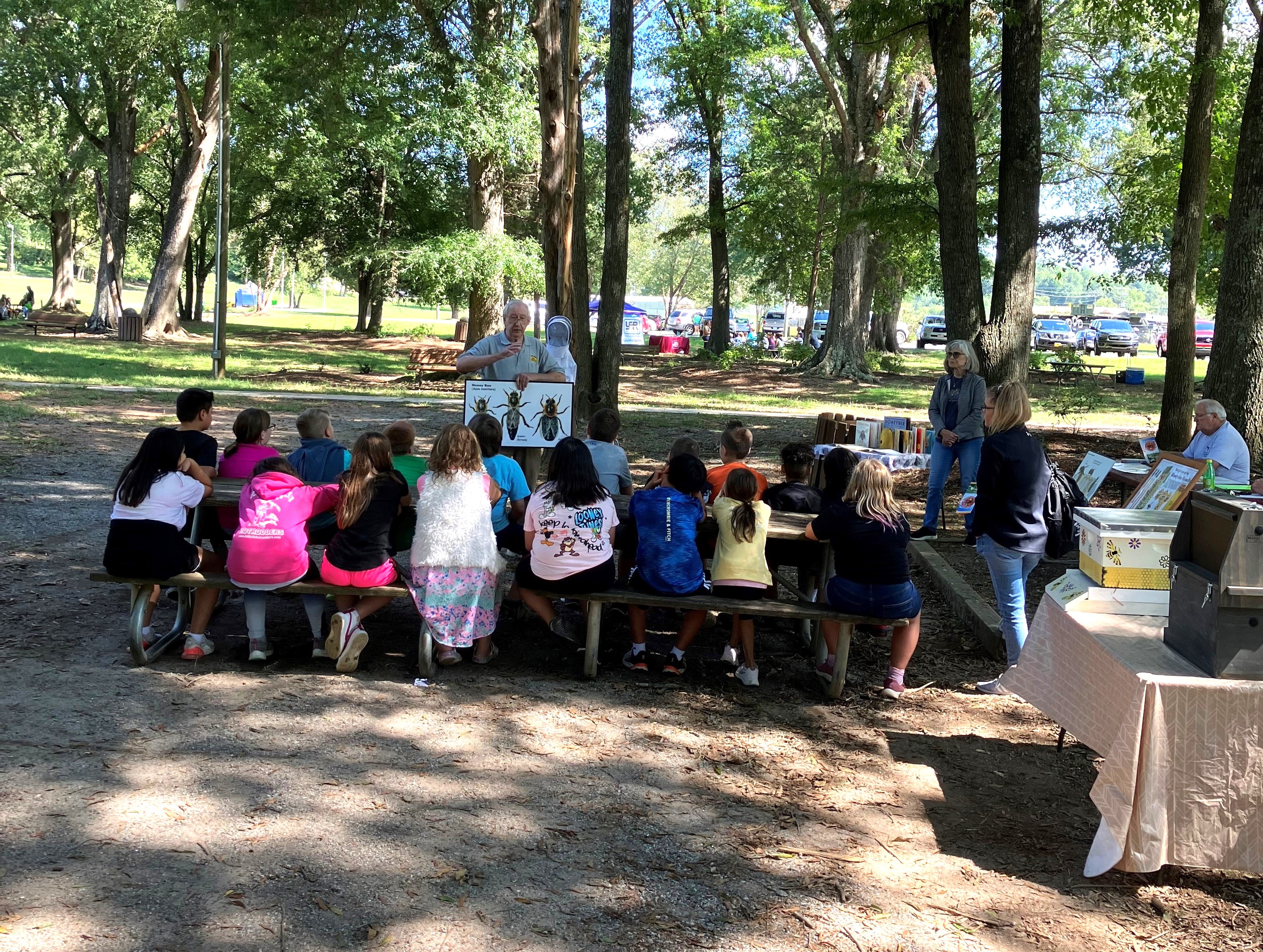 Every year, the Catawba County Soil & Water Conservation Districtorganizes Environmental Awareness Field Days for fifth graders across the county. The days are packed with interactive lessons aimed to help students connect with and learn about wildlife, the environment, and food systems. To learn more about this year's Field Days, which take place every September, we reached out to the Catawba County Soil & Water Conservation District's education coordinator Leia Hamlyn.
What is the purpose of the field days hosted by the Catawba County Soil & Water Conservation District?
The Fifth Grade Environmental Awareness Field Days are designed to give students the opportunity to learn about the environment through presentations and hands-on activities. Our goal is to increase environmental literacy through lessons which correlate with topics covered throughout the year in the fifth grade curriculum which is tied to the common core.
Who participates in the field days?
Fifth grade students in Catawba County.
What do students learn during the field days? (please provide specific examples)
The students learn about wildlife, the water cycle, forestry, food webs, local agriculture, air quality and bees.
Wildlife – A ranger from South Mountains State Park brings a collection of Skulls and Skins to teach students about predators/prey and the ways they can be identified along with their specialized adaptations.
Water Cycle – Blake Henley (Soil & Water) teaches about the stages of the water cycle and incorporates a game in which students become a water droplet and collect beads from different stations representing places water travels in the cycle.
Forestry – NC Forest Service rangers teach students about fire safety and demonstrate with a small controlled burn using different fuel materials.
Food Webs – Catawba County park rangers teach students about food webs and food chains. Students play a game which allows them to take on the roles of consumers, producers and decomposers to help them understand how these things are interdependent.
Local Agriculture – Farmers belonging to Catawba County Young Farmers and Ranchers challenge and expand students' understanding of the origins of their food, clothing and shelter. They discuss local crops and how those products are incorporated into items they use daily.
Air Quality – An educator with the NC Department of Environmental Quality teaches students about air quality, composition and how different modes of transportation contribute to particulates in the air. An electric car and models of molecules are used to demonstrate clean energy concepts.
Bees – Volunteers from the Catawba Valley Bee Keepers Association teach students about the life cycle and purpose of bees and the importance of pollination in food production. They have a demonstration hive in which the queen bee is identified and worker bees can be observed.
Is this an annual tradition? If so, when does it typically take place?
It is an annual event which takes place in the fall at Southside Park in Newton. The Field Days for this year were scheduled for Tuesday, September 19, and Tuesday, September 26.
Are there other organizations or partners involved in addition to Soil & Water?
This year we have presenters from the NC Forest Service, South Mountains State Park, Catawba County Parks, Catawba County Young Farmers and Ranchers, NC Department of Environmental Quality, Catawba Valley Bee Keepers Association and Catawba County Soil & Water Conservation District.
Is there anything else you would like to add?
This year we will reach approximately 300 students. There are seven stations, and classes rotate after 20-minute lessons. Students enjoy a picnic lunch break after the fourth station and they get to have some time on the playground after the last station.
This is something we look forward to every year! We receive a lot of positive feedback from students and teachers.