My Catawba County
A Most Elegant Car Show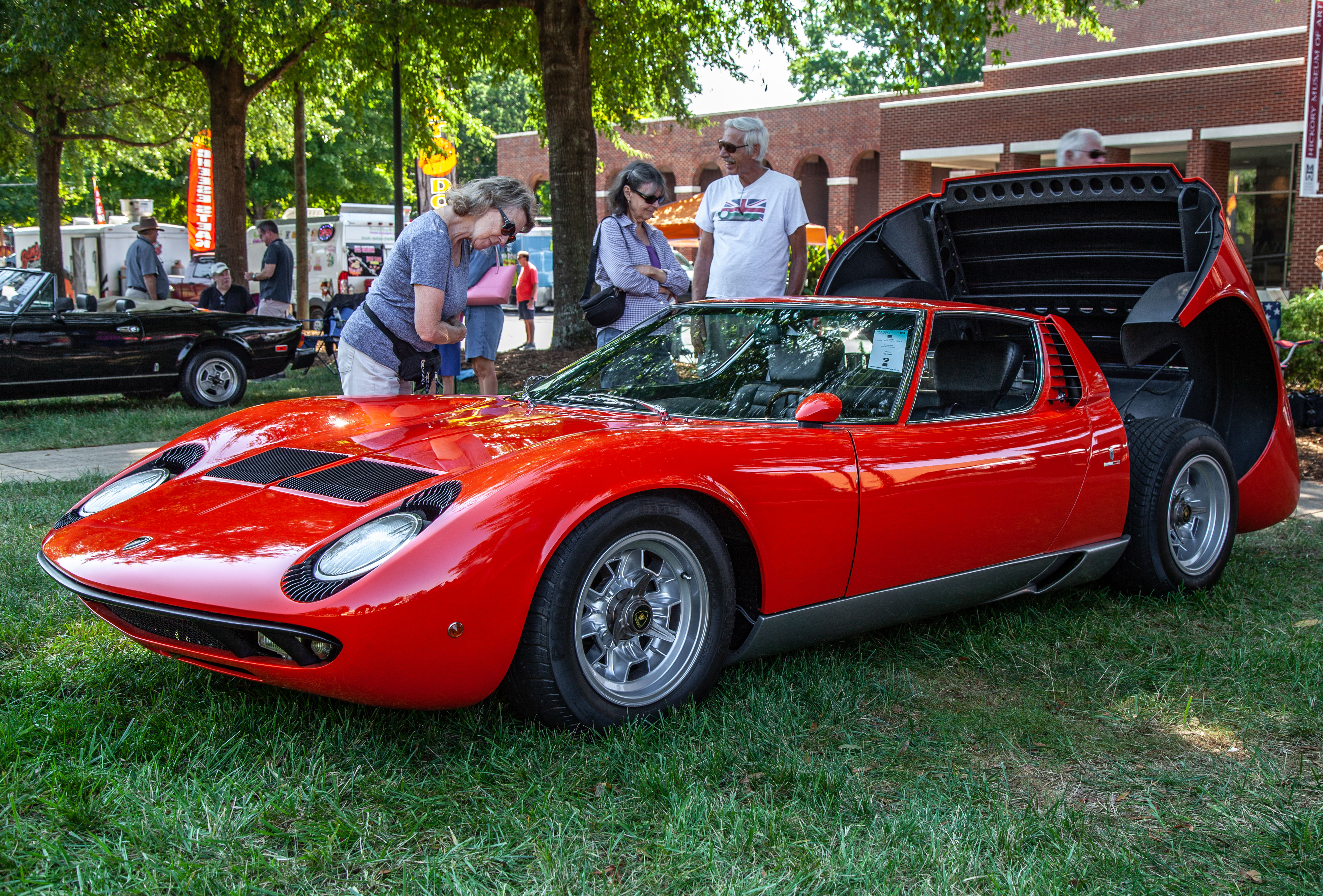 Elegance, sophistication and speed: all the things a European car show brings to mind – and to Hickory, when the Hickory Museum of Art's (HMA) Autolawn Party and Euro Classic Car Show returns for its ninth year this weekend. To learn more about this unique event, we talked with two key Autolawn players: HMA Development Manager Lindsay Herrin and Autolawn co-founder Kit Cannon.
What is the Autolawn Party?
Lindsay: The Autolawn Party is an annual outdoor celebration of the road's number one traveler – the automobile. For 8 years, this event has brought flash and color to the SALT Block Lawn. This year, Autolawn is being held at L.P. Frans Stadium in conjunction with the Volvo Club of America's National Annual Meeting. Spectators will have the opportunity to celebrate over 100 classic Euro cars, many fitting this year's theme: Volvo.
What is the Autolawn Euro Classic Car Show?
Lindsay: The 9th Annual Autolawn Euro Classic Car Show is a peer-judged show of European classic cars and motorcycles. The Euro Classic Car Show offers a wide range of high-quality, original European vehicles in an intimate, yet informal setting, without the pressure of a traditional Concourse event. The number of awards per class are based on the number of entrants. First place prizes will be awarded to entry classifications German, Italian, British, Other European Makes, and European Motorcycles. Additional classifications may be added based on participation or theme such as Spectator's Choice, Best Volvo, Hagerty Youth Judged Best in Show, and Best in Show (Overall). The public will have the opportunity to cast their vote for the People's Choice Award. Voting takes place between 10 a.m.-1:30 p.m., with only one ballot per person.
When and where does this year's Autolawn take place?
Lindsay: This year, Autolawn is on the road for the first time ever, featuring participants' vehicles at L.P. Frans Stadium, home of the Hickory Crawdads. This event will be held at L.P. Frans Stadium on Saturday, September 10, 2022, from 10am-3pm, in conjunction with the Volvo Club of America's National Annual Meeting Car Show.
How can people participate in and/or attend?
Lindsay: Registration for the event is currently open. Qualifying car owners can register at http://www.theautolawn.com/registration/. Public entry to the car show is free, and spectator parking will be at the Crawdads stadium. Visitors are welcome to attend from 10am-3pm on Saturday, September 10 and can cast their vote for the People's Choice Award up until 1:30pm. We can't wait to see you there! Live music will play throughout the day. Concessions stands and beer vendors will be open inside the stadium during the event. Come one, come all!
When and how did Autolawn get started?
Kit: We started Autolawn in 2012 as an opportunity to raise funds annually for HMA. A few years earlier, a small group of guys from the area, including Dave Zagaroli, Mick Berry, and Jay Adams, had begun the process of trying to establish a car show in Downtown Hickory. Myself and Charlie Zagaroli were both involved in those initial talks and were disappointed when that potential car show didn't come to fruition. Fast forward to 2012, I began volunteering at the museum on the Events Committee and proposed starting an annual car show on the lawn at the SALT Block as a fundraiser. The Board approved the idea, so I called Charlie to see if he would join me in organizing the event. We've been co-chairpersons of the event ever since then, with our first annual event in 2013.
What are some of the more memorable moments from Autolawn's past?
Lindsay: Coming back in 2021 after the pandemic shut down, Autolawn worked with the city of Hickory to commemorate the 20th anniversary of September 11. The usual event program expanded to include a Patriot Day ceremony and involved so many members of Hickory's community: HPD, HFD, Chad East, Mayor Guess, and Pastor Anthony Freeman of Clinton Tabernacle A.M.E. Zion Church. Last year's Autolawn Party truly was a community-wide event.
Kit: Great question! We've had lots of fun over the years doing this. Of course, we have witnessed so many cars to list that stand out in my mind. However, the moments with the people are the memories I enjoyed most. Of those, the first time being interviewed about The Autolawn on First Talk with Hal Row was a blast. Hal made us feel so at home and shared an excitement with us about the event. That first interview got us really pumped up for the event. Another great moment occurred a couple of years ago when Charlie [Zagaroli] and I were making the announcement with Benny Yount and Nick Kincaid by our sides that Paramount Automotive, through its commitment to being the Presenting Sponsor each year we've existed, had collectively donated over $100,000 to HMA's educational programming. Charlie and I honestly never thought The Autolawn would accomplish so much in the way of funding an institution we both know and love. It was a very proud moment, and continues to be a great source of inspiration.
How does Autolawn benefit HMA and the community?
Lindsay: Income contributions from the Autolawn Party support HMA's educational programming. HMA works to further its mission to bring people together and inspire creativity through the power of art through its educational programming and community outreach. Key initiatives outlined in the Museum's Strategic Plan promote deepening community connections through HMA's "Art for All" program, integrated lesson planning with county schools, and fostering the Museum's core value of lifelong learning through classes offered at other area community organizations. Through HMA's most recent Mo Willems exhibition, collaborative connections were made with Catawba County and Hickory Public Schools to integrate art and the creative process into the curricula of elementary school students. In the coming year, HMA will expand this partnership to include Alexander and Burke County schools at the middle and high school grade levels, and work with school administrators to create aligned programming during our upcoming Mel Chin and Charles White exhibitions.
Photo Credit: Randy Knauf - Catawba Valley Camera Club