My Catawba County
Adopt a Pup... 'n Play!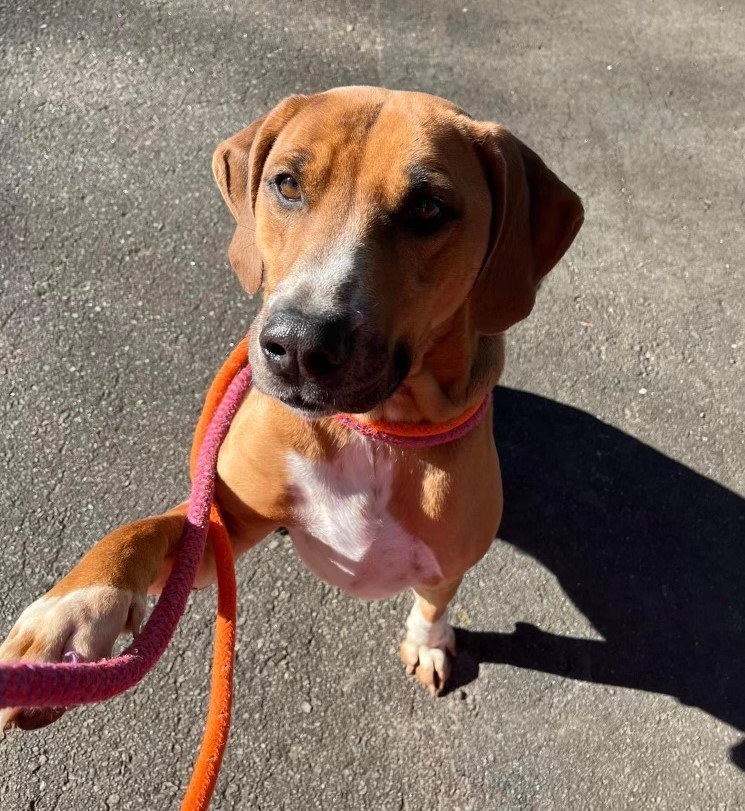 What would a shelter dog love almost as much as finding his forever home? Playing with other dogs, of course! To help make both happen, the Catawba County Animal Shelter and the Catawba County Park System have partnered to create Pup 'n Play. We asked Catawba County Animal Shelter Manager Jenna Arsenault to give us the inside scoop on this program.
What is Pup 'n Play?
The Catawba County Animal Shelter and the Catawba County Park System have partnered to create Pup 'n Play. Pup 'n Play is a new program that was launched on December 6, 2022. Anyone who adopts a dog from the Catawba County Animal Shelter will receive a coupon for a free annual pass to Catawba County's three dog parks. The Catawba County Park System offers fenced, off-leash dog parks at three of its four park locations: a 1.6-acre play area at Mountain Creek Park, located at 6554 Little Mountain Road in Sherrills Ford; a one-acre play area at Riverbend Park, located at 6700 N NC Hwy 16 in Conover; and a one acre play area at St. Stephens Park, located at 2247 36th Ave NE in Hickory.
How does a program like Pup 'n Play make a difference for the shelter, and for the dogs who are adopted?
Implementing a program like Pup 'n Play gives potential adopters additional incentive to adopt a pet. There are also many benefits for the pup should those adopters choose to take advantage of this program. There is an extensive amount of information available that suggests socialization outside of the shelter and/or home environment is beneficial for almost every healthy dog. Interspecies socialization offers a type of vigorous exercise that we as humans can't duplicate. Anyone who's ever picked up their dog from doggy day care or taken their dog to a dog park before can verify that. Usually, after an hour they have one tired pup! The socialization a dog experiences at a dog park can help build confidence, they get to run and play with their new doggy and human friends, learn to explore new places outside of the shelter/new home, take in new smells, sounds, and experience other various types of stimulation.
In general, what kinds of dogs are available for adoption from the shelter?
This fluctuates a lot but we usually have a wide variety or big dogs, small dogs, puppies, and seniors. All of our dogs available for adoption can be viewed online. To access all of the animals available for adoption you can visit www.24petconnect.com. For the location type in Newton, NC or Zip Code: 28658. The location will say: Catawba County Animal Care and Control. There are many tools to navigate through the animals, but please note the difference between Adoptable pets and Found pets.
What are the biggest benefits of adopting a shelter dog?
Every time you adopt one shelter dog you are saving at least two lives. You are saving the life of the dog you rescued, and you are freeing up kennel space so we can help another animal in need. Aside from that, you have a new live-in best friend! What's better than that?
What are the biggest misconceptions people may have about adopting a shelter dog?
There are a lot of misconceptions about shelter dogs. We hear a lot, but some of the most common are from the belief that all shelter dogs are "damaged goods" - essentially implying all shelter dogs have behavioral issues and all shelter dogs are sick. We do have animals that enter our care with certain ailments or struggles, but the majority of the animals that enter our care are healthy, adoptable pets. The ones that are sick or injured are immediately assessed by our veterinarian and treated accordingly.
Who is currently your longest canine resident, and what's his or her story?
Our longest canine resident is Andie (pictured above). He originally entered our care on February 15, 2022! He's a love bug to the max, especially after a little walk or play time. All of the staff at the Animal Shelter describe him as "simply hysterical." He LOVES people and sings at everyone who walks by his kennel. Once you get him out of his kennel he quiets right down. He's current on all of his vaccinations and neutered, has completed heartworm treatment, and is ready to find his forever home!
What advice do you have for people thinking about adopting a dog from the shelter?
Once you choose the dog that's best for you and bring your new pet home, be patient. We encourage all adopters to do some reading on the 3-3-3 rule of a rescue dog. It takes at least three days for the dog to decompress after leaving the shelter environment, three weeks for the dog to start to learn your routine, and three months for the dog to start to feel at home. The longer the animal resides in the shelter environment, the longer this process can take. Consistency and patience are key.
Is there anything else you would like to add?
If you can't adopt, foster. Not in a position to have a pet in your home? Consider volunteering. There are many different ways to help shelter pets!