Catawba County News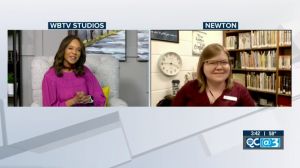 ---
QC@3 Highlights Library to Go
Published: January 21, 2021
When they heard about the Catawba County Library's ongoing efforts to connect with people throughout the county via a mobile vehicle, the folks at WBTV's QC@3 lifestyle show asked if they could share the Library to Go's work in the community.
Of course, we said 'yes!'
On the afternoon of Tuesday, January 19, Greta Caldwell, our Librarian to Go, joined anchor Cheryl Brayboy via Zoom to talk about how the Library to Go works, how it's operating during the pandemic, and how it continues its mission of bringing library services and resources wherever people need them.
To watch the segment and see the Catawba County Library share details about this important community outreach, including its twice-monthly visits to the Town of Catawba, click https://qclife.wbtv.com/catawba-county-library-offers-mobile-visits/.
And if you'd like to get more information about the mobile branch or request a visit from the Library to Go at a local festival, community event, or other opportunity, call 828.465.9489 or submit your request through our online form.