Richard Dowdy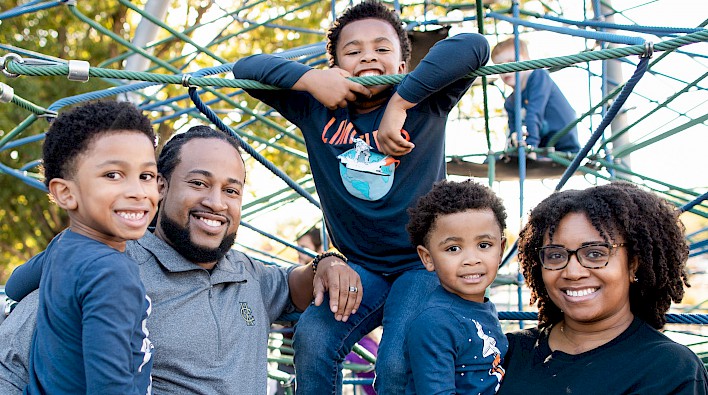 Age: 36
Occupation: Owner, Reputable Web
Family: Wife Cassia, sons Josiah, Evan and Jackson
Resides: Hickory
Tell us about your family.
My wife Cassia and I just celebrated our 13th wedding anniversary, and we have three amazing little boys – Josiah (8), Evan (6), and Jackson (4). I consider myself blessed to have such an awesome family.
What's your occupation?
I own Reputable Web, a digital marketing agency here in Hickory. We partner with small to medium sized businesses to create online strategies that drive new customers to the business and increase sales.
What was your career path like? How did you get to that line of work?
The first website I ever built was part of a ninth-grade English project on Shakespeare's "Hamlet." This was in 1997, in the day of dial-up modems and before Google was the giant it is today. The internet was gaining in popularity but was still considered to be just another fad.
But with free platforms like GeoCities, it was possible for a high-school freshman to create a website and have it viewable by anyone in the world. I was fascinated. That same year I created another website for a local clothing store that showcased their inventory. It makes me laugh when I think of it, but I guess that was my first client!
So, when my wife and I moved to Hickory around 2009 and I had the opportunity to work with a great online Christian television station, I was excited. I was excited because it was a different genre, or a different type of business and I saw how it could help so many organizations. The station was a platform built for churches, speakers and other content creators to expand the reach of their message as part of the station's daily programming, which also included movies and TV shows.
One of the major goals for the station was always to attract more viewers. There were viewers watching and sending thanks from all over the world, and it was awesome. But there was always a push to increase viewership and repeat visitors. The internet had changed drastically in the decade before starting with the station, and it was still changing at an insane pace. So, the owner and I constantly talked about online marketing strategies and what we could be doing better. The discussions piqued my interest and I found myself researching social media, SEO and other strategies on a nightly basis.
Originally the research was to help the station, but I soon started to realize there was a huge opportunity online. Social media was on the rise and Google was getting bigger by the day it seemed. There was a great void between businesses, especially small or local businesses, and their customers online. I felt like I could help fill that void. But at the time I wasn't sure how exactly.
Not long after working at the station, I began working at a chemical coatings company here in Hickory and had the opportunity to work with an exceptional team in the IT department. It was another great opportunity and I learned so much from everyone on the team, particularly related to technical research. The troubleshooting skills I was using every day and the research skills I was developing helped me immensely. I was still researching, building websites and testing in my free time. So, I was seeing more results and gaining confidence.
In 2017, I started Reputable Web. Google had become a household name and is almost synonymous with searching online. More people were using the internet to find new businesses and still so many businesses were missing the huge opportunity of being found online. I felt like I could help so many people see greater success in their business and had the huge support of my wife. So Reputable Web was born.
How long have you lived here?
We moved from Southern Pines to Morganton in early 2007. We met a couple earlier that year at a conference in Florida who were investing in the area. They needed someone to manage their properties and perform rehab work. My wife and I took a leap of faith and made the move. It has been great ever since.
We moved to Hickory about three years after that. My wife began working in HR with a local furniture manufacturer. And it was around this time that the opportunity with the Christian internet company came up, and it felt like things were moving in accordance with the plan God had for us.
Where are you from originally?
I was born in Maryland, but I was raised in Southern Pines, North Carolina. I graduated from Pinecrest High School and eventually moved to Atlanta. From there I moved to St. Louis and Virginia Beach with a sales job, where I met my wife.
How did you two meet?
We met in St. Louis. We both worked for a direct marketing company, or in other words, a door-to-door sales company. They had different offices across the country, and she was working with the St. Louis office, I with the Atlanta office. Members of our office traveled to St. Louis and spent some time working together. Looking back, she didn't like me much then.
They opened a branch in Virginia Beach and brought in a couple of people from the St. Louis office and a couple of people from Atlanta, and we ended up working a lot closer together. That's when she figured it out. "You're not so bad," she said, "you're just a little goofy, that's all."
At that point we realized a lot of our ideals and values matched up. We clicked early on. We clicked on so many levels from how we wanted to raise our kids to how we value family as very important. She's the guiding force and I'm the support, the protector. She's organized and very good at planning, where I'm more free spirited at times.
That's a good combination.
It wasn't an accident. And while I say she handles the planning, we understand our place in family. My place is to lead, and it's not a head-butting or controlling type of thing. It's more like, "It's your responsibility, I'm going to leave it to you and I'm going to support it," and I love that. And again, it's not a chauvinistic thing. I just feel that anything that comes to the family, I'm supposed to jump in front of it and protect us. I love that dynamic. And when she does challenge me, I needed to be challenged.
It sounds like entrepreneurship, being self-driven, has been a common thread through your career.
It has definitely always been an interest of mine. It's the ability to go out and create for yourself. Those type of things interested me as a young child. I was around eight or nine when I first started selling newspapers. I thought, "If I go out and talk to more people, if I can get into this law firm where all the lawyers want the newspaper and I can do that before anybody else, I can sell more newspapers." Those types of things sparked my interest early.
Selling papers when you were that young, walking into a law firm to sell them, it takes something special to be able to do that.
I'll say it was a lot easier being an eight-year-old walking into a law firm, because the reaction was, "Awwww!" Being a twenty-two-year old knocking on someone's door, not so cute.
How daunting was it to start your own thing?
It was pretty exciting and scary at the same time. A lot of prayer. My wife's blessings. We talked about this for months before ever making that decision. Having three little boys, a wife, and a new mortgage at the time, I thought maybe I should wait.
I actually met with a couple of guys who run a similar agency here in the city. You would think they would have pushed me away, but they were very welcoming, very supportive. It made the transition a little bit easier.
One of the things that defines our community is collaboration. It sounds like you experienced that spirit with something that would seem to be a very independent project, starting your own business.
One of the greatest parts of this community is the relationships. You grow up and hear, "It's about who you know, not what you know," and you think that's a bad thing. It really isn't. It's about people trusting people. Recommending you to other people and doing what they can to help. You work with who you trust, and it's the same thing I notice online.
A lot of what we do when searching online is trying to find a company we trust. We use reviews. We use their prominence in search. We use their Facebook profiles and all types of things to determine if we can trust this company to service our need. That's what I try to show a lot of small businesses. It's the same way you operate one-on-one. It's just on a different level online and it's 24/7.
For many entrepreneurs, the first few years are the hardest. How has it been for you?
It's been a blessing, because it's been all about those relationships. I joined the Chamber after going out on my own and met a lot of great businesses. I've been networking and building relationships, and those relationships have bolstered my company.
If you go out and speak to people, get to know people, figure out what their need is and if you can help with that need, that's where your success comes from. In this area especially. People get afraid to go talk to people.
When I was younger, I worked in a retirement home as a dishwasher. It was my responsibility to go around and pick up food trays from the resident's rooms. Some of the older people didn't have anyone to talk to and they just wanted to share a story. I learned so much from these people and found out some of the most amazing things, just by listening. From a young age, I knew I liked talking to people. But more than talking to people – listening to people.
Those skills have made the transition a lot smoother. But the relationships I have built have made it an amazing experience and a blessing.
Are you enjoying what you do?
Oh yeah, absolutely. I love the clients I've had a chance to work with so far. One of the greatest things of having my own business is the freedom to be able to spend time with my boys. They are at a young age, and it's been a blessing to be able to spend time with them, to go on the field trips and things like that.
It's a big responsibility to raise three boys.
Oh man, it's a huge responsibility. It's one I don't take lightly. My mom calls me a "drone dad" (the upgraded version of a helicopter dad), because I'm watching all the time. But I grew up in a single parent home with just my mother.
You feel that void as a kid and I knew early on that I wanted to be a father. A good father. I wanted to be in my children's life. I prayed for boys because I knew a young lady would wrap me around her finger. I'm not tough, but we run a tight ship. I think in the long run it'll prove to be great, because we're giving them a good head start.
All my sisters have boys as well, two of which have also moved to Hickory. My wife's sister has a boy. So yeah, there are a lot of boys. I'm starting to think there may be some reason there are so many boys in our family. But it is our responsibility to raise them up to be great young men.
What does fatherhood look like for you right now?
Fatherhood, for me, is being what I felt like I didn't have as a kid. I'm trying to teach my boys right now that they are the core unit. "You're going to have friends outside of the unit, you'll have friends outside the house, but you guys are going to have each other's back regardless of where you are. You'll move away, but you'll always be brothers."
Same with financial literacy and things like that. As I'm learning more, I tell myself, "I need to make sure they know this before they get out of high school." Those are the types of things where I feel a dad should be there. I'm not saying I'm great at it, not saying that I'm the guru or anything like that, but I'm doing everything I can.
What do you like to do for fun as a family?
Pretty much anything outside. My boys like to run, they're all boy. They like to tackle each other, race, play basketball and flat out run. My oldest son loves basketball and plays in the YMCA recreation league. My middle son is in karate over at Hickory Martial Arts Academy. It's a great dojo and he loves it. My youngest is wherever his bigger brothers are.
My wife is really into nature, being out in the mountains and the fresh air. Being from St. Louis, it's a change of scenery for her. So she does a great job of planning "adventures" for the family.
You've got your hands pretty full. What does your free time look like?
Wow ... that's a good question. There's not really a lot of free time at this point, now that I think about it. When they're asleep I'm trying my best to work, so there's not a lot of free time for Dad now. A couple of years ago I did participate in some YMCA activities, like flag football. But I injured my leg and it was like, okay, I'm done with that. Age has caught up with me.
What else do you enjoy about this community?
The hometown values. When my wife got pregnant, we started to think about where the kids would be going to go to school. Where are we going to raise them? As we started to research more about the schools and thought about our experiences in the community, we settled quickly on the fact that this was one of those places where we could see raising our children.
They now go to school at HCA, or Hickory Christian. HCA and this community support a lot of the values I want to instill in my kids. Not just our faith, but also getting to know people. Treating people the way you want to be treated and working hard. All those things are embodied in this community and will make a successful young man. We definitely enjoy raising them here.
Would you say this is home for you?
Yeah, this is home. Where I grew up there are a lot of great memories, but like the Bible says, you leave your mother. This is where we've planted our rock and now, we're raising our family on that foundation. It's been a great community of people. A lot of opportunities have come our way just from getting to know people, and our boys are happy. I believe they're flourishing. I don't see any reason to uproot them and take them anywhere else.
What does life look like here for you and your family in five to ten years?
My wife and I are trying to get more involved in the community. We've benefited from a lot of great things because of the community, and our boys are growing into some awesome little people here. We are looking for opportunities to help drive what's going on, or at least be a part of it. My wife has recently become more involved in Safe Harbor, which is just one the great organizations doing some great things in our community.
Being a productive member of society isn't just about making money. I think it's also about helping those around you. We have a strong nonprofit community here, which is good for my kids to see. It's good for them to realize how much God has blessed us, because there is always something to be grateful for.
Is there anything else you'd like to share?
If I had a word for anybody it would be to get involved. A lot could be done with the start of a conversation. If you feel there's some sort of shortcoming here in the area, go talk to somebody. I think a lot of people are willing to listen. You may find out some people feel the same way you do. But I think if there's any type of disconnect, it's when we have a lack of communication with each other.
That's one of the things I notice when I go out of town. I get caught up because I'm waving at everybody, and everybody is looking at me like me like, "Why is he waving?" Then I realize, "Oh, I'm not in Hickory anymore. I'm outside of Catawba County. Okay, put my hand down." I think if everybody took the opportunity to get to know each other a little bit better, we'd realize we're not as different as we think we are.
Interviewed on July 3, 2019