Justin Fox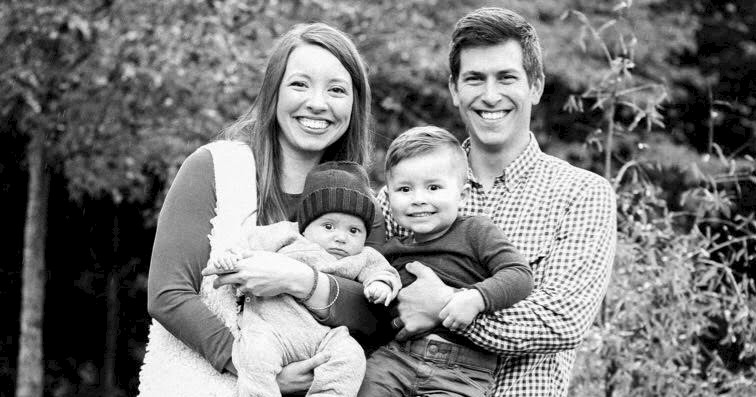 Residence: Hickory, NC
Age: 30
Family: Wife Erin, sons West and Abram
Occupation: Farmer & Industrial Designer
Did you grow up here?
My parents moved our family here when I was 12. I started sixth grade at Blackburn Elementary School.
So you basically grew up here in a sense. What path did your life take after high school?
Much to my parents' chagrin, I only applied to one college. I didn't know that I really wanted to go there, but I ended up at Appalachian. I wanted to be an artist. I was a big-time art student in high school; they made art classes for me because I had run out of art classes to take. I thought that's what I wanted to do with my life, and my parents said, "Well, we're not going to pay for you to be an artist, so figure out something else you can do that you like and we'll help you out." It was the best advice I could've gotten.
I took an entrance exam at the freshman seminar designed to point you toward things you like, and it put me into a product design class. That's how I ended up studying industrial design at Appalachian. It was a seamless transition because my dad has an engineering-like job and always has. I grew up thinking like that, so it was a very natural transition.
As an industrial designer, can you bring your artistic inclinations to your work or does it feel more technical to you?
I'm in a managerial position now, so it's very technical. Paperwork, e-mails, the fun stuff. But I still get to do a good amount of design work. My position at the company I left just before I came to Hickory was more design oriented, but I wanted to be closer to home for my boys. My drive to work is three-quarters of a mile now.
Is your wife from here, too?
She's not. We met while we were both attending Appalachian. She was a teaching major and came here for an internship. She actually lived with my parents during that time. I had moved to Raleigh after graduation to find a design job because I thought that was the best move and ended up moving back. We both lived with my parents for about seven months at the end of her college career and at the beginning of my furniture design career. That's how we started out in Catawba County.
Family is the most important thing to us, and that's why we stayed here. My parents still live here, and they're not going anywhere. My brother moved away for college and moved further away for graduate school, and he's actually planning on coming back here next year. My wife's parents live about three hours west of here, so they're close enough for a day trip.
What do you think about raising your family here? How does that factor into your decision to stay here?
Well, it's funny. When we were right out of college and in our first jobs, we looked at moving somewhere else because we didn't think there was anyone else here like us. Then we started attending Corinth Church and my wife joined their women's bible study. We had our first son, and suddenly there were all these other people with kids. That demographic is a big part of what kept us here. Especially Corinth and the group of girls, and their families, in the bible study. They all have kids, and it's just been a great family atmosphere. That's really what Catawba County is to me. I grew up here, I got married on my best friend's parents' family farm. This area is all about family. The people we've met through the church and our family's friends have created this extended network of folks who all love and care for one another. It's hard to imagine us going anywhere else.
Could you share what inspired your interest in farming?
When I met my wife, food wasn't really a big deal to me. It was fuel to get the day done. My wife's way to show someone she loves them is to cook for them. When I started seeing her, that's all we did. My grandmother makes pierogis. We called my mother to get my grandmother's recipe and she made pierogis for me the first month or two that we dated. Shortly thereafter she made a roast pork tenderloin and all the fixings and pie, because her family loves to make pie. My wife, and her amazing cooking; that is what started my honest interest in food and ultimately farming.
I was getting a little disillusioned with design because at the time. The goal going out of design school was to get a job to make one thing and sell a million of them. I wasn't interested in that. I like the craft aspect of design. Designing something beautiful that also has functionality. Making something that touches someone's life. The more I thought about it, the more food represented that to me. So, I started reading books and going to the farmers' markets and talking to farmers. I thought, "I am going to be a farmer." And my wife was less than thrilled – she has been my biggest supporter all this time, though.
I picked up a book called The Dirty Life by Kristin Kimball, who has a full diet CSA farm in upstate New York. The book details how they started their farm and the life they live. I'm reading it to my wife thinking this is the best thing I've ever read, and she's listening to me and thinking, what in the world did I just get into?
She told me she always thought she would marry someone with a regular job, working 9 to 5 and then come home to help take care of the babies. Everything would be peaceful and smooth. I have found I just don't function well like that, contained in a 9 to 5 job. I am the type of person who is very passionate about an idea and will work to develop something that expresses that passion. I love my boys and my wife, I'd rather work when they're sleeping and be with them as much as possible.
So how did this idea evolve into a cidery and an orchard?
I had been making beer with some buddies from college. It was far cheaper for three guys to go in on a bunch of kits to make beer 60 or 80 bottles at a time. We made six or seven batches and realized we really enjoyed it. And you get beer out of it, so there's nothing wrong with that.
When I graduated I started looking into making wine, maybe a little bit of beer here and there. My wife and I went to Charlottesville, Virginia for her birthday. It seemed like every restaurant we went to had cider. Potter's Craft Cider had just come out, and it was made by a couple of guys who were my age. We had it one night at dinner, and ended up having a bottle almost every night we were there. We got home and I thought, I know how to do this, I understand the mechanics, if they're doing it, there's no reason I can't do it. There wasn't anything here like that, so I just started making it because we couldn't get it locally.
I bought apple juice to ferment first from Deal Orchard and one other in Taylorsville. It was a good batch of cider, but I thought, what if I just get the apples first and really get to pick what I want? So I tried getting in touch with an orchardist in Watauga County, Bill Moretz. I called him about four times before I finally got hold of him out in the orchard, and he told me just to come up the mountain and see his place. Bill is the epitome of salt-of-the-earth farmer. The first year he sold me 800 or 1000 pounds of apples for something like eighty bucks. I didn't know it at the time, but it was the stuff he couldn't sell at the farmers' market because it didn't look perfect. He's thinking I'm doing him a favor, and I'm thinking he's doing me a huge favor so it was a great relationship. That's how we started pressing apples three years ago.
Where did you do this?
In the backyard of our house. It was a production. My dad and I would crush all the apples by hand. We have a hand-cranked grinder, so it's all manual labor. We still use that for small batches. My wife and my mother and my brother were involved in making the first batch, and they all ran the hand cranked basket press.
About that time we started looking into moving and building a house. We live in downtown Hickory and we want to be on a little more acreage. I have about a 1,000-square-foot garden and I wanted to expand that a little more – why I don't know, it's enough to work on as it is! I thought if I had land, I'd just start planting trees. So I took a deep dive into were to find land and how to plant an orchard. I talked with extension agents and a bunch of growers. Then I found Lee Calhoun's book called Old Southern Apples and he's documented all the apples that grew in the South historically, roughly 1,000 varieties. It was a rabbit hole, honestly. We're utilizing that book, and other like it, to try and find varieties that were grown here in Catawba County. We want the orchard to represent the agricultural history of the region.
While looking for land, I stumbled across a Realtor.com posting for an orchard [Apple Valley Orchard] that was planted 35 years ago. It turned out to be five acres of mature apple trees in Zionville, just north of Boone. It had been planted by a gentleman who had recently passed. His daughters had inherited it and maintained it for a while, but with no need for the fruit and lacking the passion for orcharding that their father had, they chose to sell it. Having never seen the orchard, which had 200 trees on the side of a mountain at 4,200 feet of elevation, my wife agreed to purchase it. That's how we got to where we are.
I've been really lucky. When we bought the orchard in Watauga County I got in touch with the extension agent there. I'd gardened for a number of years, so I knew a lot about growing food but I didn't actually know anything about growing trees. I'd read a lot, but reading and practicing are two very different things. Richard, the ag extension agent, met me at the orchard and helped me determine a path to reclaim the land and long neglected trees. He also introduced me to the folks who own Molly Chomper in Lansing, a cidery about an hour north of Boone. Sight unseen, they bought all of the fruit we could grow.
At that point I thought, I've got a parachute, let's jump. They've really been keeping us afloat. We don't make a whole lot of money selling fruit, very little at all really. But it's enough to pay for gas to get up there, pay for tools and things like that. The connections, the word of mouth thing, has been unbelievably important in our story.
Do you sense that connectivity in this community in particular?
Oh, absolutely. It's like this place [Hatch Sandwich Bar]. I don't know Zack [Harkins, co-owner] from anywhere but here. My mom happened to see the article in the Hickory Daily Record about their opening and that he went to Appalachian. So we came here thinking we'd support another Mountaineer, and we just hit it off. When I started really making a bunch of cider, he's one of the first people I gave a bottle to. He asks me about the orchard every time I'm here. That's a big reason why we're only going to sell at the farmers' market at the start. We want to be a part of this community. The people who shop at the market are those who care about their food and where it comes from. Plus, it's where word of mouth is really built.
What does the next step look like for you?
We're getting ready to close on some property this month. It's about twenty acres at Propst Crossroads heading out toward Vale. We got really lucky. We've wanted to live out there for a long time, but we couldn't find any land at a price we could afford. We're going to divide the property into a family subdivision, and my brother is going to build a house there as well. Ideally, I believe my parents will probably end up out there at some point. All that gives us the ability to afford what we're buying. It also gives us the ability to afford to farm, because they are allowing us to use some of their acreage and willing to help us, as well. The property is across the street from my best friend's dad's doctor practice, and we will be living right behind my brother's friend's family.
How many acres will be planted?
We'll ideally have eight acres planted of apples and two acres of grapes. I don't really love sweet wine, but I know people around here really like it. I want to do a bubbly project with native grapes, so I'd like to do sparkling muscadine and scuppernong. Even if it's the dark red sweet, I think the bubbles will really help with a little bit of that viscous mouth feel. We're going to shoot for that. I'm going to buy some grapes first before we plant anything. We'll probably have about 800 apple trees. We're in the process of choosing varieties for the best flavor and history now.
We're planning to plant cover crop in April. It's been planted as soy beans for about 12 years, so the soil's not great but it's not terrible by any means. I'm not certified organic, but I don't believe in spraying anything. My kids pick fruit with us, and I don't want them to be a part of that and I don't want to be a part of that. So, we'll be a no-spray holistic management orchard, which is how we manage the one in the mountains now.
What about a production facility? What does that look like for you?
Right now we're actually working on a space in downtown Hickory behind the post office. My dad rents a building that's about 2,800 square feet, and we're going to use about 400 square feet of that. If we can get that nailed down, we'll probably be in that space for three to five years. I have to show that the property where we're building a house is a bona fide farm for three years before the county will allow me to produce cider on that 20 acres. The long term goal is to have production space there so I can pick fruit and take it right to the barrel.
What makes living better for you and your family here in Catawba County?
We really love living here because of family. I think the biggest thing for us is the family-oriented everything. It's really becoming a big thing with the parks that go in and the places that pop up for lunch or dinner. I don't feel there's anywhere in Hickory where I can't take my boys. And everybody knows everybody. That's what we love the most about Hickory: it's big enough to provide all the things you could want out of a city, but it's small enough that you still feel like you belong. I come [to Hatch] and Zack knows who I am, or I go to the Hickory Station for a beer and they recognize me. We're trying to promote that idea even further. We really believe in this place and making it family oriented by promoting what's already been done.
That's the vision we want to promote through the cider. It's all family based. I can't emphasize enough that that's the only reason why I'm doing this. Running a business and running an orchard and all this stuff is time consuming, but ultimately it's so I can spend more time with my wife and boys, my brother and his family and my parents. Seeing that for other people is what I would love.
You wear a lot of hats. If we were to list your occupation, what would it be?
I like farmer. It covers all the bases. The closest approximation is the French term vigneron, which is someone who makes wine from the grapes they grow. We don't have a word that translates in English, so I think farmer gets it all.
Do you think there's a strong movement supporting local here?
I talked to Sarah Wood, the farmer's market manager, and I could not believe the number of people who visit the market on a Wednesday alone. In the summer, Wednesdays average 600 people. We're looking at making 1,000 bottles and I think that's a lot, especially doing it the "hard way". Every bottle is filled by hand by me and my wife caps it, that's exactly how it happens. But knowing that many people are at the market on a Wednesday is important, because I might be able to sell those bottles quickly and to people who are looking for a cider like ours. That's perfect, that's what I want. But at the same time it reflects on how many people care about what food we're growing here.
Interviewed February 21, 2018