Fong Xiong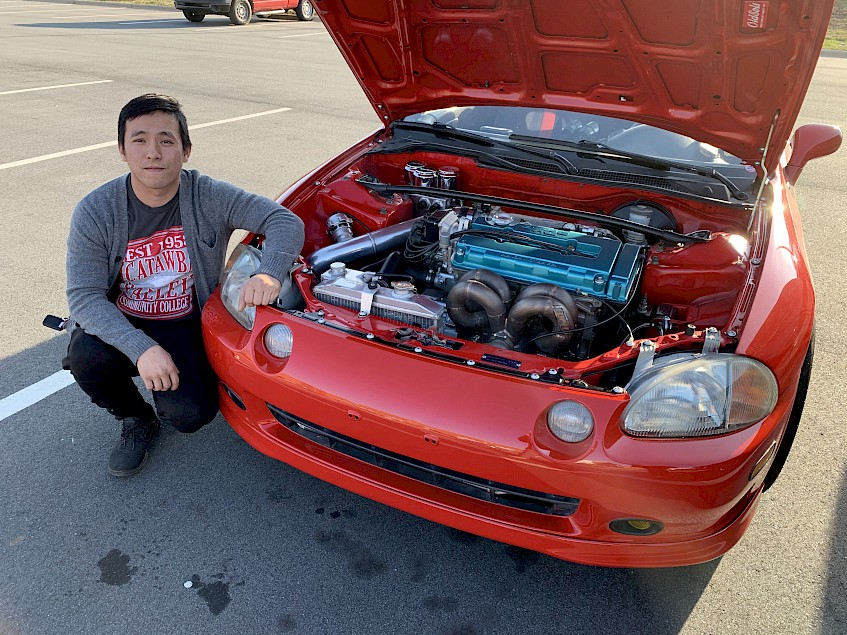 Age: 30
Resides: Conover
Occupation: Automotive Repair & Customization
Family: Wife Bai Yang, children Jade Jua, Tristan Chee, and Emerald Der
Tell us a little about you and how you came to Catawba County.
I'm Hmong and was born in Fresno, California. When I first moved to North Carolina in the year 2000, I lived in Claremont and attended Claremont Elementary for fourth grade before moving to Hickory. I went to Southwest Elementary for fifth grade and then my parents finally bought a house in Newton. It was a big change for me because I didn't want to move away from my friends. Despite that, I completed middle school at Newton-Conover Middle at the old building before it moved. Following, I attended Newton-Conover High School where I graduated in 2007. During high school, I joined the Magnet Program because I thought I wanted to become a computer programmer. I took a few classes at CVCC while in the program and realized quickly that I didn't like it. I was a frequent gamer and when you game, the gaming interface has nothing to do with coding so when you go to school and get into it, you realize 'Well, that's nothing close to what I want to do for a living.' My dad always had a background in automotive because when he came to the States, he had to find something to do to make a living so he picked up auto repair. After high school, I decided to give it a shot as well because up until then, it was more of a hobby for me. That was when I applied to CVCC for automotive technology.
What did you do after you completed CVCC's automotive program?
I thought I was done with education so I got married. My wife had just started undergrad at UNC Charlotte, so I continued taking classes at CVCC with the intention of transferring over to Charlotte. I attended UNC Charlotte for almost two years and worked towards a degree in mechanical engineering. That turned out to be really stressful because my background in automotive was completely different from what I was studying. Then my wife and I had our first daughter and I realized I can't go to school, manage a family, and raise a kid at the same time. I withdrew from education and came back to work with my dad in Conover while my wife continued her studies. I helped take care of our daughter from time to time and commuted while my wife stayed in Charlotte. I did that for about five years until I decided that I wanted to start up my own business, which is what I'm in the process of doing today.
That's why you're doing the welding program now at CVCC, right?
Yeah. I wanted to learn how to fabricate, to do the 'cool stuff.' I told my dad, 'I want to do something I would enjoy doing for the rest of my life.' I could turn wrenches, fix cars, but it gets tiring and really repetitive. With customizing cars, there's always a new challenge. It's more fun because fabrication is really broad. There's a lot that you can do with that skill. And once you have the knowledge, you can do it. I came back to CVCC in 2018 to get my business certificate and now, I want to get my welding certificate to further support my business. I think that after welding, I'll feel confident enough to go out there and showcase my knowledge and skills to prove that I know what I'm doing so my customers can see that if they come to me, I can get the job done. I still have classmates that I keep in touch with today and I still do work for them in terms of auto repairs. They're hoping that when I complete the program, I can do more for them because many of them are really into customizing their vehicles. I tell them to wait about two years because this is only my first semester so far. I'm planning to complete the fabrication certificate, but I want to learn it all. The equipment provided by the school is so nice that if I was to go out, buy it, and just teach myself how to do it, I would be spending way more than just paying for tuition.
Talk about your decision to go back to school mid-career. Was that a hard decision?
It was really hard because I am a family-oriented person and I would be sacrificing family time for education. It will pay off one day, but these early years are the most important for my kids because what they learn today is what they will remember forever. I try to spend as much time with my family as I can, but I find myself to be a workaholic. I work a lot. The days that I'm off, I still manage to find ways to keep working. I think it's moreso a passion and that's why I keep doing what I'm doing. I don't want to get tired of it just yet.
How did you first start learning automotive work? Was it from working side by side with your dad?
It was more like shadowing because as a child, I was holding the light, handing him wrenches and sockets while he would be under the hood. He used to work for Mike Johnson's Toyota and branched off to go work at another small shop until he opened up his own business. I've been working with him since I started the automotive program at CVCC. I think if that hadn't been my stepping stone, I wouldn't be where I am today.
Now you're starting your own business, so in a way, that shadowing of your dad is still happening. Have you learned a lot from him about being a business owner?
Yes, because he lets me manage it once in a while when he goes on vacation. Recently, he went overseas and said, 'I'll be back in a month, take care of my business.' I've done it multiple times and I've realized that it's helped to build my character and teach me how to build relationships with my customers. It's helped to improve my ability to just converse with people because I used to be a really shy kid. I couldn't randomly converse with strangers. Today, I'm comfortable with it because acquiring those skills has shaped me into that kind of person. The automotive program also played a big role because during that time, there was a campaign to promote CVCC and I was chosen for it.
It sounds like CVCC has been a very foundational place for you, because you keep coming back.
I tell a lot of friends and family that CVCC is a great opportunity. In my culture, parents usually want their kids to have really high education. They want them to go straight to a university after high school. Going to a community college is a great way to start your career because a lot of freshmen at universities don't know what they want to do for a living, so they'll probably change their major three or four times before they find what it is that they want to do. Perhaps maybe they'll even end up dropping out of college. By attending a community college, you could still have the opportunity to build a good foundation for a career at a more affordable price and still get financial assistance if needed. Two of my younger siblings attended NC State straight out of high school and have completed what they were going for. For me, I didn't know what I wanted to do. As the eldest son and second oldest sibling, there was a lot of pressure on me because I was a role model for my younger siblings. I believe that where I'm going and where I'm at today is good. I have even mentored a couple high school students at my workplace and encouraged them to obtain an education from CVCC. One of them is actually in the automotive program today. Overall, CVCC has been a big part of my life and I encourage everyone that's interested to enroll because it's a stepping stone that could potentially get you onto a great career path.
What inspired you to set out on your own and start your own business? Where do you think that drive came from?
I think it was from my passion for cars and the support from my friends. It's about doing the things that I love to do. It goes back to being able to wake up every morning and still be thrilled to go to work. It doesn't get tiring. At the moment, I have a list of clients lined up already who are interested in my service. I believe that if I branched away from my dad's business, I'd be able to survive and keep it going. As of right now, he lets me use part of his shop to do my own work. I have enough income because I'm a one-man shop. I do the work, deal with the customers, and manage my own money. I've been able to do it and I feel that even if I branched off, I'd still be able to keep going.
How do you manage all the work and classes?
It's tough because I'm a father of three. When I finally came back from Charlotte after my wife graduated, our daughter was five. That was when we finally had our son. In the Hmong community, we usually start our own families at a very young age.
You're starting a business, you're going to school, you're working and you've got a two month old at home, in addition to two more kids under 7. We're surprised you're awake right now.
I have to thank my wife for that. She graduated from UNC Charlotte with a Bachelor of Science in Accounting, but she's taking a break to take care of our kids so I could focus on my passion. Without her, I don't think any of this is possible.
How did you two meet?
We met during an event that we call the Hmong New Year. In the Hmong culture, we have 18 clans. Usually, each clan in North Carolina will host a banquet. We met at one of those events about eleven years ago, but it seemed like she wasn't interested in me. She's completely different from how I am. Turned out she actually lived really close to my parents and attended Saint Stephens High School. During that time, I was already attending CVCC while she was a senior in high school. She had family that attended CVCC as well. There was a club on campus called the Hmong Student Association and most of the Hmong students were members, including her relatives. I found out from them that she was actually interested in me and that was how our story began. After graduating high school, she enrolled at CVCC where we both worked towards our undergraduate degrees.
And now she has a bachelor's in accounting and finance. Sounds like somebody pretty handy to have around if you're starting a business.
When we first met, she was interested in a computer science degree because she was computer savvy. After we got married, she decided to change her major so she could help support me in the future. I always joke with her that I'll need a CPA one day.
What is Hmong New Year all about?
It's a celebration to welcome the new year. When we say the clan new year, each of the 18 clans host their own celebration for other people to come join. Then there's a really big celebration for days and it's hosted every year by the Hmong Southeast Puavpheej (HSP) organization, a nonprofit organization in Catawba County. For as long as I have been in North Carolina, the tradition has been ongoing. It's a big happy event for the Hmong community that's filled with music, food, sports competitions and traditional performances. The one hosted by HSP is the biggest celebration on the East coast, in my knowledge. This past November, we had 20,000 to 30,000 guests who attended. The land ended up being too small for all the attendees. The organization is hoping to expand, but it will be quite some time until that happens.
When your family moved here, was there already a Hmong presence in this community?
Yes, but not as much as there is today. In my knowledge, the earliest Hmong people came to Catawba County during the early nineties. The main migration destinations of the Hmong people during the Vietnam War were California and Minnesota. People heard of the work opportunities in North Carolina because there were a lot of factory jobs available so a lot of them migrated here to start their families. To this day, I am still grateful that my parents migrated my family to North Carolina. The education level is a lot higher and people are more focused; they're more educated and they have a fair chance to get a higher degree.
What do you like to do for fun?
One of my favorite things to do every year is to go up to the Tail of the Dragon. It's part of Deals Gap where North Carolina connects to Tennessee, and it's a really windy road. Last year, I went twice. I usually go every year. I've been taking my Honda S2000. We have a group on Facebook that usually meets up to ride the Tail and then go eat in Gatlinburg. We'll spend a few hours there and then everybody goes home after all the thrill. From start to end, the Tail is 11 miles long.
Tell us more about the car you drove today.
I drove it today to show my instructor. He's been asking about it for the past few weeks. I started working on it during the time I was still attending CVCC and it has been with me for about nine years. It's a never-ending project and it's probably one of the things that brought me to my career today because a lot of people know my car. It's a 1994 Honda Del Sol. It was one of the first T-top Honda two seaters. When they first came out, it wasn't a sporty car. It's made for comfort and economy. We were limited in the U.S. with options. I changed it over completely. I tore it down to the bare body, cut out the stuff I didn't want, and added the stuff I wanted. I took off pretty much every bolt that was on it. I wanted to learn, and it took me four years to finish. All the money I made, I put into the car – which wasn't the brightest idea. To think back on that now, it was a young mindset at the time but it helped me along the way. When I built the car, I had to buy the stuff that other fabricators made. If I could fabricate it myself, then I could pretty much do it all. I want to be able to make it and put my name on it.
It sounds like you're mostly self-taught. You've learned a lot just by doing, because you've loved doing it and you've had fun.
I did all that before I had any kids. While my wife was pregnant with our first daughter, she would come hang out with me at the shop and read aloud to me while I worked. I've spent sleepless nights just trying to get stuff done. Now, the car has a bigger engine and it's turbocharged. I converted it to a five-lug conversion, repainted the body, and installed custom seats in it. It's been altered to look good and drive fast. The car was nominated as Honda Del Sol of the month by OldSols.com so I was asked to write and submit an article about the car so they could feature my car on their online forum. They usually feature cars from all around the world. The guy who founded the group actually lives here in the U.S. and he said to me, "Yo, your car is really unique. Bring it out to the car meet and show it off." Their car meet was hosted in Concord and they had about 30-something Del Sols that showed up. It's cool because I see a lot of older people driving them and they have a dog in the passenger seat while they just cruise around.
So instead of vintage restoration, where people are restoring a car to what it was, you're basically taking a car and imagining what it could be. You're taking it and making it better.
Each person has their own taste, and the cool thing about cars is that you can do whatever you want to it to your taste or preference. From the early nineties to the early 2000s, people were really into body kits, custom colors, and neon lights. Then they completely went away with it. We had a phase called static cars or stanced out cars with really low cars and cambered wheels. That phase just recently died out because it was really unsafe. Now, people are bringing back the early nineties where they want a track-looking car that's more functional.
How will welding and fabrication help you take your work to the next level? What will that allow you to do?
You can fabricate and put together a lot of stuff because cars are made out of metal: the exhaust, turbo piping, inner cooler piping, and even small stuff like fittings. If you can't cut and weld it together, you have to outsource it. There are really big companies that supply that already and allow you to just buy the part and install it yourself. It adds up though and ends up being really costly – especially if you want a nice name-brand part. You can either buy cheap and end up with a part that doesn't hold up or pay a little more for a good part that lasts a long time. Like I said earlier, everybody has their own tastes. Every engine has a different setup. So when people bring their car in, they'll tell you what they want and it's your job to make it happen. When you can weld to their taste, they're willing to compensate you for your service. Modifications are usually expensive as opposed to general repair and the process takes a lot longer. For example, the people who restore classic Mustangs and Camaros value those vehicles because they hold a lot of value since you can't find them anymore. People are willing to pay thousands of dollars just to restore their dad's old Mustang. The Japanese car doesn't hold a lot of value unless it's a super car. But if the car holds sentimental value to somebody, that person is willing to spend the money to do it.
What's the craziest custom work you've ever done?
The craziest work I've done thus far was custom wiring for a full drag car. All the client needed was for me to make the car start up so they could drive it down the drag strip. I basically took apart the whole car, removed the dash, the seats and all the wiring so I could customize the wiring to make the car run and pass tech inspection at the track. That was a really tough job because I had such a short time frame to get it done. I had to cram to get it done but having learned so much from the Del Sol helped because the body style and wiring of the two cars were the same. I knew what needed to be done to make it work and it turned out to be a success.
Do you think you would have the opportunity to start your own business if you had stayed in Charlotte?
The market is competitive in Charlotte. I know of a few race shops in Charlotte, and the rates to maintain a shop there are more expensive. Catawba County has great potential because the rates are more affordable. For instance, rent would be cheaper and in addition to that, there isn't as much competition. If you start something here that's not available on the market yet, your business could bloom.