David Williams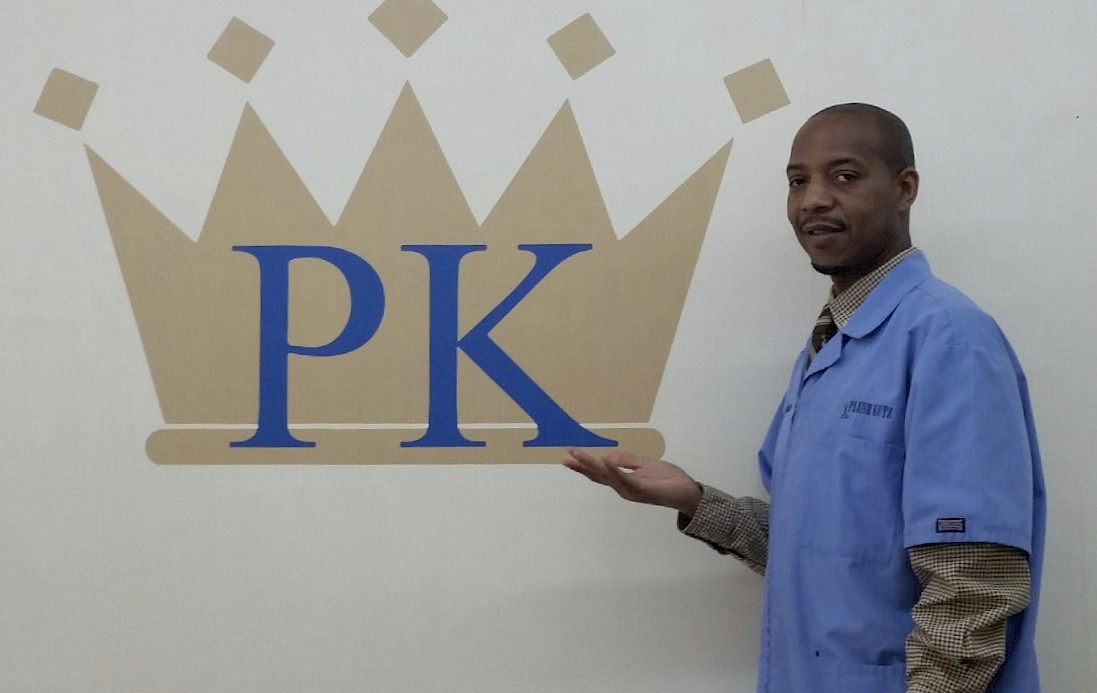 Age: 42
Resides: Hickory (Ridgeview neighborhood)
Family: Wife Deliska Culbreath Williams, son David T. Williams
Occupation: Barber, Owner of Plush Kutz barbershop, Hickory City Council Member
Where did you grow up?
I grew up in a town called Bessemer City, which is in Gaston County. I went to Bessemer City High School and graduated there. Shortly after completing barber school in Charlotte, I decided to not work in my hometown. I wanted to venture out, go somewhere different. I'd always heard great things about Catawba County and Hickory, so I decided to give Hickory a try. I came here not knowing anyone, not having any ties to family here. I just came here on faith. This town, this city, this county has been great to me and created a lot of opportunities for me. It's just been a blessing to be here in Catawba County.
When you moved here, was it for the purpose of starting your own shop?
Well, fresh out of barber school you have to work as an apprentice for a year. I came here and worked under another guy for a year, and I did not live here at first. I drove back and forth from Gastonia for several years actually. At the time, my mother was having some very serious health issues. I have two younger brothers, and I didn't want to leave my family. It was a pretty long drive from Gastonia every day.
So what made you finally decide to put down some roots here?
I met a young lady. It's funny how fate and God work in your life in mysterious ways. That drive every day was starting to get to me. My mother was becoming more and more ill, and her condition was getting more and more serious. I was contemplating going back to Gastonia. Then I met a young lady at work. We began to talk and she kind of sparked my interest, and so I decided to stick around a little longer here in Catawba County. As we began to talk more and become more serious, I kind of changed my mind on going all the way back to my hometown to work.
What drew you to becoming a barber?
Funny story, actually. When I was about nine or ten years old, we couldn't afford to go to the barbershop so my grandmother would cut my hair. She would leave huge gaps in my hair. My friends would pick at me because of my haircut. I thought, I can't do any worse than my grandmother, so I decided to start cutting my own hair. Over time, I began to get pretty good at it. When I was about 13 or 14, my friends started asking me to cut their hair, and before I knew it, the whole neighborhood was coming to get a haircut. Even in high school before football or basketball games, I was in the locker room cutting people's hair.
How did you come to own a barbershop?
Again, by God's grace. Actually, I worked for this gentleman for about four years and there was an older gentleman who I knew from just being associated with other barbers in the area. He was about to retire, and he owned a historic barbershop right down the street from where I was working. He approached me and told me he was going to be retiring. He said he would like to help me and give me the opportunity to have my own business.
I was amazed at that because opportunities like that are very rare. Unfortunately, you don't see enough of that type of thing going on nowadays. I was very, very grateful that this man reached out to me and wanted to help me begin my own career as an entrepreneur. He introduced me to a lot of people I would need to know, such as the customers who were going to that particular barbershop. This was the first African-American barbershop in the city, and he worked there for 40 years.
Did you feel the weight of that when he approached you?
Yes, yes. This is a historic barbershop. Everyone in the community knows about this barbershop. At the time I was 25 years old. I felt a lot of pressure to come in and carry on that legacy, but I think that's why he approached me and why he wanted me. I think he felt I could shoulder that responsibility and continue that legacy for years to come.
He told me that he'd seen something in me. He'd seen the way I carried myself. He had a lot of respect for my barbering potential, because at the time he told me that I was very good and he thought I could be one of the best he had ever seen. He said that I was a people person and I had all the tools he felt were necessary to carry on that legacy. That's why he entrusted it to me.
Why is the barbershop, and yours in particular, such an important part of the community?
My barbershop, and honestly, any barbershop, the thing that makes it such a hub and makes it so special to the community… You can hear the cares and the concerns of the community in the barbershop. You can solve the world's problems in the barbershop. Because everyone from every walk of the community – and I'm not just speaking about one particular race, because I have Hispanic customers, Asian customers, white customers – everyone comes in and it's like a melting pot from different aspects of the community. It creates a brotherhood because you feel a family atmosphere in the barbershop. Especially with such a historic one as mine.
That's the one place you can count on finding out if there's anything going on, from any aspect of the community. The barbers know. It's almost like the community gathering place, because sometimes people don't even come to get haircuts. They just come to hang out, to hear what's going on in the community, to just have some brotherhood with other people. That goes on a lot.
I'll tell you another reason why that barbershop, and any other barbershop, is so special. It is the one business that has staying power in the neighborhood. A lot of businesses come and go. But the barbershop, most of the time, has staying power. People see that, and it gives them a sense of pride. It makes that business important to the pulse of the community.
At the barbershop, you can learn a lot about culture and style. Young people want to see the latest trends, to be like all the celebrities and ballplayers. I go to Atlanta yearly for the hair shows and conventions, to keep up with the latest styles and the latest fashion. And that's why people come to me as well, because they expect that in the barbershop. You get so much culture there, whether it's haircuts, dressing, slang… It's all deeply rooted in the barbershop.
I've seen kids grow up. I have kids who I gave their first haircut, and now they're graduating from high school. It's like I have known them their entire lives. They're not just customers to me, and I'm not just their barber. We're like family. We love each other. We care about each other. And that's the sense of community you can't get in any other business like the barbershop.
What kinds of changes have you seen in the community since you got started?
When I got started, I saw the generation before me as very prideful. They were doing things in the community, attending a lot of community events, and creating a lot of opportunities in the community. Over the years, as that generation has become older they have been less able to do that.
I've seen this next generation as maybe not as active, and that saddens me. It's still a great community with great people. I think that there's just not as many leaders as there should be. I think that's what made me want to step up and be more active in my community. It is what has made me willing to take on that leadership role outside of doing things in my business. I wanted to step up for my community and the city as a whole.
You know, over the years a lot of things change with technology and other advancements. If you're in an older historic community that doesn't change with it, it almost feels forgotten. With the younger generation, they're so tuned in to something new that a lot of the rich history of Ridgeview is forgotten. I would like to be part of the support team that brings that back.
Is this what led you to running for Hickory City Council?
Funny thing. I had absolutely no intention of running for city council. I just did different things in my community. I started a back-to-school free haircut and backpack event about eight years ago. Anybody in the neighborhood could come, and we would have free food. We'd give free haircuts and free backpacks. The police department partnered with me, and different businesses in the community would donate backpacks, food, and other things. I have also done a lot of mentoring. Any opportunity to be involved in helping young people and doing things in the community, I would always do.
One day I got approached by someone who said, "David, I think you should really consider being on the city council because you're trying to make a difference by doing things in the community. This would allow you to take it even deeper, and would allow you more opportunities to help a broader spectrum of the community." So I considered it, and at first I thought, "I don't think so." I prayed about it and thought about it some more. I spoke it over with my wife, and she said I should seriously consider doing it because it would be a great opportunity for myself and an opportunity to represent the community.
So you find yourself applying to run for office. What was that like for you?
Well, my filing date was July 12th. I had already started asking people to be a part of my campaign team. When I had my team fully put together, I remember my campaign manager saying, "If you're going to go on vacation and do anything this summer, you better do it before July 12th."
I went on vacation the week before the 12th, and the whole time all I did was think about campaigning. My wife was getting a little upset with me because I was working on my website rather than enjoying my vacation. We got back from vacation on the 11th, and that night I did not sleep. I was just anxious, afraid, nervous, all these different emotions balled up into one. Then, I'll never forget, I had such a support team. When I went to the Catawba County office to file, I walked in the door and saw my entire support team there, along with other people from the community.
To have that many people there, it was amazing. It was like all those emotions just rolled off my shoulders. That was when I knew this was meant to be, because at the time I did not know I was going to be running unopposed. I thought there would be probably a couple of candidates, but I knew it was my destiny.
It sounds like destiny has played a hand in your life all the way along. Thinking about your life here, what are the things you love the most about living here?
One of the things I love the most about being here is the rich history, because not only do I work in Ridgeview, I live in Ridgeview as well. This is a proud community. I'm honored to live here and be a part of it, and to represent this community. When I talk to the older generation, they speak about all the things Ridgeview has been over the years. They just had a ceremony honoring our undefeated football team from years ago. Those men are so proud, and that's the thing you don't see in a lot of younger people nowadays. You know, to be proud and to have the character that those gentlemen have.
I want to be an example of for this generation. The younger generation coming up, they need to see examples of men carrying themselves in ways they want to aspire to one day. When I was 25 and looking up to that generation, I wanted to be just like them. That's what inspired me to work hard, to try to stay straight, and do things the right way. That's what I want to do for this younger generation. I want to show them that things are possible if you just work hard, stay determined, and keep yourself on the right path, because I didn't think I could ever be in the position I'm in now. If you would have asked me at 25 if I would be sitting here right now, I'd say, "No. No way."
You know, it makes me proud to be able to lead the way for this generation and to be one of the leaders, because this community does have great leaders. It just makes me proud to be part of that leadership team, because we have great men who have approached me and want to help out. We want to do things for this community, we want to do things for the future, and I'm excited about the potential to do things that are going to become important and will restore Ridgeview back to a proud community.
Throughout your life people identified you, they called you out. You've named a couple different instances of this, which makes me wonder what might be next for you.
I will tell you, I am a victim to my ambition. I say that all the time. What I mean by that is, number one, I love a challenge. Number two, I am always looking to progress to the next level. I'm always trying to do better tomorrow than I did today and better than I did yesterday. So I still, for myself, feel the sky is the limit. I still feel I have so much untapped potential in me, and I still feel there are so many more things I need to do. The way someone reached back to help me, I want to be able to reach back to help everyone else. I still have so much more work to do. You know, a lot of people can become complacent or get comfortable. I never do that. I think one of my problems is I never get comfortable.
I'm always trying to do more. You know, I have a great wife who supports me and she understands my drive and my motivation. That's one of the things she loves about me, and she's very patient because I'm constantly going places, constantly doing something, constantly trying to be involved in different things and different organizations. She's very understanding. That support system is part of the reason I feel there are so many more things I can accomplish, and I am looking forward to the future. I don't think I'm going to stop now that I'm a city council member. Who knows what the future holds?
You have a seven-year-old son. Would you say you are also trying to build a legacy for him and be the example for him that others were for you?
That is a huge reason why I do a lot of things I do. My son doesn't like it, but I drag him with me to a lot of places because I want him to see these things. There's an old saying, "If you can see it, you can be it." I was raised by my grandmother in a single parent household. I didn't have a father figure in my life. I missed out on a lot of things, and I didn't learn a lot of things until I was a little bit older. I want things to be different for my son. I want to set a good example for my son, and that motivates me to do a lot of the things I do. I want to show him these things are possible with hard work and determination. If you are ambitious and you have the drive, there's nothing you can't do.
Is there anything else you want to add about what makes life good for you in Catawba County?
The City of Hickory and Catawba County have been very good to me. This is a city and a county where race doesn't matter. There are so many opportunities for so many people here. I came here with just the clothes on my back, with nothing really. This town, this city, this county are very welcoming to me. They wrapped their arms around me and gave me opportunities that led me to owning a business and serving on city council. This city showed me how we feel about other people. In this past election, being the candidate who received the most votes out of all the candidates spoke a lot about Hickory and how much we welcome diversity. It was amazing to me. I remember telling my campaign manager, "I'll be happy if I can just get 1000 or 1500 votes." To end up with well over 4500 votes blew me away. Almost brought me to tears.
It speaks a lot about this city. About this county. About how race doesn't matter, how welcoming we are, how diverse this city and this county are, and how we're moving forward. It makes me feel good about the future of this city. It makes me feel good about the future of this county, and the opportunities for the next generation. As I've been on city council, I look at the direction we're heading and I see so many opportunities out there. This is a great place to live regardless of age, race, or gender. Catawba County, and Hickory, is a wonderful place.
Interviewed March 12, 2018