Asia Mae Magness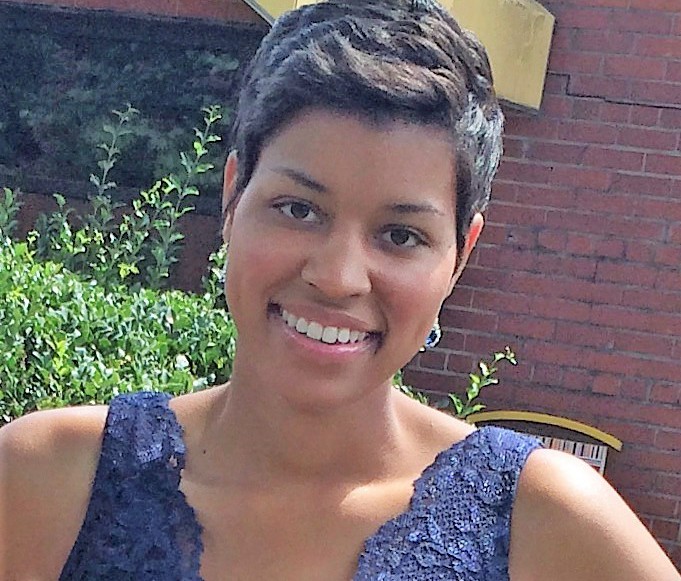 Age: 31
Occupation: Baker, Barista, Mom, Owner of Mae's Bakery
Resides: Maiden
Family: Children Taylor, Keegan, and Finley, Boyfriend Ty
Did you grow up in Maiden?
I did. I graduated from Maiden [High School] in 2005. I live a couple of minutes from my shop.
If you were asked to tell someone what you do, what would you say?
I do a little bit of everything. I bake, so I'm a baker. I'm a barista. I'm a mom. We do life the best way we can, and I always say it takes a village to keep everything running.
What was it like growing up in Maiden?
Small town atmosphere. Everybody knew everybody, and if you did something at school, your parents knew about it before you got home. There was no getting away with anything. It's still that way. It's also a football town. Everybody loves football. Maiden is kind of like the movie "Friday Night Lights." Everything shuts down on Friday night, and everybody goes to the football game. Everybody's in the stands with their blue stuff on. They're Blue Devils. They're Maiden.
I actually had a customer come in the other day who just moved from Charlotte. They toured the school, and she kept being drawn to Maiden. On the first day of school, her son's bus driver knew his name and it freaked him out. I told her that in Maiden, you'll learn everybody literally knows everybody.
How does it feel to be a business owner in your hometown?
I don't really consider my customers to be customers. I consider them my family, because having this business has made so many new opportunities to get to know people. It's been a great experience interacting with so many great people and getting to know people I probably never would have spoken to or never would have seen.
It's been a learning experience and honestly, it's been great. I have so many regular customers, and I know their usual coffees and their usual sweets. I have a list of people I call when I make something on a certain day, because they want to know. It's like we have a whole new extended family. That's how I feel about it. I've always been that person who just loves people.
What got you interested in baking?
I've always been interested in cooking, even since I was in high school. One year, my mom turned over family dinners to me. There was no going back.
I used to want to open a little café or restaurant. But we have a lot of family owned restaurants here. So I thought of doing cake, and Ty wanted to do coffee. When the ice cream shop went away, we added ice cream.
I've always liked to bake. My sister and I would put our play dough in the oven when we were little. As I got older, I started messing around with pound cakes. When the older generation dies off, there's nobody left to make it. I don't have any grandparents left, so I'm trying to find the recipes that my grandmothers used. I've always been an old soul, and I stayed in the kitchen with my mom when she was cooking or in the kitchen with my great-grandmother when she was cooking. I bake different things that I want my kids to think about when they get older and say, "Remember when Mom used to make this?" I want to leave them with something.
For you it's not just baking, it's about keeping a tradition alive.
Ooey gooeys are something my grandmother used to make for us when we were little, but she made one flavor. I've taken that recipe and made it my own with different flavors. It has a butter cake bottom and a cream cheese base on top. Granted, it is really sweet. That's one of the few recipes I was able to carry on from my grandmother. She also made an old-fashioned cheesecake. We had it here last week, and on our little chalkboard I wrote "Grandma Pru's Old-fashioned Cheesecake." I'm trying to carry on little traditions and instill things in my kids that were instilled in me.
Did you take any classes?
It's all self-taught. My grandmother baked, but I really didn't learn to bake from her. My mom does not bake at all. It's been me fiddling around in the kitchen and finding what works. Most people come in here for pound cake or ooey gooeys. Or brownies. I have one pound cake recipe I use and nobody knows it, nobody can make it. Any flavor of pound cake you'll ever have in here is from the same recipe. I just change the flavor, so it's kind of my own. What I get told is it tastes like somebody's mamaw made it. Some customers ask me, "Did you make this?" Or, "Where is your grandma?"
My nickname is Mae, or Asia Mae. I think people come in here looking for an old lady. They ask, "You bake everything? Are you sure? You're too young." I say, "You're never too young to do anything." That's what I try to tell my kids.
I let my kids know you have to work hard. Nobody is going to give it to you. If you want to have anything in life, you're going to have to work hard for it. That's what I tell them every day. Most people probably don't know this, but I also work a full-time job. I do billing. This is what I say: I work while I'm working and I go home to work. Because I work while I'm working at the shop, and then I go home, cook supper, clean up, and start baking.
Where do you find your balance?
All I can say is it takes a village. Here at the shop it's just me, Ty and my sister.
Last night at 12:00, my mom and stepdad told me, "You need to go to bed." My mom said, "I'll get your cakes out of the oven." I decided to set an alarm because she was sleepy, and I had cake orders that I had to get out. When I woke up, she was asleep and I had slept through my alarm. My stepdad had gotten the cakes out of the oven.
I can't act like I'm a one-woman show and do it all by myself, because that's not the case. Everybody has something they help me do. It's really just my immediate family. It might be running an errand to get ice or going to the store to get milk. I even have customers who come by and ask, "Do you need me to do anything?" At the end of the day, it's really rewarding because I get to see my customers and have conversations and ask them how their day was going. You never really know what's going on in anybody else's life, but sometimes just asking somebody how they're doing helps.
It sounds like the business is so much more than just a bakery or coffee shop. It sounds like it's really about those relationships.
It is. At the end of the day, I did not start this to get rich. We started it because it's what we love to do. Like I said, I love to bake. I love to see people's facial expressions when they eat my cake or eat anything that I make, because my mom always says the way to a person's heart is through their belly.
A lot of times, people will request things or ask when we're going to make something again. Normally, I'll go home and make it the same night. It's been more about relationships for us than anything. You meet so many people, even from out of town. That's a fun part for me. It's like you never get lonely.
I've made friends and I feel like I've made family, because there are people here who text me and send me messages or just check in on us. Some feel bad about not coming in because they don't have money to spend. I tell them it's not about you coming in here and spending your money. It's that now we've made a relationship, and I get to missing you or I start missing the baby and I just want to see you. That's kind of how we are.
If we can help in any kind of way, that's what we try to do. Before we even got started, Ty would say, "You can't leave me in here by myself, because I'm going to give everything away." I told him he couldn't give everything away or we'd go under. Then I get in here, and I'm just as bad as him. With us, it's really not about money.
It sounds like you've become very established in the community.
Yes, we have. When we got started, Ty and I were both working full-time jobs. He was actually working two jobs. We came in here and did all the work ourselves, between jobs or late at night until two or three o'clock in the morning. On social media, somebody posted, "What's going on at the old ice cream place?" A lot of people told us we weren't going to make it. Even our landlord said, "Honey, I don't know how good you're going to do, but go for it."
And you know what? He's been rooting us on. He would come and check on us, and he still does. The other day, he came in here and said, "You'll make it." He said, "You'll grow up and you'll get everything that your heart desires, because you're a good person." He talked about how anyone could have done the same things, bringing baked goods and coffee and ice cream, but not everyone has the same attitude we have. He said, "Y'all are all nice. People look forward to seeing you. And you care."
The town has been very supportive of us. We were just trying to help Maiden have something. Little old Mae's has made other people want to come. Granted, these buildings have been empty for years. We came here. Now we have a neighbor, and we're getting another neighbor. So it's kind of making the little town grow. It makes me feel good that people have come and thanked us for bringing something to Maiden. It's made it an even better experience to hear them say, "Thank you for being here" and "We want you to stay." That makes us feel good, knowing somebody else has faith that we're going to stay.
Everybody who owns a business in Maiden works in their business. If you go to Scottie's, his wife and his daughters and their husbands work there. If you go to Don's Grill, you go to Brookwood, you go to the Roost, you go to Sew Unique ... if you go to any small business in Maiden, the owners work there.
Some people came in from Charleston and one of them asked, "Are you Mae?" He called a friend and said, "We're at this place called Mae's. They got Sun Drop pound cakes. They got Cheerwine pound cakes." He was fired up. "And guess what! Mae herself is in here!" I'm thinking, who else is going to be in here? I guess it's because he was from a bigger city, and we're just part of that small town atmosphere.
What advice would you give someone interested in coming to Maiden?
I would encourage them, "Come on in. Talk to me." I'll tell them move to Maiden. People are looking to move to Maiden, because I have people send me messages all the time asking if there are any homes for sale in Maiden. I'll tell you, if a house goes up for sale, it's normally gone in two weeks unless it's just ridiculously priced. If you see a "for rent" sign, you'd better call that day because it's probably going to be gone the next.
Maiden is a town where kids can ride on their bikes by themselves to the little ice cream and coffee shop. I've had that happen all summer. This is that town where you can feel your kids are going to be safe.
There are still kids who ride their bikes to school, and walk to school. My son is 9 and my niece is 5, and they walk to meet me. There's still a cop who comes down here and puts on his little vest to make sure we cross the street. The little things that probably don't matter to most people still matter to us.
Interviewed on September 6, 2018