Anthony Lawing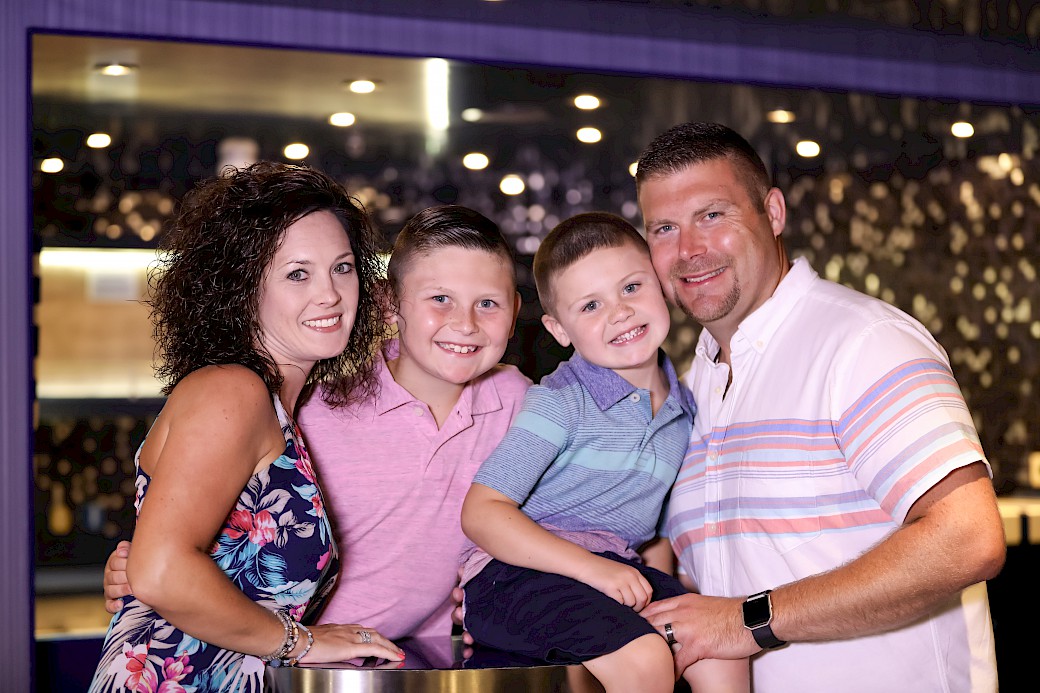 Age: 36
Resides: Maiden
Occupation: Insurance Agent, Real Estate Broker, Volunteer Firefighter
Family: Wife Katie, sons Grant and Austin
What was it like growing up in Maiden?
It was a nice, small town feel. I enjoyed the little things like hanging out with my dad at the fire department as a kid. There wasn't anything like Friday night football and the many different activities going on there. Maiden has a lot of local church activities and small community events like Spring Fest and different things going on. Maiden Recreation sports have always been popular, basketball, baseball, football, and now soccer. I had a wonderful childhood in Maiden, with many priceless memories.
In my later teens I was a senior at Maiden High School and my wife was a freshman. We met through a church activity. She was involved with another church down the road from mine. Our two churches came together for a church activity, and we met. That's how it all started, thanks to being in a small town.
What was your next step after graduating from Maiden High School?
From early in my high school years I had planned on going off to college. Of course, being a young boy growing up in the town of Maiden, the biggest little football town in the world, I had dreamed of being successful and having the chance to play in college. My dad was a Maiden football player, and as a kid, you always had the dream. You went to football games on Friday nights and watched the boys run out of the smoke and you always had the dream that someday you were going to play there and play for the famous Tom Brown. I got to do that. It kind of progressed over the years, and I had the opportunity to play in college. Being from Maiden, the football town, that was pretty exciting. I played for a couple years at Appalachian State.
Maiden High School football is pretty intense. What was it like at the college level?
Football was like a job, and it was a lot of work. I formed some great relationships over the years and enjoyed the opportunity. It was a lot of fun and it helped develop who I am today, but after a while I realized it was time to focus on graduating college and joining the real world.
Did you always figure you would come back to Maiden after you graduated?
I did. You know, like any small town, you always have a lot of people who say, 'I'm going to get out of Maiden, I'm going to go do something else.' It's funny how the majority of those people end up coming back to Maiden. Honestly, I've always loved the small town feel. I'm maybe five, ten minutes away from most of my family.
One reason I enjoyed going to Appalachian was because it was only an hour away. It was a whole different world, yet if I wanted to be home in an hour I could. I loved Maiden so much that on the weekends I typically came home.
What did you hope to do for a living when you graduated and came back? What did that look like for you?
Like a lot of people, when you're in high school you have this mindset that you're going to do this or that. You know, kind of extravagant things. After you go to school for a few years, you come to realize that maybe there are different options to try. I was fortunate to have a family business to go back to with my Dad and family, and I knew it would provide me the opportunity to stay around and make a living working to raise my family. I realized this was my best option to enjoy a great career while staying in the Maiden community.
What has being part of a family business been like for you as you progressed through your career?
It's been really good. I work in some aspect with my dad and sister pretty much every day. Just like a marriage or anything else, you have to work with the highs and the lows. But honestly, we're all very, very blessed and we're all very, very thankful. We've had our ups and downs but a lot more ups than downs, and it's been great to be part of it. Of course, if I have a chance to be with my family every day, I would rather do that. I'm fortunate.
Even within the family business, it seems you've been able to carve out your own space and your own identity.
Exactly, and that's been good. I'm an insurance agent here. I sell auto, home insurance, business insurance, and manage our other office in Denver. Between us having two offices, and with my dad and I doing real estate together, I've been able to spread my wings while still being connected to the family.
What do you like most about what you do?
The best thing is just dealing with people. When a buddy calls you up and needs something, you feel like you helped him. People appreciate that. In a small town, people still appreciate being able to walk in the door and take care of something, or being able to call someone and know that if it's a weekend or night or whenever, you're going try your best to help them.
It's about knowing people in the community, and them getting to know you. I'm coaching a little league football team and if the mom or dad gets to know me, they might ask me to take a look at their insurance or sell their home. I enjoy that type of relationship because you don't have to push things on people. In a small town it goes both ways: you either earn folks' trust or the opposite. If you treat people right, word travels quickly.
Life is about relationships, whether it's family, customers, whether it's the relationship you have with kids on the football team, or whether it's the relationship I have with firefighter buddies. What you make of those is your choice.
How did you get into firefighting?
My Dad has done a lot of incredible things in the community. One of those was being a firefighter. That's what got me into it. He was a volunteer and also the fire chief at one point in Maiden. He's kind of the old school go-getter, you know? I seem to have his energy, and I'm involved in many of the same community activities and hobbies.
When you were a kid, you helped out your dad at the fire department, is that right?
Absolutely! It was always interesting hanging out at the fire department. As a young boy, it helped me grow up. Maiden has a junior firefighter program, so I started when I was 15. It was a neat time with all the camaraderie and the small town feel. Getting to hang out at the fire department and shoot the bull with the guys and work on the trucks, that was a great time. I always looked forward to nights when they had meetings or trainings, because I'd get to do that.
So you've been a volunteer firefighter since you were 15?
I've been doing it most of my life. Being so involved in a lot of other things, my time there is limited. I try to do what I can when I can. There are definitely some who are more involved than I am, but I do enjoy that time. If there's a bad working fire, I'm the first one who wants to be there and do what I can to help. But it's tough. As you get older, with so many things going on, you have to pick and choose when you can and can't go. I've learned how to do that a bit better. I was one of these who would try to be everywhere with everyone. Sometimes you have to slow down a little bit.
I've had a couple leadership roles there, but I'm just the typical firefighter. I am also the chaplain, so that's kind of neat.
What do you like best about it?
I still have that adrenaline rush when a siren goes off for a working fire. I still have that thrill of being the one to go put out a fire. It is rewarding and humbling when you show up to a scene and help a family in a car wreck, or you can help save someone's house, or you can help to calm kids if they're involved. In that way, it is very rewarding.
I also like it because there is such a great blend of people there. There are many young kids getting involved, but yet you're hanging out with some guys that are my dad's age. It's neat to see and communicate with guys I was hanging around when I was six and seven years old. I walk up and it feels like the old days because there are some who don't give it up for years. I have helped mentor some of the junior firemen, which is like having an older son. You form some great relationships, and life is relationships. If the world would focus on that more, we'd have a much better world to live in.
What made you decide to coach little league football?
I've been involved with football and basketball all my life in some form. I still play church basketball now at the Rec [Maiden Recreation Center]. They have a church league for the old guys. I still love that, and I still have the passion and competitive nature to enjoy that.
As far as coaching, it's one of those things where I can enjoy time with my boys and also be a part of the game. My dad coached some when I was younger, and I remember how much that meant to me. When I was a kid my Uncle Dwayne coached also, and I was used to hanging around him and getting to help out. I enjoyed being on the sidelines, like the manager, water boy, whatever you want to call it. I enjoyed it, and of course, I've played sports all my life.
Before I had sons of my own, I coached in the Upward Basketball program in Maiden. I realized when the time came, if I could help some kids and of course be there to coach mine, I would really enjoy that. It has been a neat experience, because there are so many kids out there who maybe don't have a dad or don't have a good father role model in the picture. You take it lightly, but you don't realize the impact you can have on those kids in that hour or day or whatever time you're together. I really enjoy that, and take pride in trying to treat them like my own.
What better way to spend your afternoon than having your two kids by your side, helping others, and helping your kids too? Right now I just coach my older son. The younger one is only five, so he's not getting into sports yet. But within the next year I will have to juggle coaching them both.
How did you get into the real estate business?
My grandpa, Brady Lawing, purchased Mauney Insurance years ago and also started Lawing Real Estate. My dad got involved in that right out of high school. My grandfather had always been in insurance and real estate, so my Dad followed in his footsteps. In 2008 before my first child was born, my Dad and I discussed getting my real estate license. Knowing the Maiden area so well and enjoying working with people, I was all for it.
My dad and I have slowly grown the business pretty well. We just kept it the two of us. He's the knowledge and the backbone that started the company, and I'm the newer side, with technology and things. It's been a good mix and we've worked well together.
Since this isn't really full-time for you, how do you find your clients?
Fortunately, we don't have to go find too many clients. In a small town like this, we've found our success is word of mouth and making people happy. Ultimately, when you're in a town like Maiden, it's how you treat people. When you treat them well over the years and you've made them happy, and you take care of business like you should, they tell other people to give you a call. That's how we've made it in insurance and real estate.
Being in the town you grew up in, how has it changed and what do you love about it as an adult now, with family and thinking about your future?
We've taken a good path. Maiden is well known for good people and town leadership that supports good family values and quality of life. In kids' sports especially, there's just tons of baseball, basketball, football, and soccer teams. We've got a new town hall and police department. We have 2 fire stations now. Apple and other large businesses like GKN and Ethan Allen have brought a lot of jobs, opportunities and growth to the area, while Maiden is also fortunate to have some other large local businesses such as Temple Furniture and McCreary Modern. A splash pad just opened up, which has been a big hit from what I hear. It's just changed because Maiden has grown. We used to have one little elementary school, we shared a middle school, and then went to a smaller high school. Now we've got two elementary schools, one major middle school and a big high school. But the feel of Maiden, the town, local restaurants and the people, all that stayed the same. That's a plus.
If you met someone who was thinking about moving to Maiden, what would you tell them to convince them to move there?
If you want that small town feel of genuine people with different activities going on in the community, we have it, whether it is Spring Fest or Merry Maiden, fall festivals, kids' sports. There are a lot of very involved, caring churches in Maiden. You have all that, but you can get to Charlotte in 30-40 minutes. If I want to be in Newton, I can be there in 10 minutes. If I want to go to Hickory, I can be there in 20. But I don't have to go outside of Maiden if I don't want to. That's what I like about it.
People like me who work in business day-to-day, they sometimes just want that quiet time. You sometimes want to be where you can just enjoy time with your kids and family. I pretty much go at it all day long and I have plenty of activities going on at night. Fortunately, most of my activities going on after work involve my family.
We try to have God in our life and we try to do the right things in life and work hard and raise a family. We are fortunate and we feel blessed. I'm grateful for that and grateful for the position my parents put me in. I'm grateful for the small town of Maiden, and I always want to be a part. As the years pass I realize how important family and relationships mean to me. Being raised in this Maiden community, the love, support, and the journey all go back to the feeling of the people here. It's a great place to call home.
Interviewed June 21, 2018