Catawba County Employee Spotlight
Jessica Lawrence-Foster Care Social Worker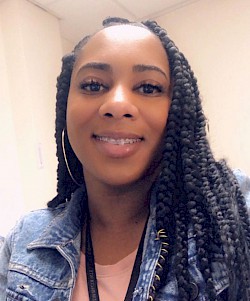 Title: Foster Care Social Worker
Department: Child Welfare-Foster Care Unit, Social Services
How long have you worked with the county?
2 years 9 months
What does your job involve? Please describe what you do.
As a Foster Care Social Worker, my job involves providing support to children and services to their families. When a child is brought into custody of Catawba County DSS, my job is to assess the needs of the family while monitoring the well-being needs of the child. I meet with families to develop a plan to reunify them with their child and send referrals based on the family's needs. After services are in place, I monitor the progress of the family to ensure that the child can safely return home. In the event that parents do not engage in court ordered services, I am sometimes forced to terminate rights or help parents make long term decisions about their child/children. There is also lots of paperwork, telephone calls, visits (in Catawba and outside of our county) that are involved.
What do you like most about what you do, and why?
What do I like most about what I do? I love working with the families and the community. Regardless of the outcome, I know that my children will remain safe and receive the permanency they deserve. I'm definitely a people person so this is definitely what makes my job enjoyable, the interaction.
Which of the county's core values (doing what's right, doing what matters, doing it together, doing it well) resonates most with you in the work you do, and why?
For me, the core value that resonates the most would be "Doing It Together," and I say that because Child Welfare can experience high turnover. With my Foster Care Team, legal team, leadership team, economics unit, court staff, etc., my job has been so much easier. I couldn't have done it without everyone that I'm in contact with daily. The togetherness has kept me motivated and I'm thankful for that, I'm never left alone to do my day to day duties and make such critical decisions about families. It's "doing it together" for me!