Catawba County Employee Spotlight
Dwayne Martin-Park Ranger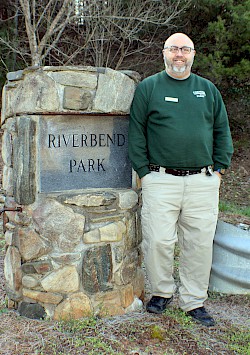 Title: Park Ranger
Department: Planning and Parks
How long have you worked with the county? Eighteen years
What does your job involve? Please describe what you do.
Doing educational programs, park maintenance (trail work, storm clean up, facility repairs), enforcing park rules, answering questions from park patrons.

What do you like most about what you do, and why?
Introducing folks to nature right here in Catawba County. Seeing their faces light up when they learn something about nature they didn't know. Being able to point up and show someone a Bald Eagle for the first time or a Hummingbird up close. Showing them how all of nature is related, be it plants or animals. Hopefully helping them enjoy their time outside in our parks.

Which of the county's core values (doing what's right, doing what matters, doing it together, doing it well) resonates most with you in the work you do, and why?
Probably doing it together. I couldn't do what I do without my coworkers. They are the reason our parks have been so successful. We are a small department, so we have to come together to get things done, especially when events like storms hit and there is major clean up that has to be done. Also having the patrons giving us support, acknowledging that they like what we are doing and how we are doing it.