Catawba County News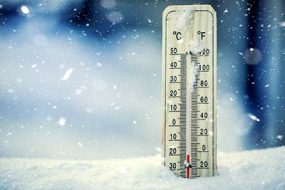 ---
Winter Is Coming
Published: December 13, 2021
Many people may think of the TV show Game of Thrones when they hear the phrase, "winter is coming." For those who are unfamiliar with the show, it was in essence a warning that something extremely bad was looming in the near future and that people needed to be prepared. It's hard to predict exactly how severe the weather will be this winter, but winter weather does present some unique challenges that everyone should prepare for. Although winter isn't quite here, the recent cold fronts have provided a little reminder that weather in Catawba County can see sharp temperature swings in the late fall.
Everyone needs an emergency kit with at least a 3-day supply of non-perishable food and medication at home, but do you have an emergency kit in your vehicle as well? A vehicle emergency kit should include: jumper cables, ice scrapper, flashlight, warm clothes, blankets, bottled water and non-perishable snacks, in case you become stranded in an ice or snow storm. Additionally, try to keep a full tank of gas and make sure your phone is fully charged before leaving home.
Weak or damaged branches can break under the weight of ice causing power outages, which can last for days. Consider having a secondary way of heating your home, and have extra blankets on hand. Don't try to heat your home with camping stoves or grills. Avoid carbon monoxide poisoning by only using grills or generators outdoors and away from windows. Install and test smoke alarms and carbon monoxide detectors.
Pay attention to weather reports and warnings
If a winter storm is imminent or underway, stay off the roads, if travel isn't necessary
Know the signs and basic treatments for frostbite and hypothermia
Remember the needs of your pets and if possible, bring them indoors
Move livestock to sheltered areas where they have access to non-frozen drinking water
https://www.ready.gov/winter-weather
https://www.cdc.gov/disasters/winter/staysafe/hypothermia.html
https://www.weather.gov/media/arx/winter/WinterPrepare.pdf