Catawba County News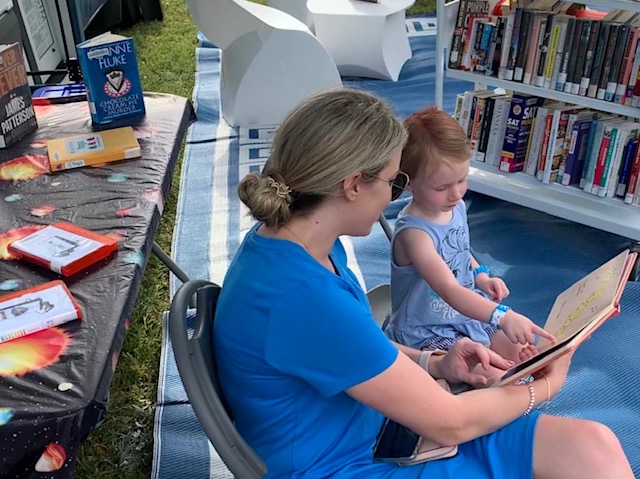 ---
Visit the Library to Go in October
Published: September 26, 2019
The Library to Go continues to bring library resources and services to people throughout the county, both at regular stops where we're needed most and at festivals and events that showcase education, history, diversity, and family fun!
• Our next big appearance is at Conover's National Night Out. The evening event draws community support for law enforcement and showcases vehicles and equipment related to public safety and security. It's also slated to have live entertainment, inflatables, hay rides, and hot dogs. We'd love to have you visit with us!
The event takes place from 6 till 9 pm on Tuesday, October 1 at Conover City Park (361 5th Ave SE).
• This month, the Library to Go added a new stop to its regular route. Going forward, the vehicle will make a twice-monthly appearance in the town of Catawba, bringing storytimes, library items for check-out, and assistance with computer and technology questions. The environment is relaxed, and you're encouraged to drop by for camaraderie and resources.
The Catawba stop takes place each month on the first and third Thursdays, from 10 am till 6 pm at Redeemer Lutheran Church (200 s Main St). October brings a slight variation to the regular schedule: Thursday, October 3 and Friday, October 18.
• The Library to Go is also excited to be attending the Foothills Folk Art Festival, celebrating the event's fourth year in downtown Newton. We'll roll out the awning, set out the furniture, and make the space available for crafts, books, Playaways, and more. Visitors can check us out as they make their way among the art exhibits and enjoy the entertainment. There will also be chances to participate in making community art!
The festival takes place from 10 am till 4 pm on Saturday, October 5 at Courthouse Square in downtown Newton.
Later in the month, you'll find us at the Recovery Halloween Spooktacular on Saturday, October 26 and at the Catawba Trunk or Treat on Thursday, October 31. Check out our newsletter for more details, and come out to play!