Catawba County News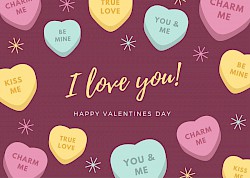 ---
Valentine Canva Designs
Published: February 04, 2021
Being creative has its own rewards, but when you can dabble and produce beautiful things for free, it's especially satisfying.
That's why the library is excited to share Canva with people. The no-cost graphic design program introduces design principles in a really practical, hands-on way and encourages people to hone their skills with simple, drag-and-drop techniques.
If you'd like to see what the excitement is about, join us to make a personalized Valentine's Day card for someone you love (or just like!). The process will teach you how to navigate Canva's basic menu and make use of its extensive tools, templates, and resources.
If you attended the Intro to Canva session, this class will be a terrific follow-up. If this is your initial experience with the program, no worries – you'll easily get into the swing of things!
The workshop takes place at 11 am on Wednesday, February 10. To participate, register at https://tinyurl.com/cclscanvavalentine or call 828.465.8665. You'll receive a Zoom link to attend the program.