Catawba County News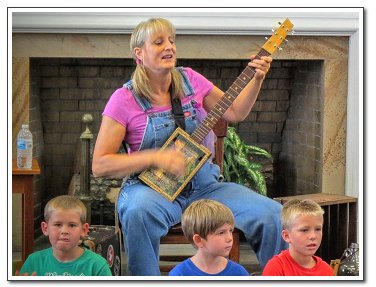 ---
Tunes & Tales with Sharon Clarke
Published: July 03, 2019
Storytelling has been an age-old part of human history, and oral traditions have been used to teach, entertain, and pass down community knowledge for millennia.
At this year's Summer Learning, the library is pleased to showcase the art of storytelling as we welcome Sharon Clarke, a Connelly Springs, NC-based performer who has been bringing tunes and tales to audiences for more than 30 years.
At the programs she'll be presenting at our library branches, Clarke will share stories and perform folk music, offering fun narratives and memorable images that resonate with children. She'll also ensure that they walk away remembering the characters and deeper lessons that she's communicated.
In addition, Clarke builds excitement about books and learning, leaving kids with an eagerness to play and discover. Whether the young participants walk away mesmerized by the magic of her stories or the rhythms of her didgeridoo, parents and grandparents can be sure that imaginations will have been sparked for further exploration. And that kind of curiosity is an invaluable gift!
Sharon Clarke begins her series of performances at the Main Library in Newton at 10 am on Monday, July 8 and then moves to the Southwest Branch Library at 10 am on Wednesday, July 10. Check our monthly newsletter or branch-specific calendars for other dates and locations.