Catawba County News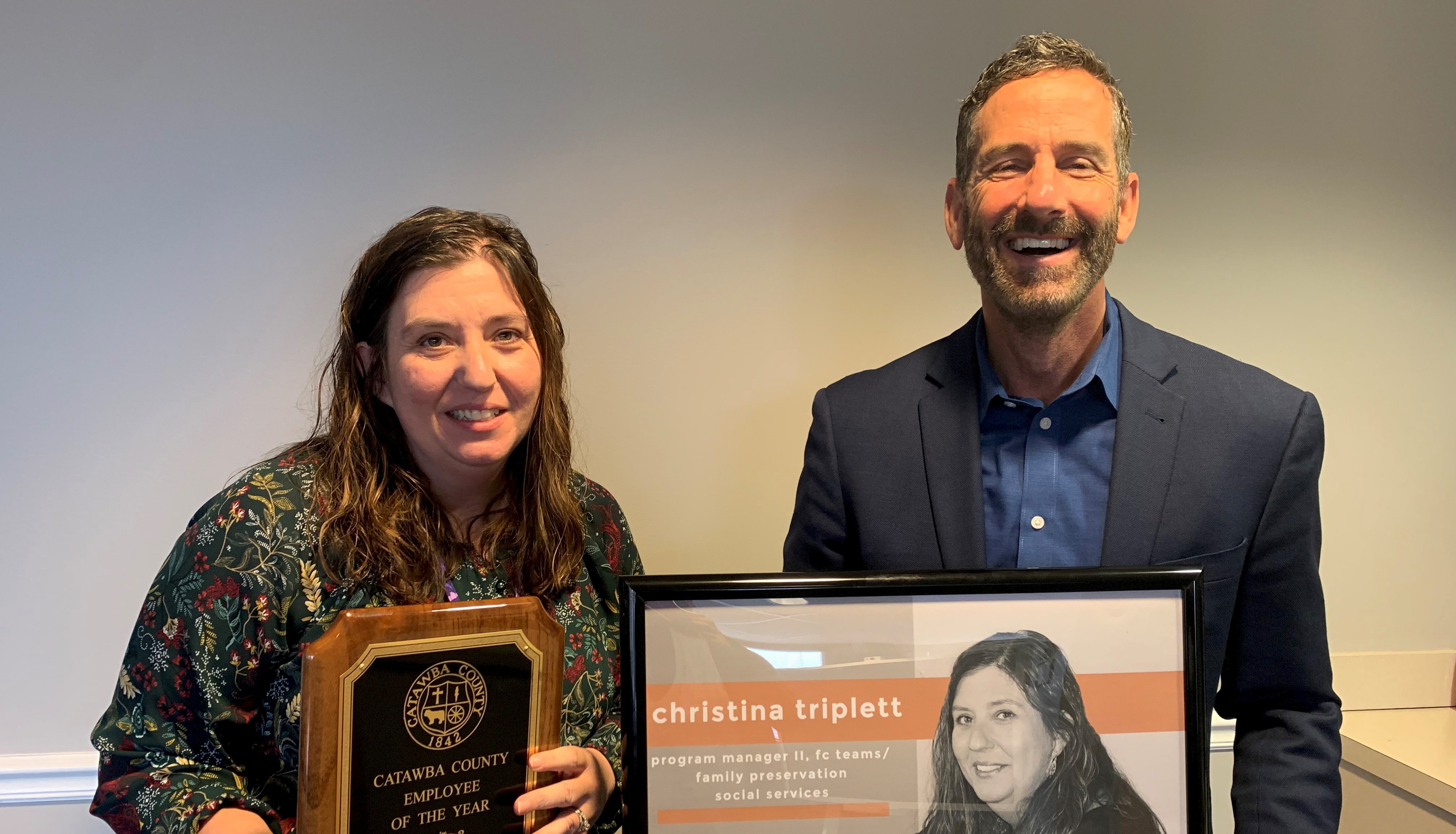 ---
Triplett Named Catawba County Employee of the Year
Published: November 17, 2021
Christina (Chrissy) Triplett, Foster Care Program Manager for Catawba County Social Services, has been selected by her peers as the county's 2021 Employee of the Year. Triplett has worked for Catawba County for 21 years and oversees Social Services' Foster Care division.
As stated by her colleagues in their nomination of Triplett for the recognition, "Chrissy is the type of person that will attempt to move mountains to ensure that staff and clients have what they need in order to be successful. Her understanding of trauma and desire to heal families and bring them back together safely is what this unit needs in a great leader, and she exemplifies that. She has changed our thinking, our way of doing things, and has helped staff help families get the services they need to be able to reunify with their children.
"When she is with the families, she is their greatest cheerleader and will encourage them to continue working on their goals, but is transparent and honest with them even if things are not going well. She is educating a new generation of social workers through her clinical supervision and being a role model of empathy, compassion and advocacy."
"Chrissy leads by example and goes above and beyond to ensure the children and families we serve are honored and treated with respect, even in the most difficult of circumstances," said Social Services Director Karen Harrington. "She truly inspires everyone around her and is a wonderful role model for our young social work staff. We couldn't be more proud of her and congratulate her on being named the Employee of the Year."
Triplett was one of six Catawba County employees nominated by their peers for Employee of the Year recognition. Other nominees were Lina Lemus, WIC Program Assistant, Public Health; Patricia Mathes, Permit Center Specialist, Utilities & Engineering; Shaina Melcher, Success Coach Social Worker, Social Services; Lauren Schiefer, Foster Care Social Worker III, Social Services; and Deputy Craig Sigmon, Sheriff's Office.
"Chrissy is an exemplary leader in an especially difficult and demanding service area," said County Manager Mick Berry. "She has helped to build a strong and resilient team that is laser focused on doing what's right for the children and families we serve. We are grateful to Chrissy for her leadership and her commitment to serving the citizens of Catawba County, and we congratulate all of this year's nominees on their well-deserved recognition."