Catawba County News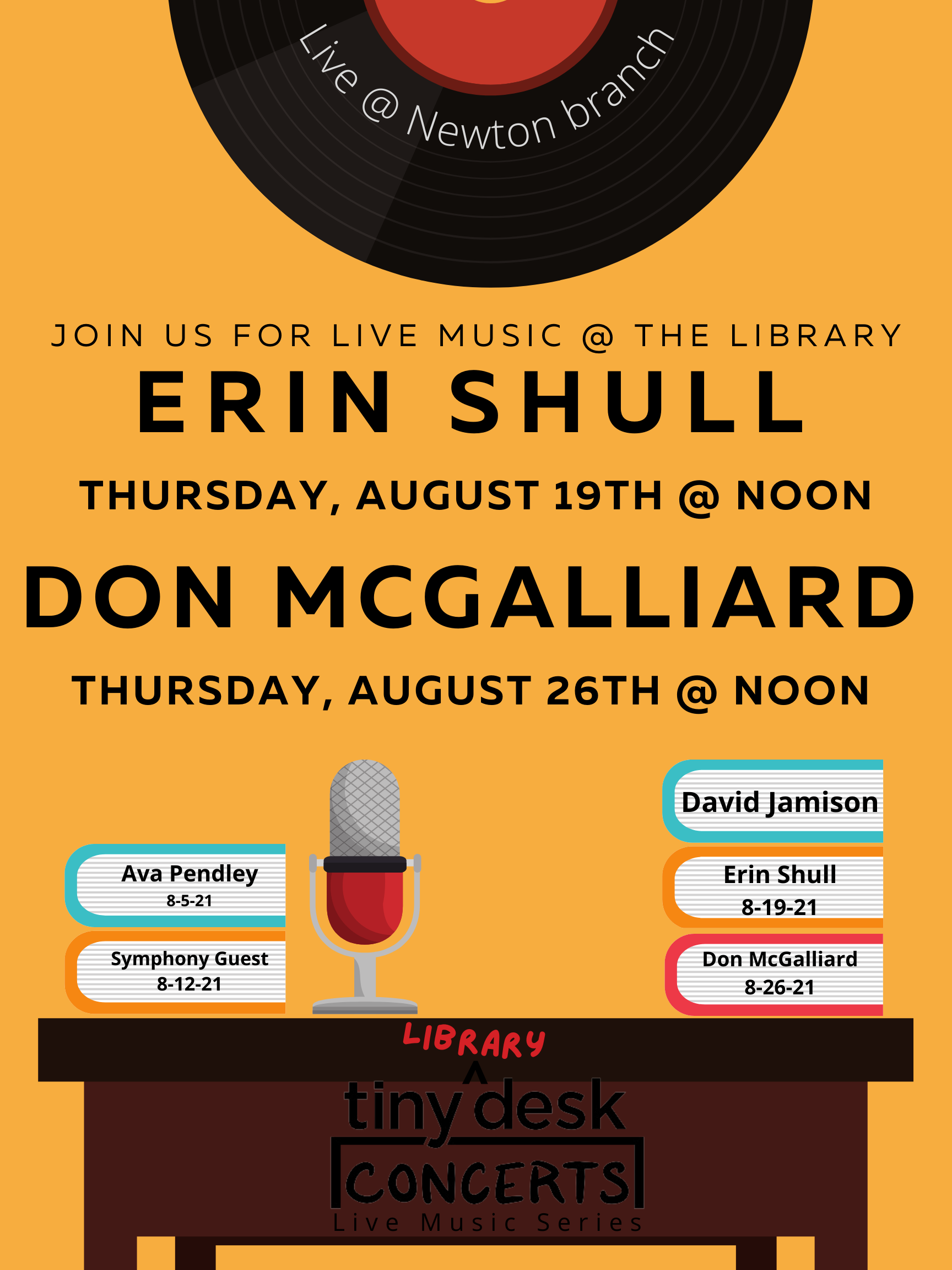 ---
Tiny Desk Concerts @ Library
Published: August 17, 2021
Go ahead and mark your calendars now for Thursdays at 12 noon this August and set a reminder to either stop by the Main Library in Newton (115 West C Street) or tune in to Facebook Live so you can catch the next installments of Tiny Library Desk Concerts- the library's version of the popular NPR series established in 2008.
NPR's Tiny Desk Concerts are the brainchild of Bob Boilen, the creator and host of NPR's All Songs Considered. In an article from 2019, Boilen reports that he started the Tiny Desk concert series as a lark when he went to see Portland singer Laura Gibson at a concert in 2008. The venue was so noisy, with a crowd watching a basketball game alongside an underpowered sound system, he couldn't hear the artist. As she played, Boilen's colleague, NPR Music's Stephen Thompson, joked that they should just have the singer play at Boilen's desk next time she was in town. A few minutes later they shared the idea with singer Laura Gibson and the first Tiny Desk concert was booked.
The Library's version of the Tiny Desk Concert is the brainchild of Sarah McElhone at the Main Library in Newton. Sarah is a huge fan of all things musical and commented on how much she has missed going to live music performances throughout the pandemic. A fan of the NPR Tiny Desk Concerts, Sarah jokingly remarked at how cool it would be if the library hosted live music. She made a few calls and Tiny Desk Concerts at the Library became a thing. The first concert featured David Jamison, a professional drummer and previous member of Hooray for the Riff Raff, an Americana band from New Orleans. Other concerts have featured up and coming singer songwriter Ava Pendley and a selection of string musicians from the Western Piedmont Symphony.
On Thursday, August 19 at 12 noon, the Tiny Library Desk Concert will feature local musician Erin Shull, the Director of Contemporary Music and Graphic Design from Denver United Methodist Church. Erin's mother remarked that "Erin picked up a guitar at age 12 and never put it back down." A former library employee, Shull already has quite a following and we look forward to hearing her play.
On Thursday, August 26 at 12 noon, the Tiny Library Desk Concert will host fiddle player Don McGalliard and guitarist Bob Nails. McGalliard served as a NC Game Warden for 30 years, then as a Catawba County Sherriff's deputy for another 10 before retiring to play music for his own enjoyment. The 83-year-old is a self-proclaimed country boy with no formal music training who picked up the guitar as a teen and graduated to the fiddle in his forties. Accompanied by Nails on the guitar, McGalliard is going to play a few fiddle tunes and sing a song or two. This is sure to be an entertaining concert.
Tiny Library Desk Concerts will be streamed live on the library's Facebook account and previous performances can be viewed there as well.