Catawba County News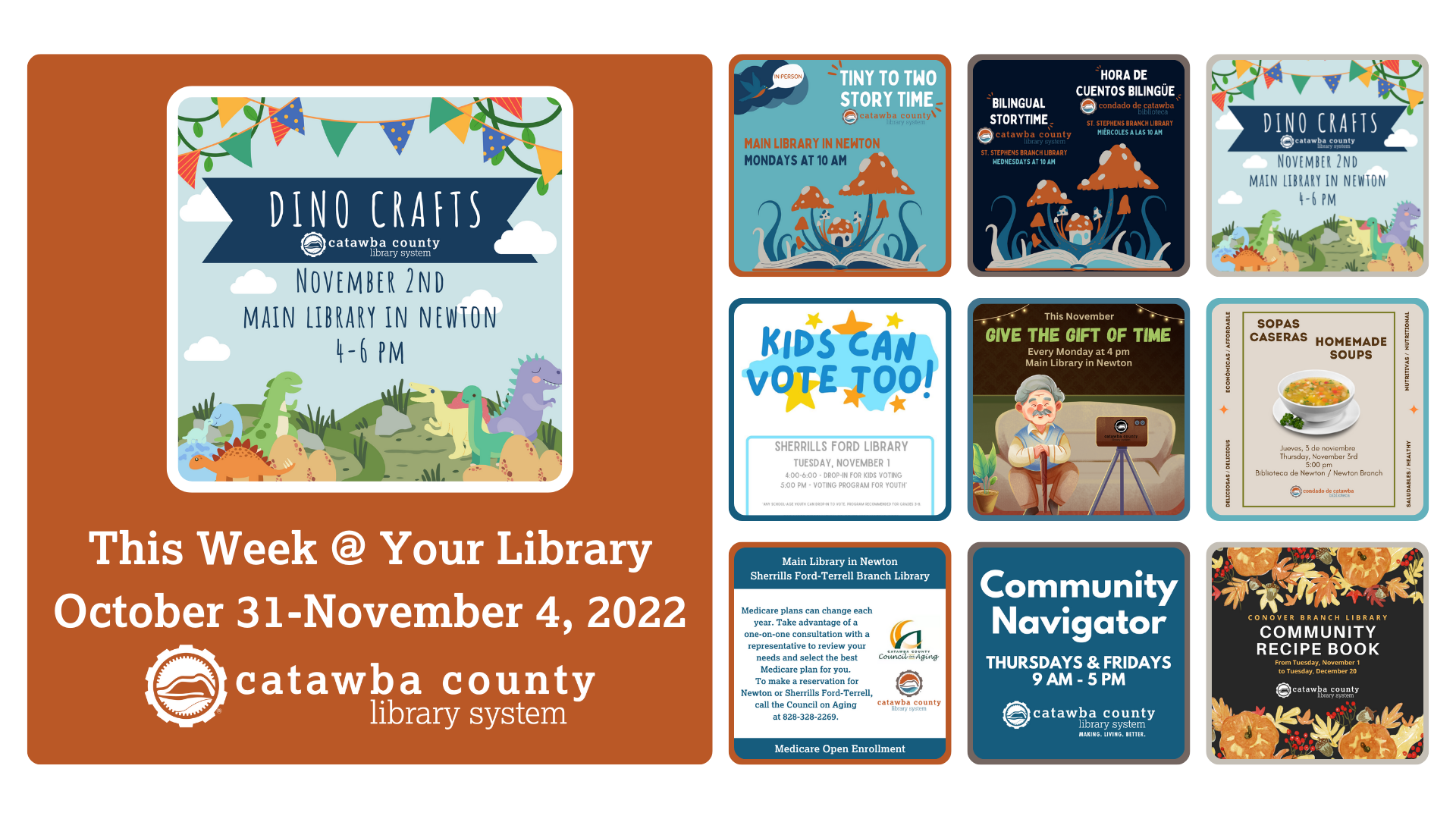 ---
This Week @ Your Library October 31-November 4
Published: October 31, 2022
We've got storytimes!
Ready to Learn Storytime: Tiny to Two
Monday at 10 am
Main Library in Newton
This sweet, simple, 20-minute story time features rhymes, bounces, sensory play, and singing for our youngest learners. Playtime follows.
Ready to Learn Storytime: Preschool
Main Library in Newton
Wednesday at 10 am
Friday at 10 am
Southwest Branch Library
Wednesday at 11 am
Thursday at 10 am
Sherrills Ford-Terrell Branch Library
Wednesday at 10 am
Thursday at 10 am
St. Stephens Branch Library
Thursday at 10 am
Maiden Branch Library
Thursday at 10 am
Preschool story time with reading readiness. Join us for songs, sensory play, crafts, and stories designed to prepare your preschooler to learn.
Ready to Learn Storytime: Bilingual
Miercoles a las 10 am
Wednesdays at 10am
St. Stephens Branch Library
Únase a nosotros para hora del cuento bilingüe, canciones, movimiento, aprendizaje y más para niños hasta 5 años.
Join us for an exciting bilingual storytime
featuring stories, songs, movement, learning and more for children up to 5 years of age.
Programs for children!
Read to Me: Stories for Seniors
Mondays at 4 pm
Main Library Newton
Grab your favorite children's book and connect through Zoom with seniors residing in Conover Nursing to read aloud.
Kids Voting
Tuesday, November 1 from 4 - 6 pm
Sherrills Ford-Terrell Branch Library
This drop-in event is designed to give youth a chance to cast their vote in a mock election. Children can learn about the election process during a program presented by 4H that begins an hour after the drop-in voting starts.
Dino Crafts
Wednesday, November 2 from 4 - 6 pm
Main Library in Newton
It's Dinovember and we're starting our month-long celebration with crafts at this drop-in program.
Programs for teens!
Teen Tuesdays
Tuesdays at 5 pm
Main Library in Newton
November 1: How to Crochet with Ms. Shelley
Programs for adults!
Zumba LIVE with Honey & Jossiah
Mondays at 6 pm
October 17, 24 & 31 at First United Methodist Church in Newton, enter from Ashe Avenue
Kick off your week with a burst of Zumba, a dance and movement class that's too much fun to call exercise. It's appropriate for every skill and ability level and open to anyone 14+ (parental signature required for teens under 18).
Community Navigator
Thursdays & Fridays from 9 am - 5 pm
Main Library in Newton
Stop in to visit with a Community Navigator for a one-on-one session to get connected with services, resources, and local assistance available in Catawba County. For more information, please call 828-465-9553.
Just Walk!
Fridays at 4 pm
St. Stephens Branch Library
Join us for a fun indoor walk. Enjoy music, moves and smiles—this is more fun than anyone should have on a fitness walk! To register, please visit the library or call 828-466-6821. Fitness waiver required.
Medicare Open Enrollment
Through December 7 by appointment
Sherrills Ford-Terrell Branch Library
Main Library in Newton
Medicare plans change each year. Do an annual review to make sure the coverage you have is the best one for you! To register for an appointment with a SHIIP-trained counselor, please call 828-328-2269.
Community Recipe Book
Tuesday, November 1 - December 20
Conover Branch Library
With the holidays approaching, so is some yummy food! We are putting together a Conover Community Recipe Book and are asking for 1-2 of your favorite recipes that we can copy and insert into our book. During this time, the book will be out for viewing and we encourage everyone to find a new recipe to try!
The Station Book Club
Wednesday, November 2 at 10 am
Conover Branch Library
All are welcome to join as we discuss The Invisible Life of Addie LaRue by V.E. Schwab. Come for coffee and great conversation, ending with book recommendations!
Career Center
Wednesdays, November 2 & 16 from 1 - 4 pm
Main Library at Newton
A Goodwill career specialist will be available to provide one-on-one assistance with resumes, interview practice and other soft skills, online applications, and job search strategies. Reserve a 30-minute appointment by calling 828-465-8665 or drop in as you are able.
Comidas saludables: Muchos ingredientes para hacer sopas
Jueves, 3 de noviembre a las 5 pm
Biblioteca de Newton
Programa presentado en español
Venga a aprender acerca de cómo preparar una sopa calientita, deliciosa y saludable que le gustará a su familia. Se proporcionarán recetas que no incluyen mucho costo.
Healthy Eating: The Many Ingredients of Soup
Thursday, November 3 at 5 pm
Main Library in Newton Branch
Program presented in English and in Spanish
Learn how to feed a hot nutritional, delicious, and healthy soup that your family will love. All recipes are budget friendly.