Catawba County News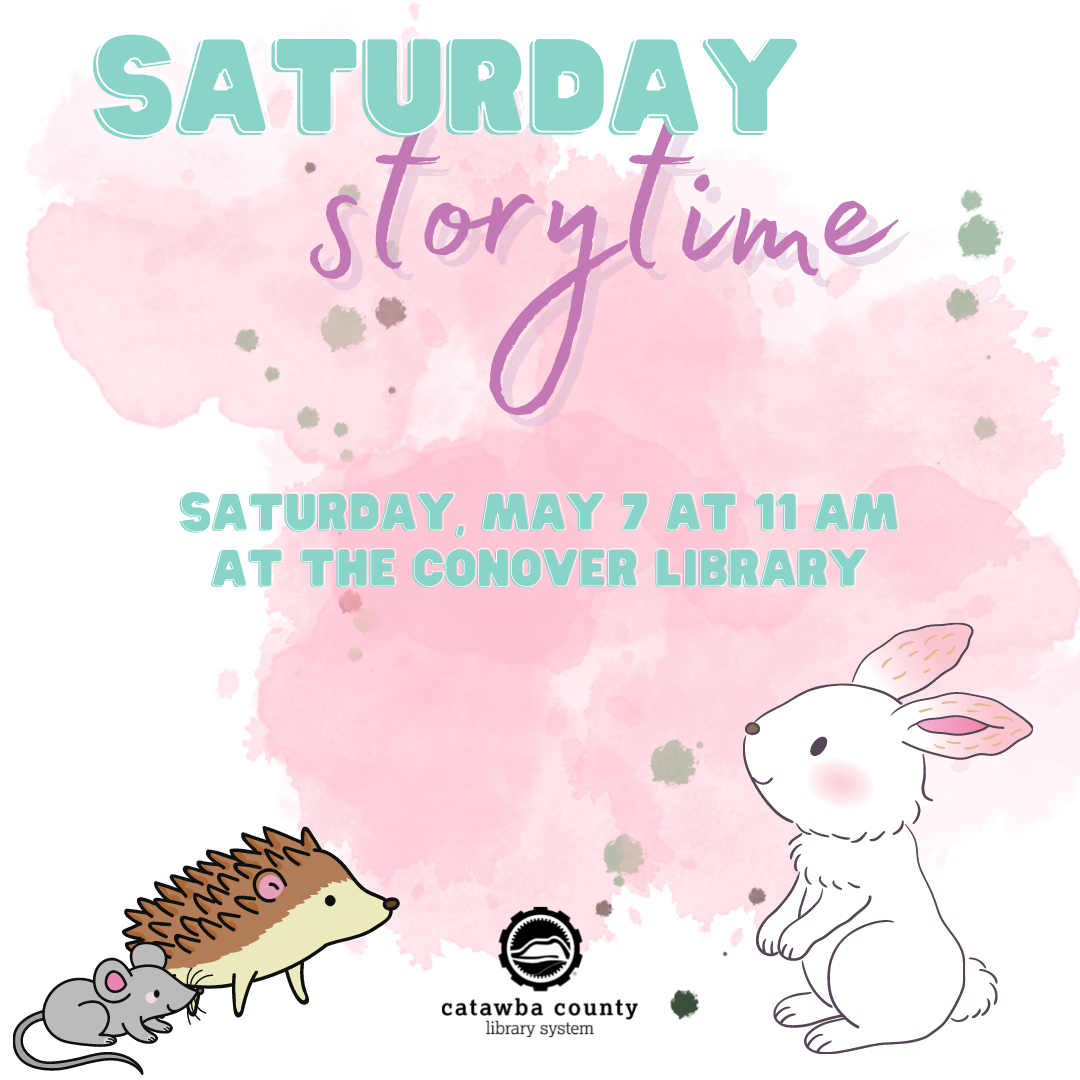 ---
This Week @ Your Library May 6-13
Published: May 06, 2022
We've got storytimes!
Ready to Learn Storytime: Tiny to Two
Monday at 10 am
Main Library in Newton
This sweet, simple, 20-minute story time features rhymes, bounces, sensory play, and singing for our youngest learners. Playtime follows.
Ready to Learn Storytime: Preschool
Main Library in Newton
Wednesday at 10 am
Friday at 10 am
Southwest Branch Library
Wednesday at 11 am
Thursday at 10 am
Sherrills Ford-Terrell Branch Library
Wednesday at 10 am
Thursday at 10 am
St. Stephens Branch Library
Tuesday at 6 pm
Thursday at 10:30 am
Maiden Branch Library
Thursday at 10 am
Preschool story time with reading readiness. Join us for songs, sensory play, crafts, and stories designed to prepare your preschooler to learn.
Saturday Storytime
Saturday, May 7 at 11 am
Conover Branch Library
Enjoy a special storytime, where we'll have stories, songs, and sensory play! This program is designed for preschoolers, but all are welcome.
Mo Willems Storytime
Saturday, May 7 at 2 pm
Sherrills Ford-Terrell Branch Library
Join us to celebrate the work of Mo Willems with an interactive storytime centered around his popular character Pigeon.
Programs for children!
DIY Mother's Day Cards
Wednesday-Friday, May 4-6 between 9 am and 6 pm
Maiden Branch Library
Drop-in any time on these days to make homemade Mother's Day cards! We provide the space, interesting and fun supplies, and mess cleanup. You provide creativity and love!
Crafternoons – Mother's Day
Friday, May 6 at 4:30 pm
St. Stephens Branch Library
Join us as we make handprint lilies in decorative jars to celebrate Mother's Day. To register, please visit tinyurl.com/stcrafternoons or call 828-466-6821.
Thumbelina with the Green Room Community Theatre
Saturday, May 7 at 3 pm
St. Stephens Branch Library
Join us for a free and fun production of Thumbelina, sharing the story of a teeny, tiny girl and her adventures in nature.
Anime Afternoon
Thursday, May 12 at 4:30 pm
Main Library in Newton
Fans of My Hero Academia and Demon Slayer are invited to test their knowledge, participate in activities, and make crafts related to these popular anime series. Ideal for 9 to 12 year olds.
Programs for teens!
Teen Tuesdays
Main Library in Newton
Tuesday, May 10 at 5 pm
Talent Share - Teens are invited to share a talent, skill, or interest with the group.
Interview Workshop for Teens
Tuesday, May 10 at 6 pm
Conover Branch Library
Teens—need to practice your skills for an upcoming interview? Make an appointment for a 10-minute mock interview with feedback and helpful tips! To register, please call 828-466-5108.
Programs for adults!
Zumba LIVE with Honey & Jossiah
Mondays at 6 pm
Main Library in Newton
Kick off your week with a burst of Zumba, a dance and movement class that's too much fun to call exercise. It's appropriate for every skill and ability level and open to anyone 14+ (parental signature required for teens under 18).
Garden Volunteer
Saturday, May 7 from 9 – 11 am
Main Library in Newton
The community gardens at the St. Stephens Branch Library and the Main Library in Newton are ready to be prepped and planted for the upcoming summer season! If you enjoy being outside and working in the soil, we'd be happy to have you join us. To sign up, please call 828-466-6828.
Introduction to Macramé
Saturday, May 7 at 3 pm
Main Library in Newton
Is macramé your next favorite hobby? Come find out! This program will show you the tools you'll need to start out and how to make the basic knots. Participants will make a mini macramé wall hanging to take home. To register, please call 828-465-9494.
St. Stephens Theme-Based Book Club
Monday, May 9 at 6:30 pm
St. Stephens Branch Library
Join us for this monthly in-person event where you can gather with fellow book lovers and discuss books based around a common theme. This month the theme is an Asian or Pacific Islander author, so revisit a favorite or find something new and come share your reading experience with us. Although this is an in-person event, patrons can still utilize the Facebook group for updates, book lists, and ongoing discussion by following this link: www.facebook.com/groups/St.StephensBookClub
Center & Venture
Tuesday, May 10 at 3:30 pm
Riverbend Park
Certified trainer and tai chi instructor George Place will lead us in finding inner peace and outer adventure as we gather at parks around the county for 30 minutes of tai chi followed by an hour's hike. You'll find everything you need to improve your sense of wellbeing: stretching, activity, calm, and nature in the company of friends. Suitable for all fitness levels. Registration (and waiver) required at tinyurl.com/ccls-CenterVenture-reg or on site.
Mystery Mavens Book Club
Tuesday, May 10 at 6:30 pm
Sherrills Ford-Terrell Branch Library
The Mystery Mavens book club welcomes new members and is open to the public, even if you haven't read the book. Join us for a lively discussion on The Last House on the Street by Diane Chamberlain.
Clase de inglés
Miércoles, 11 de mayo a las 6 pm
En línea por Zoom
¡Practique inglés con nosotros los miércoles por la tarde! Esta es una conversación de una hora, por Zoom, para estudiantes que deseen ganar más confianza al hablar inglés. Para obtener más información o para registrarse, llame al: 828-465-8664.
ESL Class
Wednesday, May 11 at 6 pm
Online via Zoom
Practice speaking English with us on Wednesday evenings! This is a one-hour online Zoom conversation to help students gain more confidence in speaking English. Please call 828.465.8664 to register or for more information.
Interviewing Tips
Thursday, May 12 at 10 am
Online via WebEx
Learn tips on how to ACE a job interview in this virtual workshop from our friends at NCWorks Catawba. To register, please visit tinyurl.com/catawbajobs