Catawba County News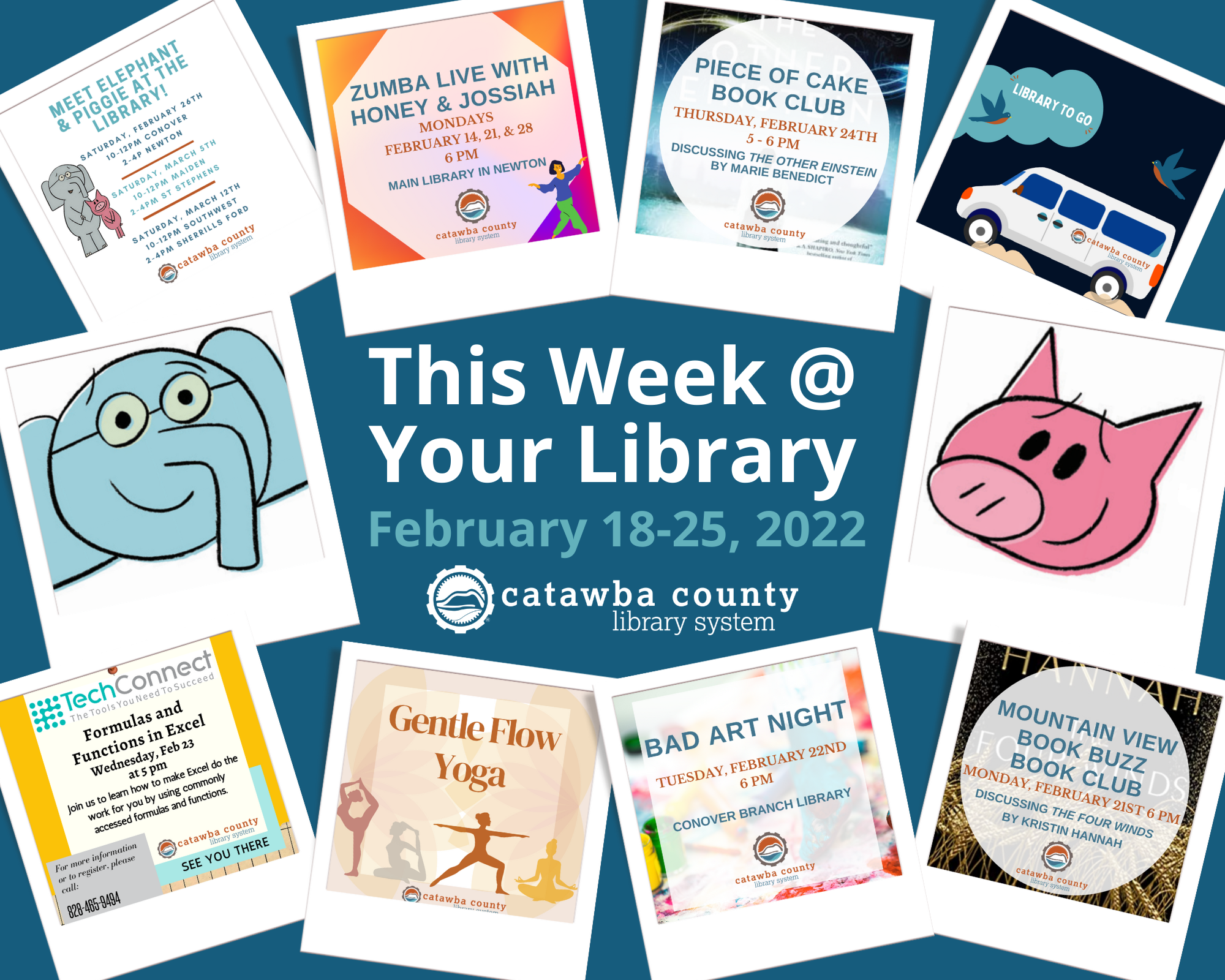 ---
This Week @ Your Library February 18th through 25th
Published: February 18, 2022
We've got storytimes!
Live Preschool Storytime via Zoom
Thursdays, February 24 at 10 am
Join us for a live, interactive preschool storytime with singing, reading and lots of fun. To register, please visit tinyurl.com/catawbathursdaystorytime or the library.
Programs for children!
Doodling with Mo Willems and Me
Tuesday, February 22 at 6 pm
Online via Zoom
Join us as we complete a Lunch Doodles with Mo Willems episode to celebrate the opening of the Elephant & Piggie in "WE ARE ART!" - A Mo Willems Exhibition at the Hickory Museum of Art. Show off your doodles and share which Mo Willems book is your favorite! To register, please visit tinyurl.com/CatCoDoodle
Elephant and Piggie Visit Your Library
Saturday, February 26
Conover Branch Library
10 am - 12 noon
Main Library in Newton
2 - 4 pm
Drop in to make a craft and meet popular book characters, Elephant & Piggie! Make sure to bring your camera for photo opportunities with the characters.
Programs for teens!
Teen Tuesdays - Teen Advisory Council
Tuesday, February 22 at 5 pm
Main Library in Newton
Do you want your voice heard when it comes to programs and materials for teens? Join the Teen Advisory Council. Meetings will be held at 5 pm on the 4th Tuesday of every month. For more information, please visit the Newton library or call 828-465-8668.
Programs for adults!
Blind Date with a Book
February 1-28
Southwest Branch Library
Main Library in Newton
Need to find your new favorite book? Let the literary matchmakers at the Main Library in Newton and the Southwest Branch Library set you up on a blind date in this interactive display throughout the month of February. Who knows—you might just find The One!
Zumba LIVE with Honey & Jossiah
Mondays, February 21 at 6 pm
Main Library at Newton
Kick off your week with a burst of Zumba, a dance and movement class that's too much fun to call exercise. It's appropriate for every skill and ability level and open to anyone 14+ (parental signature required for teens under 18).
Mountain View Book Buzz – Book Club
Monday, February 21 at 6 pm
Southwest Branch Library
Join us as we discuss The Four Winds by Kristin Hannah. All are welcome for lively conversation and lots of fun!
Social Media Q&A
Tuesday, February 22 at 3 pm
Southwest Branch Library
Social media is a great way to connect with friends and family who live far away, but can also be confusing and hard to maneuver. Bring your questions and if you want, your own device such as a laptop or cell phone, to this session focused on making social media easier to use. This program is offered in collaboration with the Council on Aging. To register, please call 828-328-2269.
Bad Art Night
Tuesday, February 22 at 6 pm
Conover Branch Library
Want to paint, color, or just put glitter on things? Want to make something artistic without the pressure of being "good"? Join us as we make all kinds of art really, really bad!
Formulas and Functions in Excel
Wednesday, February 23 at 5 pm
Main Library in Newton
Join us to learn how to make Excel do the work for you by using commonly accessed formulas and functions. This program is part two in a four-part series. Attendance at all sessions is suggested but not required. To register, please call 828-465-9494.
ESL Class
Wednesday, January 23 at 6 pm
Online via Zoom
Practice speaking English with us on Wednesday evenings! This is a one-hour online Zoom conversation to help students gain more confidence in speaking English. Please call 828.465.8664 to register or for more information.
Clase de inglés
Miércoles 23 de enero de 6 pm
En línea por Zoom
¡Practique inglés con nosotros los miércoles por la tarde! Esta es una conversación de una hora (por Zoom) para estudiantes que deseen ganar más confianza al hablar inglés. Para obtener más información o para registrarse, llame al : 828-465-8664.
Gentle Flow Yoga
February 24 at 11 am
Sherrills Ford-Terrell Branch Library
A certified yoga instructor will lead us through a beginner-friendly, gentle flow yoga class. You are encouraged to bring a yoga mat or towel, as well as a small blanket. To register, please visit the library or call 828-466-6827.
DIY Marcamé Market Bags
Thursday, February 24 at 4 pm
Sherrills Ford-Terrell Branch Library
Explore the textile art of macramé as we learn how to create a market bag. Best suited for teens and adults. To register, please visit the library or call 828-466-6827.
Piece of Cake Book Club
Thursday, February 24 at 5 pm
Main Library at Newton
Selecting a diverse range of works and authors, join us to chat about February's selection, The Other Einstein by Marie Benedict. March's pick is Of Women and Salt by Gabriela Garcia. Readers are welcome to suggest titles for 2022 at tinyurl.com/ccls-pieceofcake
Visit with the Library to Go - out in the community!
Library Outpost: Suds & Stories
Sunday, February 20 from 2 - 5 pm
Clean Wave Laundry, 2720 2nd Ave NW, Hickory, NC 28601
We're looking forward to seeing you in Long View at Clean Wave Laundry! Stop by and check out books, enjoy activities, and get help with your tech and job app or resume questions.