Catawba County News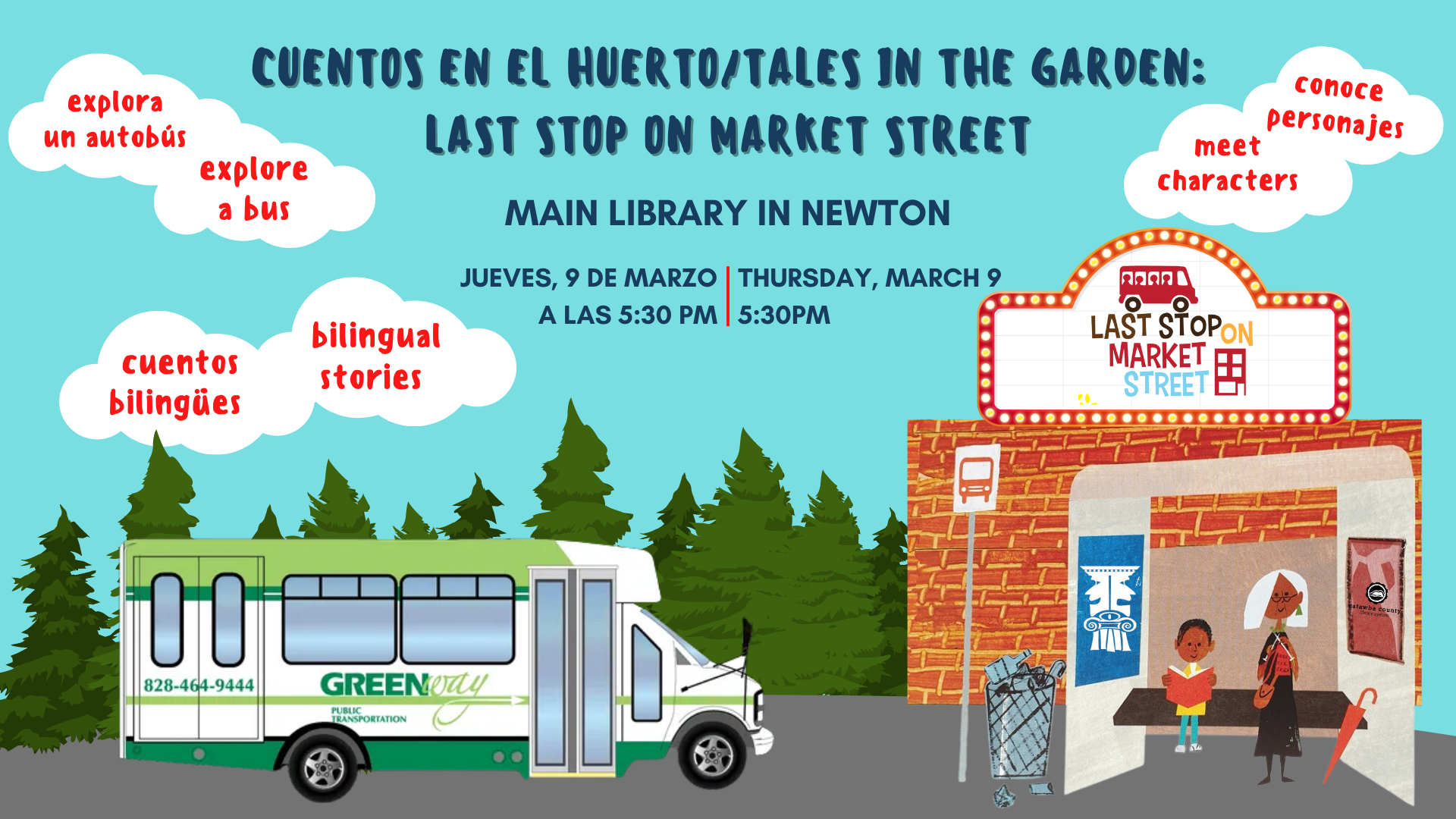 ---
Tales in the Garden Returns to Library Lineup
Published: March 01, 2023
It's March, y'all, and that means Tales in the Garden is back!!
Tales in the Garden is a bilingual storytime held monthly in the community garden at the Main Library in Newton. Each month has its own theme, including a matching craft, activity, and social time. Tales in the Garden is also a great avenue for us to partner with and highlight community agencies.
This month's tales will be based on Matt de la Pena's book, Last Stop on Market Street (a fan favorite). We're partnering with Greenway Public Transportation and The Green Room Community Theatre to really make this story come alive. The Green Room will be doing a full production of Last Stop on Market Street from March 17 - 26 (click here for more details), and the cast will make an appearance at our first tales of the year! Also making their second appearance at one of our tales in the garden…a Greenway bus!! The bus is a wildly popular attraction and we can't wait to experience it again.
We hope you'll join us for this special family story time adventure where we will explore a Greenway bus, listen to the award-winning book, and meet some of the characters from the upcoming Green Room production! You do not want to miss the fun!
Cuentos en el Huerto/Tales in the Garden:
Last Stop on Market Street
Jueves, 9 de marzo a las 5:30 pm
Thursday, March 9 at 5:30 pm
Main Library in Newton
We're also hosting a food drive to benefit The Corner Table for the whole month! Donations accepted at all library locations through March 31st. Please note, The Corner Table is particularly in need of the following items:
Canned Collard Greens

Canned Green Peas

Mayo

Ranch Dressing

Cream of Mushroom Soup

Cream of Chicken Soup

Dry Blackeyed Peas

Dry Great Northern Beans

Canned Blackeyed Peas

Elbow Macaroni

Rotini Pasta

Angel Hair Pasta