Catawba County News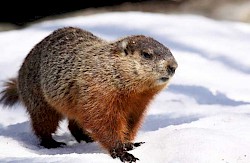 ---
STEAM: Exploring Shadows
Published: January 28, 2021
The library is kicking off its Spring into Reading challenge this week with a STEAM program on Tuesday, February 2 at 4 pm.
Exploring Shadows takes place on Groundhog Day, when the world traditionally looks to the sleepy creatures for news of spring's arrival. At the program, we'll talk about the science behind light and shadows and consider their relationship to each other. Afterwards, we'll build on what we've learned to create a variety of shadow puppets together, using our hands and paper cut-outs to form characters and tell stories.
Families are invited to register for the program at https://www.tinyurl.com/SpringIntoReading. Take-home kits with program materials are available with advance registration, but if time gets tight, families can register the day-of and still attend the Zoom workshop. In that case, they're invited to pick up a kit afterwards. Happily, many materials in the kits are basic household items that people may have on hand already.
Exploring Shadows is the first of seven STEAM programs connected to Spring into Reading. Participants can use the link above to register for any of the weekly programs running from February 2 through March 18. For more details about the challenge, visit https://www.catawbacountync.gov/news/library-launches-spring-into-reading-challenge/.