Catawba County News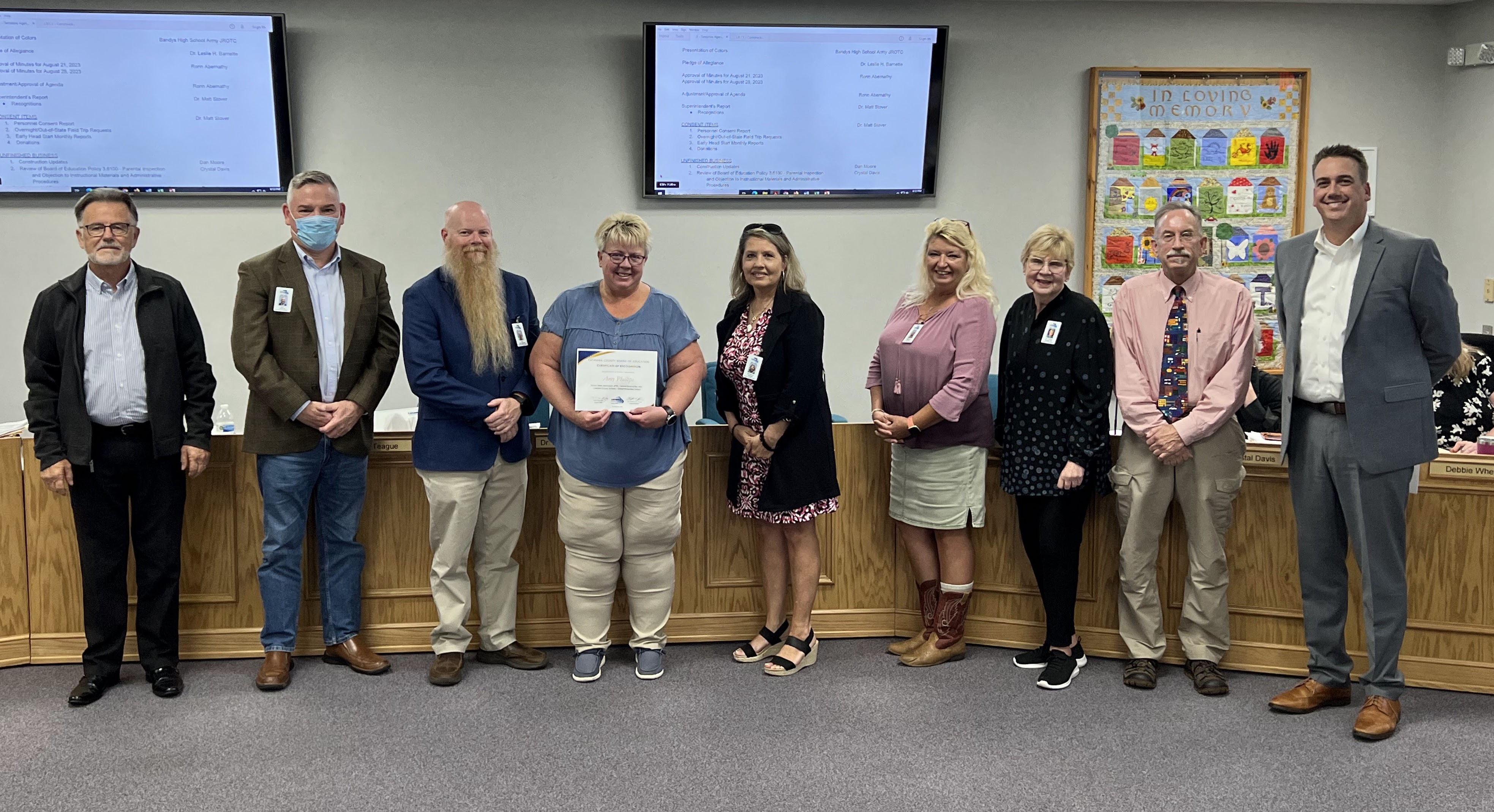 ---
State School Nurse of the Year
Published: October 02, 2023
CATAWBA COUNTY NURSE HONORED AS 'SCHOOL NURSE OF THE YEAR'
HICKORY – Amy Phillips, RN, has been named School Nurse of the Year by the School Nurse Association of North Carolina. She was recognized at the Catawba County Board of Education meeting on September 25.
"I have served students in Catawba County for many years and never, even in my wildest dreams, did I think I would be recognized in this way," Phillips said. "It is truly an honor to serve alongside a tremendous team of school nurses and in close collaboration with principals, staff, students and parents at Oxford and Murray elementary schools."
The recognition is well deserved.
"Nurse Phillips' dedication, compassion and unwavering commitment to the health and wellbeing of her students are truly commendable," said Maria Ballard, Director of Student Services for Catawba County Schools. "Her tireless efforts have not only made a significant impact on the lives of those she cares for, but also on her entire school communities. Our district is very thankful for her outstanding service and for being an exemplary role model in the field of school nursing. She is truly deserving of this honor."
Last school year, Phillips identified a specific need in one of her schools and worked to address it with a new program.
Nationwide, there has been an increase in grandparents and other family members who are raising school-aged children, and Catawba County is no exception. This could be because a biological parent has died or is imprisoned, or could stem from a situation where Social Services has been involved. These families face unique challenges: Grandparents and caregivers are sometimes unaware of services available to them, and many have had to take up raising children in a technological world that is quite different from when they raised their own children. In addition, the children they are raising sometimes have physical, social or emotional needs that can be met through the School Health program.
School Nurse Amy Phillips recognized this need and developed the Grandparents Café pilot program at Oxford Elementary School in collaboration with the Western Piedmont Council of Governments and other community partners to address these needs. Because of its success, it is being expanded into additional schools.
"These families could use extra support," Phillips said. "It has been an honor to be a source of that support and seeing this program succeed like it has is extraordinary."
Although Phillips is a seasoned school nurse, she is still looking for ways to innovate and serve her students better.
"We are proud to see that one of our own is being honored with such a prestigious award," said Public Health Director Jennifer McCracken. "Grandparents Café embodies the work Phillips performs each day as a public health nurse within our local schools."
Catawba County Public Health's school nurses serve every school in Catawba County and are funded collectively by Catawba Valley Medical Center, state and local government contributions, and all three local school systems.