Catawba County News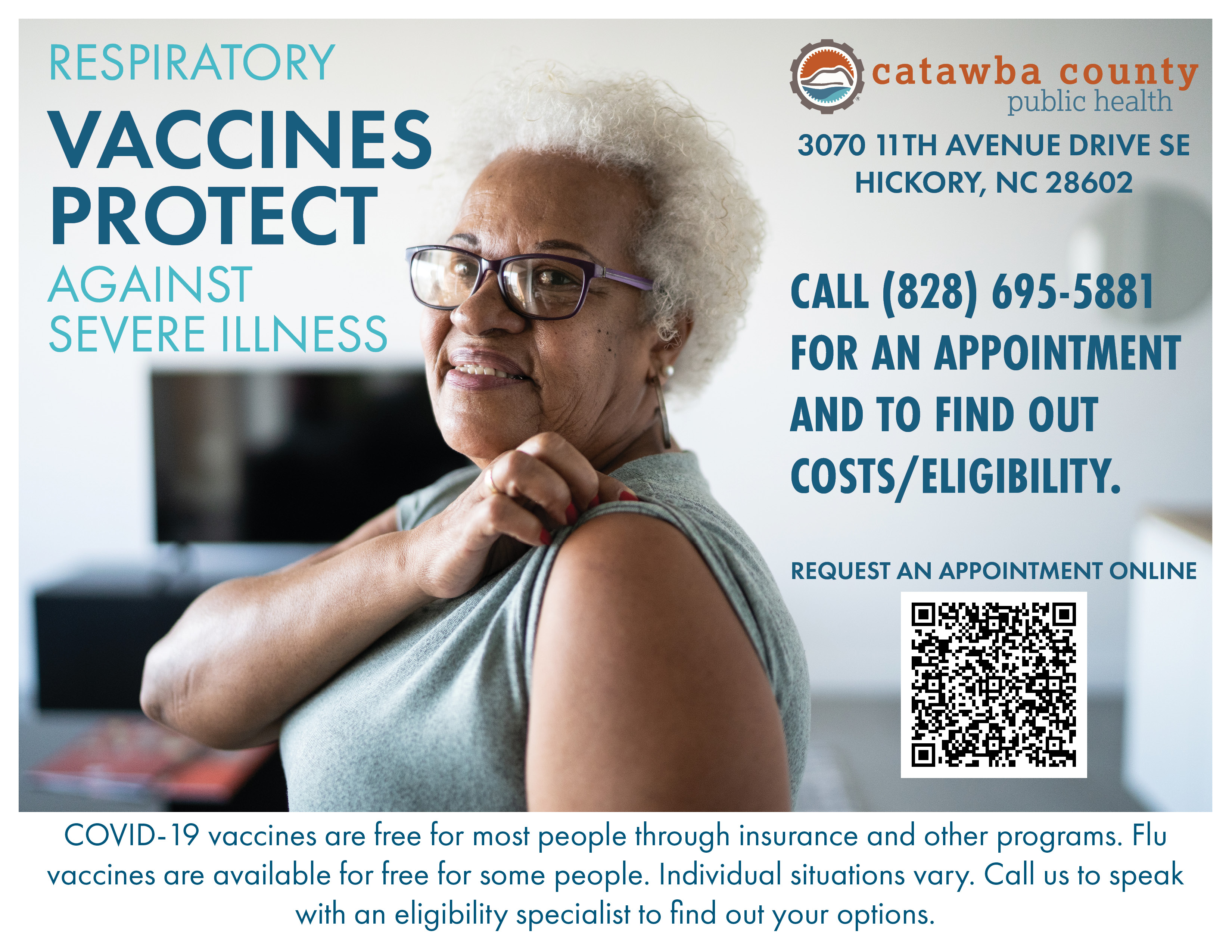 ---
Respiratory Virus Vaccines Available
Published: October 06, 2023
VACCINATIONS RECOMMENDED IN ADVANCE OF 'RESPIRATORY ILLNESS SEASON'
HICKORY, NC – With cooler weather in Catawba County, now is the time for Catawba County residents to get vaccinated against common respiratory illnesses that circulate more in cooler months. For some people, this can include annual influenza vaccine, updated COVID-19 vaccine or vaccine to protect certain people against Respiratory Syncytial Virus (RSV).
Typically, seasonal influenza, also known as the flu, begins circulating in higher numbers from October to May; RSV cases, which can be severe for babies and older adults, usually rise in the winter; and over the past few years, there has been a surge in COVID-19 cases during these same times.
"Although all three usually cause mild illness, for some people, they can result in hospitalizations or death. That's why staying up to date on vaccines is important, even for healthy adults," said Health Director Jennifer McCracken. "Vaccines are one of the most important ways we can protect ourselves because we never know if we're going to be the person who gets severely ill, even from a disease that is normally mild."
Catawba County Public Health encourages individuals to discuss with their physicians what respiratory virus vaccines are right for them.
Flu, COVID-19 and RSV vaccines can prevent severe disease that could require hospitalization, death or long-term effects, but it's important to get them before these diseases arrive in full force. Although these vaccines are not 100% effective, they do still prevent many cases of illness and can provide partial protection for others, shortening how long someone is sick or making symptoms less severe. Respiratory vaccines cause antibodies to develop in the body and these antibodies are what provide protection. They give our bodies a head start when fighting disease when we are exposed. For many respiratory illnesses, people are often contagious and can give the disease to others before they experience symptoms themselves. As an added convenience, these shots can be administered at the same time.
Because protection from viruses wanes over time for both people who have been sick in the past and for people who have been vaccinated, keeping vaccines up to date provides the best protection. The viruses themselves change some over time, so updated vaccines allow our immune systems to develop antibodies for the strains that are currently circulating. This is especially true for COVID-19 and the flu. Receiving an updated vaccine can restore protection and provide enhanced protection against the variants currently responsible for most infections and hospitalizations. 
Until now, federal funding allowed COVID-19 vaccines to be provided at no cost to the recipient. This funding is no longer available; however, most Americans can still get a COVID-19 vaccine for free. For people with health insurance, most plans will cover COVID-19 vaccine at no cost to you, depending on where you receive your shot. People who don't have health insurance or with health plans that do not cover the cost can get a free vaccine from Public Health and pharmacies participating in the CDC's Bridge Access Program. Children eligible for the Vaccines for Children program also may receive the vaccine from a provider enrolled in that program.
Flu, COVID-19 and RSV vaccines are widely available in the community. Individuals who want to be vaccinated can check with their physician or local pharmacies to find out which vaccines they should get and to locate where to get them. For people who wish to obtain a flu shot or the updated COVID-19 vaccine at Public Health, appointments must be made by calling (828) 695-5881 or using the online request form on Public Health's web site at https://www.catawbacountync.gov/county-services/public-health/forms/request-an-appointment/. Because eligibility and costs for these shots can vary, our eligibility specialists must schedule these appointments.
"With these shots readily available through most pharmacies and some area physician offices, this is a step everyone can take to stay healthy this respiratory virus season," said McCracken. "Vaccines, staying home and testing when we feel sick, handwashing, and covering coughs and sneezes are all ways we can prevent disease while protecting ourselves, our families and our community," said McCracken.
Recommendations
The CDC recommends anyone 6 months or older get the flu vaccine. It is highly recommended for individuals who are at a higher risk for flu-related complications, including the following:
Anyone with underlying health conditions such as asthma, diabetes, or chronic lung disease
Pregnant women
People 65 years or older
Caregivers, especially those individuals caring for infants or people with health complications.
COVID-19 vaccination is recommended by the CDC for everyone ages 6 months and older who have not received this vaccine in the past 2 months. Updated mRNA vaccines from Pfizer and Moderna are already available. For people who want to use a vaccine that was developed with more traditional technology, Novavax's updated shots will be available soon.
RSV vaccines are recommended by the CDC for both infants and older adults. Individuals age 60 and older should discuss vaccination with their provider, especially people who have a weakened immune system from illness (e.g., leukemia or HIV infection) or from medications (e.g., treatment for cancer or organ transplant), if you have chronic medical conditions such as heart or lung disease, or if you live in a nursing home.