Catawba County News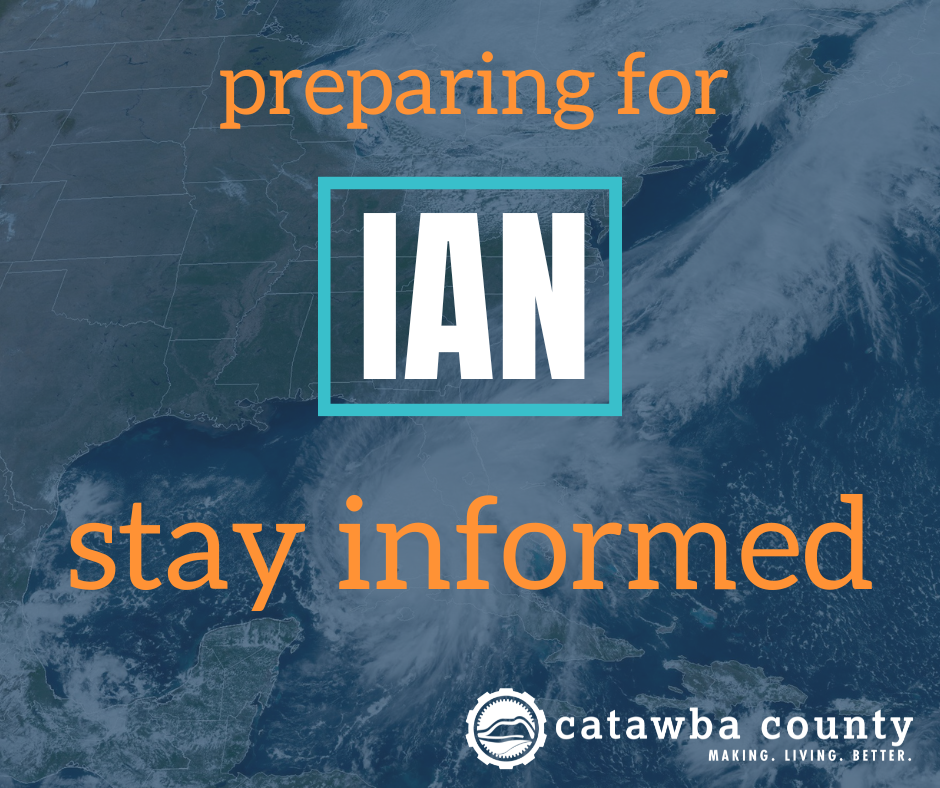 ---
Preparing for Hurricane Ian
Published: September 28, 2022
As Catawba County residents prepare for potential impacts from Hurricane Ian in the coming days, Catawba County Emergency Management Coordinator Karyn Yaussy offers the following helpful emergency preparedness reminders:
It is important to prepare for impacts within and outside of the forecasted hurricane track. The timing, location and magnitude of these impacts will continue to change until late Thursday or Friday morning.
Be sure to have multiple ways to receive emergency information, including hurricane watch and warning notifications. Enable emergency alerts on your cell phone, and download a weather app.
Sign up for the Catawba County Community Alert System by texting CATAWBA to 99411 on your smart phone or go to https://www.catawbacountync.gov/online-services/community-alert-system/ on your computer.
Gather emergency supplies or refresh your emergency kit. Visit https://www.ready.gov/kit for information on how to build an emergency kit. Be sure to include daily medications, important documents, and pet supplies.
Know where you will go if you are told to evacuate due to rising water. Family, friends, and hotels are the best options.
Catawba County Emergency Management is monitoring the progress of Hurricane Ian and is preparing to respond as needed. Follow Catawba County Emergency Services on Facebook at @CatawbaCountyEmergencyServices for updates.