Catawba County News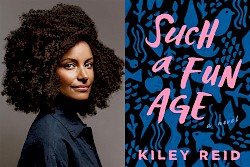 ---
Piece of Cake Book Club
Published: February 18, 2021
Few things are as satisfying as reading a great book and finding other people who appreciate it as much as you do! It's also a pleasure to have a circle of friends who just enjoy talking about books – the characters, the language, the plot – in a thoughtful, engaged way.
If you're looking for that type of camaraderie, the library's book clubs offer a variety of themes and focuses. Piece of Cake, as its name hints at, originally met in a bakery/cafe setting, and the club's selected books are manageable reads and are usually fictional, with a memoir or two tucked in every so often. The authors represent a range of fascinating voices, and the conversations are always fun and enlightening.
The group meets next at 4 pm on Thursday, February 25 via Zoom. February's title is Such a Fun Age, the debut novel of Kiley Reid and an exploration of race, class, fraught relationships, and uncomfortable truths. If you'd like to participate in the discussion, register at https://tinyurl.com/ccls-pieceofcake to receive the Zoom link.
If you'd like to get a head start on March's novel, pick up House of Names by Colm Tóibín. Regarded as one of 2017's best books by a number of publications, the novel is a modern retelling of the story of Clytemnestra, the legendary Greek queen, and her children.