Catawba County News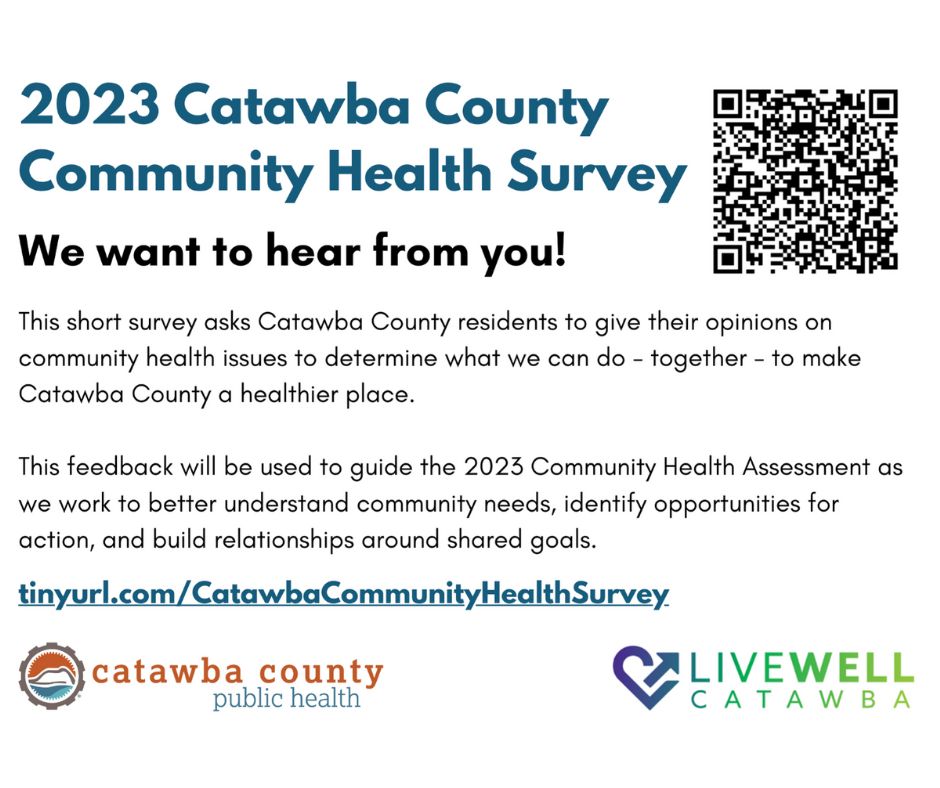 ---
Opinions on health sought
Published: June 07, 2023
PUBLIC HEALTH SEEKING RESIDENTS' OPINIONS ON HEALTH ISSUES
HICKORY – Catawba County Public Health is asking for opinions on important health issues through the Catawba County Community Health Opinion Survey. Feedback from the survey will help determine Catawba County's health priorities for the next four years.
All Catawba County residents are invited to participate in the survey, which asks questions about health opinions and behaviors. The survey can be accessed online at www.tinyurl.com/CatawbaCommunityHealthSurvey. The survey is voluntary and takes less than 15 minutes to complete. All survey responses are anonymous. The goal is to collect survey responses that accurately reflect our community.
The survey is being conducted as part of the 2023 Catawba County Community Health Assessment. The assessment occurs every three years and is a collaborative process between more than 40 community agencies, led by Catawba County Public Health and LiveWell Catawba. The 2023 assessment will be published in early 2024.
"We want to know what influences health in Catawba County and what our residents feel is important. We are looking forward to hearing what our county's residents have to say," said Jennifer Lindsay, Catawba County Public Health Strategist.
Paper copies and Spanish translations are also available. Questions about the Community Health Opinion Survey can be directed to Catawba County Public Health at (828) 695-5800.
The most recent Catawba County Community Health Assessment, which was completed in 2019, can be viewed online at https://catawbacountync.gov/site/assets/files/2488/2019_catawba_county_cha.pdf. The Catawba County health priorities determined through the 2019 assessment process were chronic disease, behavioral health, and healthy foods and healthy weight.
Catawba County Public Health promotes and protects the health of all Catawba County residents through preventive services, innovative partnerships, and community health improvement initiatives. For more information, please call (828) 695-5800 or visit www.catawbacountync.gov/phealth.