Catawba County News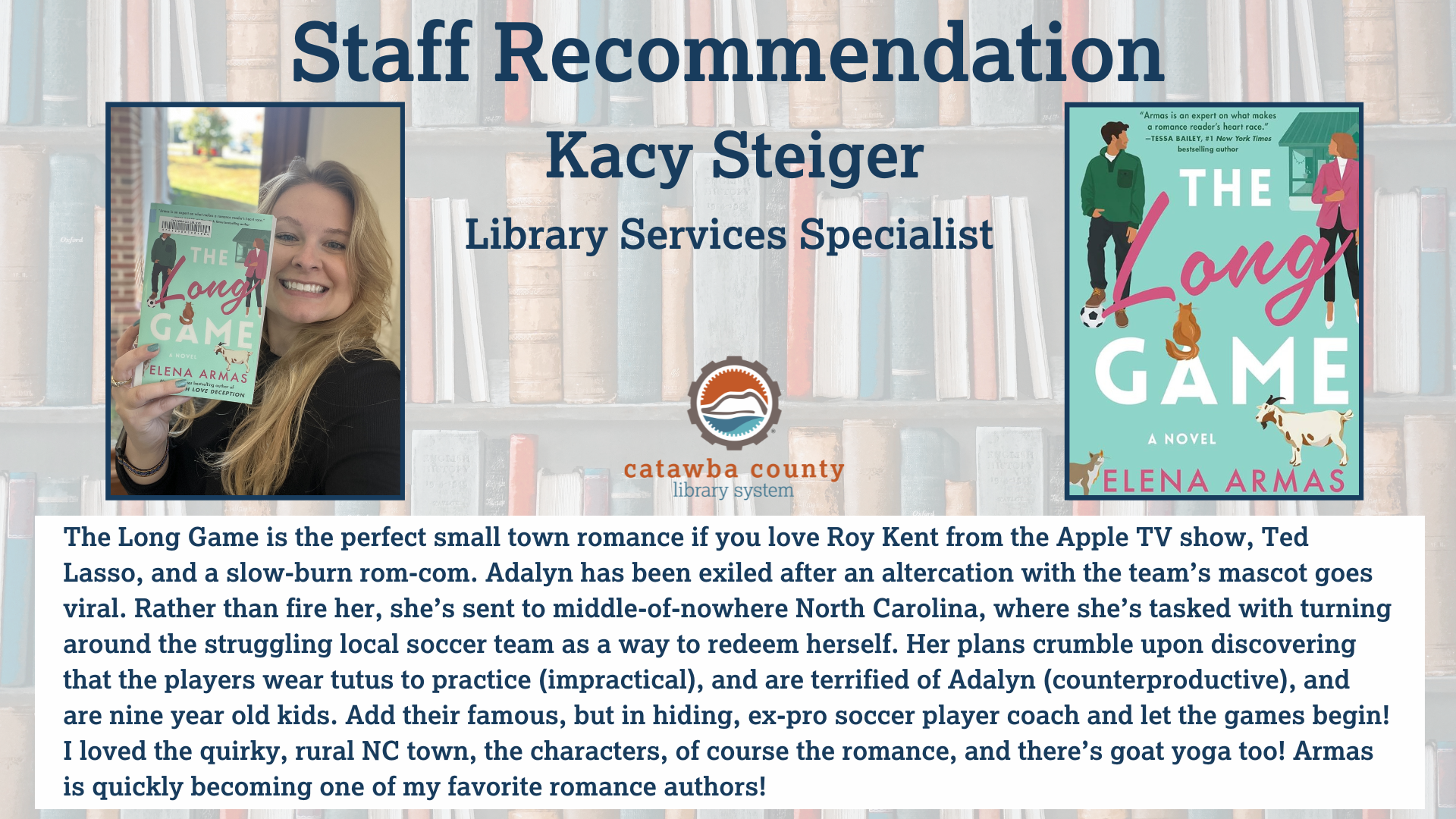 ---
November Reads 2023
Published: November 02, 2023
Click on any of the titles below to put a copy on hold for yourself!
Patron Picks - Books
The Edge of Winter by Luanne Rice
My Jasper June by Laurel Snyder
The Raging Storm by Ann Cleaves
Librarian Picks - Books
Acceptance by Emi Nietfeld
Jujutsu Kaisen Volume 10 by Gege Akutami
You Never Forget Your First: A Biography of George Washingtonby Alexis Coe
Teen Picks - Books
The Official Fablehaven Cookbook by Brandon Mull & Cherie Mull
The Conference of the Birdsby Ransom Riggs
Something More by Jackie Khalilieh
Patron Picks - DVDs
Are You There God? It's Me, Margaret
Librarian Picks - DVDs
Staff Recommendation
The Long Game by Elena Armas
"The Long Game is the perfect small town romance if you love Roy Kent from the Apple TV show, Ted Lasso, and a slow-burn rom-com. Adalyn has been exiled after an altercation with the team's mascot goes viral. Rather than fire her, she's sent to middle-of-nowhere North Carolina, where she's tasked with turning around the struggling local soccer team as a way to redeem herself. Her plans crumble upon discovering that the players wear tutus to practice (impractical), and are terrified of Adalyn (counterproductive), and are nine year old kids. Add their famous, but in hiding, ex-pro soccer player coach and let the games begin! I loved the quirky, rural NC town, the characters, of course the romance, and there's goat yoga too! Armas is quickly becoming one of my favorite romance authors!"
-Kacy Steiger, Library Services Specialist