Catawba County News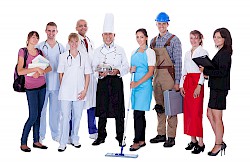 ---
New Year's New Careers
Published: January 14, 2021
Career goals often seem to be tied to New Year's resolutions. People begin thinking about greener pastures and consider looking for something that better fits their skill-set, provides better hours or pay, has a shorter commute, or gives them a chance to further develop their dreams.
If you're among this group – or even if you're searching for first-time employment – join us via Zoom to attend one of two sessions scheduled for Tuesday, January 19. The first takes place at noon, and the second begins at 5:30 pm.
The library will be hosting hiring professionals from ProStaffing, a locally-owned agency that serves the Unifour area and other surrounding counties. ProStaffing's goal is to connect the right people to the right organizations at the right time, and they'll be sharing the different kinds of jobs that over 100 employers in Catawba County are trying to fill right now.
Along with learning about current job opportunities, participants will be able to get tips for pursuing a new job, taking next steps in the search process, and hearing about practical information to improve their chances of being hired.
To discover all of the great details and receive the Zoom invitation, register at https://tinyurl.com/ccls-careers-reg.