Catawba County News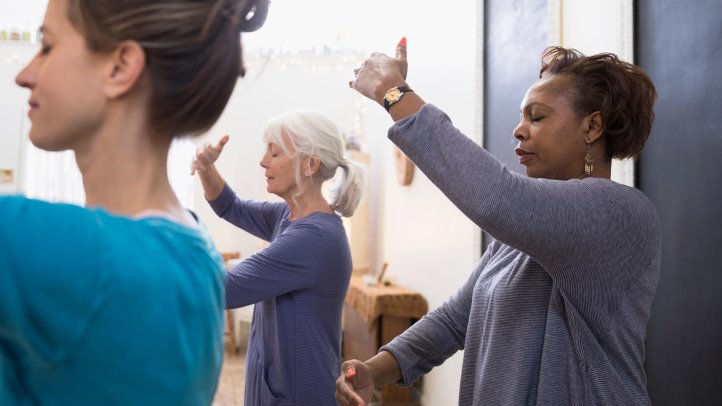 ---
New Tai Chi Classes at the Library
Published: July 30, 2019
Thursday's tai chi class is perennially popular at the Main Library at Newton, and participants love gaining flexibility and stamina from the controlled, deliberate movements. The graceful martial art also helps reduce stress and anxiety as it promotes focus and concentration.
To expand our tai chi offerings, the Library is beginning two new series at the Sherrills Ford-Terrell Branch Library. One is an introductory class that will meet for three weeks, and the second will explore the mental and physical benefits for adults and run through November 22, 2019.
Explore Tai Chi invites participants to give the ancient practice a test run to see how well it fits their needs. This class will be taught by a certified instructor through Catawba Valley Medical Center and will provide an overview of concepts, movements, and expectations.
It meets Mondays, August 5, 19, and 26 (no class August 12) at 6:30 pm at the Sherrills Ford-Terrell Branch.
The longer course is Tai Chi for Healthy Living, and it will be taught by a certified instructor via live video feed. Combining the Tai Chi for Health and A Matter of Balance principles, the research-based class aims to increase activity levels, enhance fitness, and prevent falls in adults of all ages. It requires participants to complete a survey and sign a waiver, and it is coordinated through Neighbors Network. To register, call 828.464.1111.
This course meets Fridays at 11 am (beginning August 9) at the Sherrills Ford-Terrell Branch Library.
To complete the necessary paperwork, people can come early to the first class on August 9, or they can take advantage of an earlier chance to meet the instructor first-hand. Dianna-Lee Osborne will be available for questions and to help with the forms and surveys the day before the series begins. Feel free to bring a friend and learn more about the style of tai chi that Osborne teaches.
This meet-the-instructor opportunity takes place from 1-3 pm on Thursday, August 8 at the Sherrills Ford-Terrell Branch Library.
Note: All tai chi courses are suitable for all fitness levels. We will need a parental signature on file for teens 14-18 who would like to participate.