Catawba County News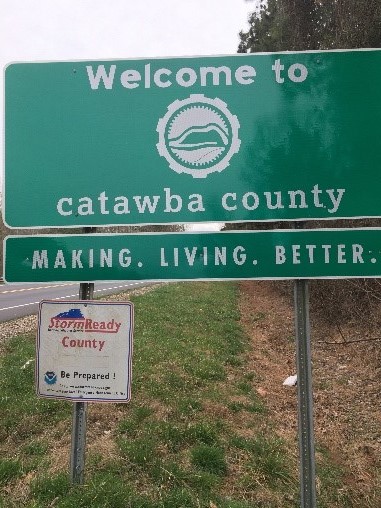 ---
March Is Severe Weather Awareness Month
Published: March 02, 2020
Are you StormReady®?
March is Severe Weather Awareness Month because of the variety of hazards that Spring weather systems can bring. We have already seen wild swings in our weather during January and February, everything from heavy rains, flooding, powerful wind gust, a few days of wintery mix and even tornadoes in surrounding counties.
Catawba County is recognized by the National Weather Service (NWS) as being a StormReady® county. Meaning the county has a hazardous weather operations plan in place. A major component of that plan is communications: how the county receives NWS notifications, monitors local conditions and disseminates information to citizens. Being StormReady® is an accomplishment that we can be proud of but it requires one more key element, YOU. All people who work, live and play in Catawba County need to be StormReady® too. It's not that hard if you just follow the simple steps that are listed below and found at www.readync.org.
Stay informed. Know the hazards where you live, work and play. Have a way to monitor severe weather and receive emergency alerts for your location. Yes, you may get emergency alerts on your TV or smart phone, but also use alternative methods, like a NOAA Weather Radio or internet based weather sources. Watch local television for weather updates. Register for Catawba County specific alerts through CodeRed at https://public.coderedweb.com/CNE/en-US/D0604CCC69B7
Make a Plan. Discuss with your family what to do before, during and after an emergency. The more prepared you are, the better you will be. https://www.readync.org/plan-and-prepare/make-plan
Get a Kit: Make an emergency supplies kit before a disaster with basic items your family may need in or after an emergency. Be sure everyone knows where the kit is. https://www.readync.org/plan-and-prepare/get-kit