Catawba County News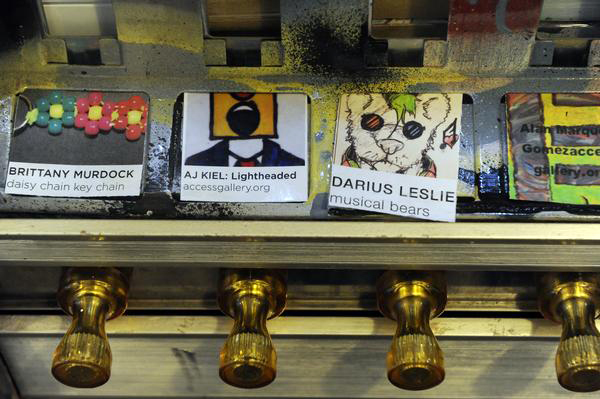 ---
Making Art for the Art-o-Mat
Published: July 03, 2019
The library's Art-o-Mat – a refurbished cigarette machine that's been retrofitted to sell tiny art – has been a popular addition to the Newton library. The variety of media that comes out of the Art-o-Mat is impressive and includes everything from textiles to jewelry, pottery to metalwork, paintings to paper works.
Over the last few months, lots of people have asked questions about how the Art-o-Mat works, so we've recruited a local artist – Melanie Stewart Cranford – to share her experiences working with the group that places and fills Art-o-Mats around the country.
Cranford will talk about how she creates pieces for the vending machine, demonstrate an example of her art, and also talk about how her Art-o-Mat work supports her other professional pursuits. (The Art-o-Mat is a side gig for her.)
In addition to hearing Cranford's process firsthand, participants will have the chance to make their own miniature art and find out about art opportunities in the area.
All supplies for the evening's art project will be provided. If you're interested, please make sure to reserve a space by calling 828.465.8665. The workshop takes place at 6 pm on Tuesday, July 9 at the Main Library in Newton.