Catawba County News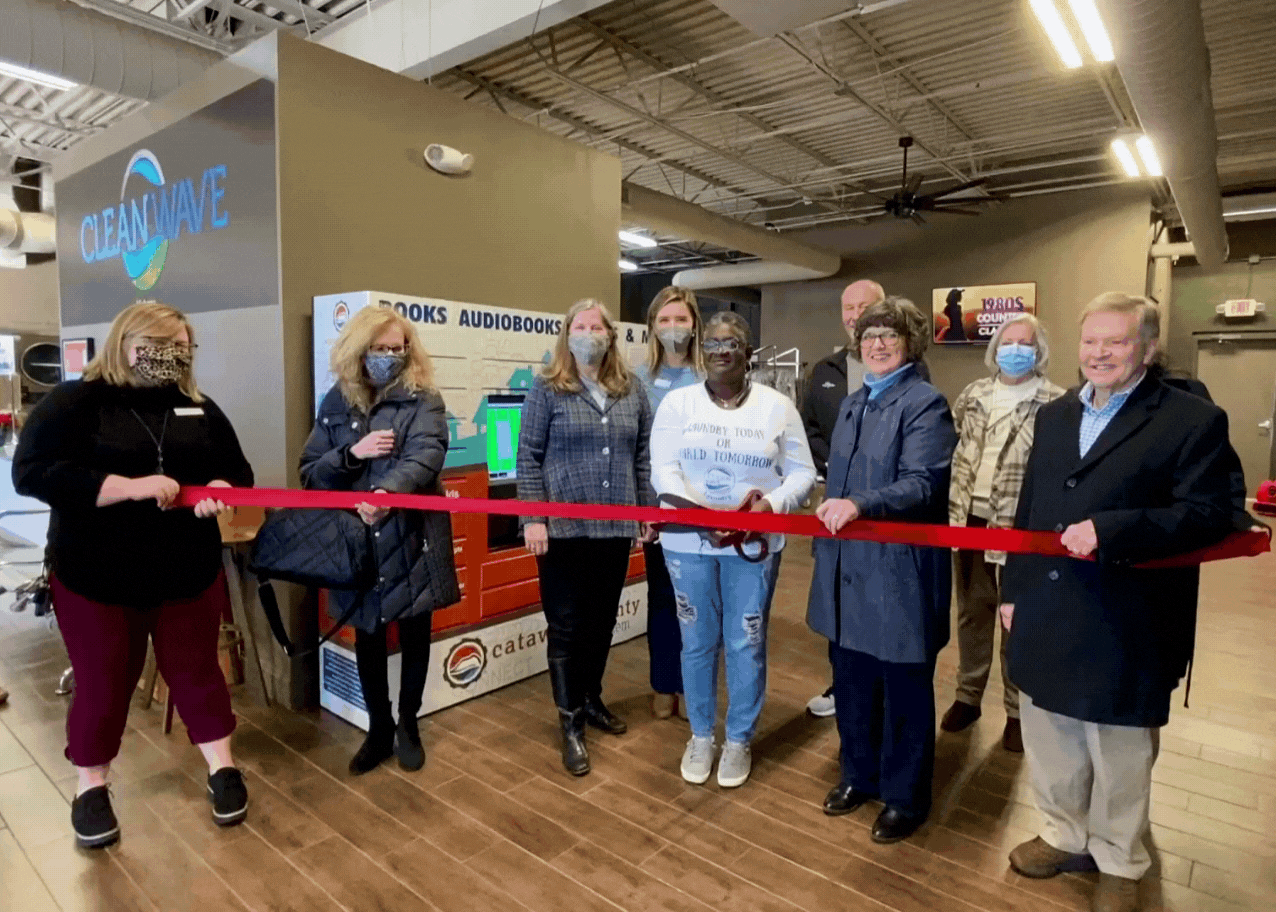 ---
Library Pick Up Locker Launch
Published: January 13, 2022
Catawba County Library System celebrated the launch of an exciting new library service in the Long View community during a ribbon cutting ceremony on Monday, January 10, 2022.
The Library Pick Up Locker is located at CleanWave Laundry in Long View, allowing the library to expand its services to a previously underserved area. Providing convenient, free access to empowering library resources seven days a week, this new self-service locker system will allow library patrons to browse a selection of books to check out or pick up materials placed on hold from the library's online catalog without having to travel out of the community. The system has a total of 34 lockers that can hold multiple books, audiobooks, or DVDs. Ten of the lockers will have a clear window where patrons can browse and check out specially-selected bundles of items. All of these resources are available for free with a Catawba County Library card. To get a library card, visit any location or online at www.catawbacountync.gov/library.
Lindsay Keisler, President and CEO of Catawba County Chamber of Commerce opened the ceremony with a remark that sums up the library's commitment to providing services and resources to the communities of Catawba County.
"I commend you for always thinking outside the box, for being innovative and creative. I would say this certainly is no exception", Keisler shared.
"This project furthers the library's mission to Connect, Explore and Grow by bringing library services and resources outside the walls of the traditional library to meet our community where they are," Siobhan Loendorf, Library Director, excitedly explained. "Having this locker allows children and families to more easily access high quality reading materials and participate in reading programs, technology classes, assistance with resumes, applications and job searches, and building people's confidence to pursue their goals."
Thanks to the ongoing partnership with CleanWave Laundry, along with housing the library locker, they generously provide free Wi-Fi, charging stations, a collection of children's books, several tables, and seating areas. The library will also provide two laptop computers that can be borrowed from CleanWave staff for use inside the laundromat. This centralized location is also a monthly stop for the Library to Go mobile unit, working to connect people to empowering library services including story times, STEAM, health and wellness, technology, and workforce development programs.
Special thanks to: Sherry Butler, Lindsay Keisler, and Barbara Abrams for the kind words and support, Catawba County Manager's Office, Long View officials, Catawba County Commissioners, Catawba County Chamber of Commerce, Catawba County Council on Aging, Catawba County Partnership for Children, and Catawba County Library Board.
*This project was supported by grant funds from the Institute of Museum and Library Services under the provisions of the Library Services and Technology Act (LSTA) as administered by the State Library of North Carolina, a division of the NC Department of Natural and Cultural Resources (IMLS grant number LS-249980-OLS-21).